I was sitting on my couch watching the Detroit Red Wings fall apart in yet another third period against the Toronto Maple Leafs earlier in the week and I couldn't help but think back to the better days. Yzerman. Fedorov. Shanahan. Osgood. The Russian Five. If I was 50 years older I could talk about Sawchuk, Howe, Lindsay, and Delvecchio. Unfortunately, we are all stuck in 2014 where David Legwand is the first line center, the leading goal scorer is a guy who started the season in the minor leagues, and the best defenseman on the team would most likely be a 43-year old Swede who is probably sitting on his couch in Västeras, Sweden and has his number hanging from the rafters. At some point in my sad journey down memory lane I was jolted out of my daze by the goal horn. Bam, Gustav Nyquist just scored, giving the Wings a 2-0 lead early in the 3rd period. All of a sudden, I got excited. I yelled (unfortunately right in my girlfriend's face), "BOOM, that's the new Henrik Zetterberg". Then I started thinking about who these youngsters reminded me of. Nyquist and Zetterberg. Tomas Tatar and Pavel Datsyuk. For the next 20 minutes I watched both of the young guys and I started to think about the comparisons.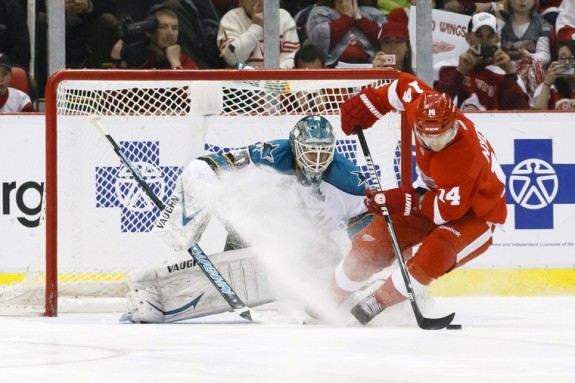 Gustav Nyquist – Henrik Zetterberg 
During the Leafs-Wings game on Wednesday, I was listening to Ray Ferraro analyze Nyquist's game. Ferraro mentioned that Nyquist "wasn't the biggest guy" and that he had "exceptional puck skills" and that "he's much stronger on his stick than you anticipate". I started thinking, where have I heard that before? Oh right, that's the exact description  given by countless analysts describing Henrik Zetterberg. Both players are highly gifted, but as Ferraro pointed out, neither one of them is very big. Per Hockey Reference, Nyquist is 5'10", 185 lbs and Zetterberg is 5'11", 197 lbs. Neither player is big, neither is exceptionally strong, but nobody plays harder. It is nearly impossible to take the puck away from Henrik Zetterberg. In my personal opinion, Zetterberg is one of the most difficult players in the NHL to take the puck away from. All of that effort showcases his work ethic. Nobody works harder on the ice than Henrik Zetterberg. He fights for every puck, backchecks harder, and gives 110% every single shift.
To give you a frame of reference for that video, this game occurred at the beginning of the 2013 season. Just a couple of weeks earlier, the St. Louis Blues opened the regular season with a 6-0 thumping of Detroit. This was the Wings' first chance at them after that game. The effort by Zetterberg on this goal is unparalleled and this goal gave him the hat trick and the Wings a 5-3 win. Nyquist is still only 24 years old and will learn to play with that kind of effort on every shift as he gets more experience. The other thing that Nyquist still lacks (and reasonably so) are the leadership skills that Zetterberg possesses. Obviously no one is expecting Nyquist to step in as a sophomore and lead this team in the same manner that Zetterberg does, but over time I do see the potential for him to grow into a "lead by example" type of player and potentially wear the "C" on his jersey after Zetterberg and Niklas Kronwall retire. The talent level of Nyquist is off the charts. Nyquist has scored 14 goals since January 2oth, leading the NHL in goals scored in that time period. That is unreal for a second-year player.  For now, nobody is asking Nyquist to be Zetterberg, but Wings' fans want Nyquist to continue to play with that high energy level and strong nose for the net as shown in the video below. The other thing that Nyquist has time to do is add about 10-15 lbs of muscle. He currently sits at 185 lbs, but if he can get up into the 197-200 range, he will be an absolute force and in my mind, the best player on the Red Wings in three years.
Tomas Tatar – Pavel Datsyuk
This is another comparison that doesn't require a rocket scientist to figure out. When you see Tatar dance with the puck, you can't help but be reminded of a young Datsyuk. Both players are incredible with the puck, possessing the ability to swing the puck side-to-side in the blink of an eye. However, what truly makes these players perfect comparisons is that both players are much stronger than they appear. Red Wings fans have all become fond of the Datsyuk "reverse hit" and I think that Tatar possesses a similar ability. For those that don't know, a "reverse hit" occurs when a player attempts to hit an opponent but as they go to deliver the hit, the opponent delivers a hit of his own, knocking the unsuspecting player off their feet.
I've noticed throughout games that when people go to hit Tatar, they fall down and Tatar remains standing. If Tatar can learn to lower that shoulder as people come at him, it will buy him more space to work with the puck. I firmly believe that Datsyuk's strength and awareness are two big reasons (in addition to the fact that defensemen don't want to end up on SportsCenter's Top 10) that players are reluctant to challenge Datsyuk when he has the puck. The other thing that Tatar needs to learn is a lesson that Datsyuk had to learn early on. Both players possess marvelous puck skills but Tatar often tries to beat defenders too many times. I remember reading a quote from Ken Holland and Mike Babcock from a couple years ago. They were talking about how when Pavel was young, he used to beat a defender, and then he would try to beat the same defender a second and a third time. It wasn't that Pavel was trying to embarrass the defender, he was just so used to making all of those moves. Babcock talked about how he had to coach Pavel to beat the defender the first time and then get on with the play. Too often, I'll see Tatar stickhandle the puck into three defenders and try to beat all three. Essentially, he wants every goal/play to look like this one below.
The kid will have to learn to dump the puck in more often, to make the simpler play, and to avoid trying to beat multiple defenders on every single play. He's still very young at 23 years old and he is very raw, but you can't deny the talent. He just has some lessons to learn in the coming years. The other thing that will serve Tatar well is hitting the weight room and working on his lower body. One thing that amazes me about Datsyuk is his lower body strength. Datsyuk's core and legs are so strong that even Zdeno Chara struggles to knock him off the puck. Tatar weighs in at a 186 lbs but if he could add 10-15 lbs of muscle, he will be in prime shape moving forward. THW's Ian Dunham wrote an excellent article on what Red Wings fans should expect from Tatar in the future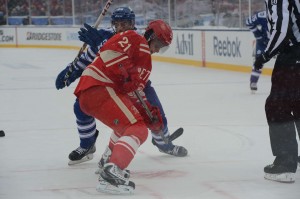 In a season where not much has gone right for Detroit and it looks like the Wings may miss the playoffs for the first time in 23 years, fans have been introduced to the dazzling talents of Gustav Nyquist and Tomas Tatar. Fans can't help but link the two with Pavel Datsyuk and Henrik Zetterberg. The major difference is the timing of their arrival. Datsyuk's first season was in the 2001-2002 season with a Red Wings team that arguably may be the greatest lineup ever put together in NHL history. Henrik Zetterberg followed the next year on a team that was the defending Stanley Cup champions. Unfortunately for Nyquist and Tatar, they are youngsters on a team that needs them to be their best players every single night. With injuries to 12 regulars, this is a lot of pressure for two young players, but boy have they dazzled so far. These guys are developing so far, but fans of the Red Wings can't help but be excited for the future. I am officially anointing them as "Euro Twins 2.0". These guys have played together on a line the past two games and it is incredibly exciting. If the Red Wings can ever get healthy enough to where they can play Tatar and Nyquist on the same line on a consistent basis, we may see these guys develop that chemistry and magic that Zetterberg and Datsyuk possess when they play together.