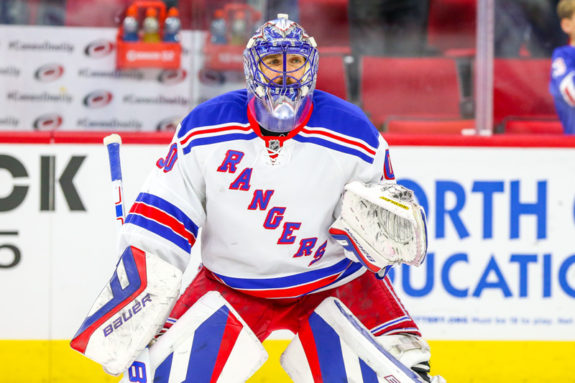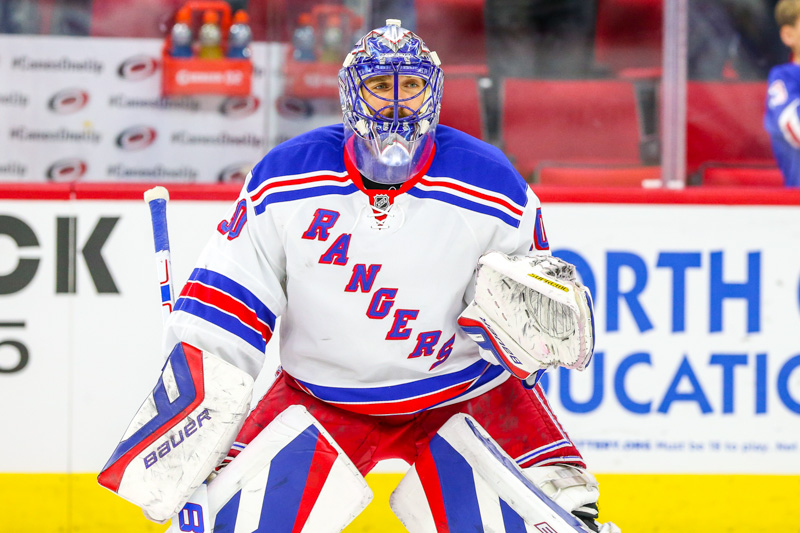 No team is complete without their last line of defense and The New York Rangers are a franchise with a history of élite goaltending. After losing Henrik Lundqvist to injury back in February it has given us all a good look at exactly how good the goaltending is for this team, from the greats, to the current masked men between the pipes. The New York Rangers are a team with a history of goaltending greats.
John Vanbiesbrouck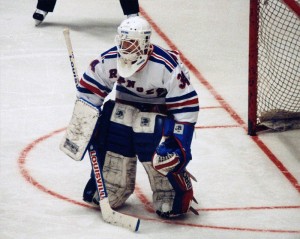 Drafted in 1981, Vanbiesbrouck played 11 seasons for the Blueshirts having a career season during his 85′-86′ year with the team. During that season he won 31 games and posted a 3.32 GAA, .887 save percentage and 3 shutouts. During the year he achieved accomplishments such as being named to the All Star Team and taking home the Vezina Trophy for being the "best at his position." The only thing that would have made his 85′-86′ season one of the greatest would have been taking home the Stanley Cup, unfortunately the Rangers fell short to the Montreal Canadiens in the Conference Finals.
Eddie Giacomin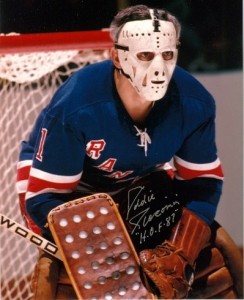 Eddie Giacomin is 1 of only 2 goaltenders in the history of the teams franchise to have his number retired. Before Henrik Lundqvist, Giacomin lead the franchise in shutouts (49) and was second in wins (266). Giacomin adds to his résumé with a Vezina trophy that was won after his 70-71 season where he posted 27 wins, 8 shutouts and a 2.16 goals-against-average. Eddie was inducted into the Hockey Hall of Fame back in 1987 where he will forever be remembered as a Rangers great.
Awards and Honors
On this date in #NYR history #1 was raised to the rafters @TheGarden pic.twitter.com/kuZX4N8lFL

— New York Rangers (@NYRangers) March 15, 2015
Mike Richter
Before Henrik Lundqvist there was Mike Richter. Unarguably the greatest goalie in Rangers history. Richter played 14 seasons with the New York Rangers, lead the team to a Stanley Cup in 1994 and 8 straight playoff appearances. Richter held the previous franchise record for games played (666) and wins (301). Richter's resume is built up of impressive statistics and achievements.
Awards and Honors
Richter may not have a Vezina under his belt but having a Stanley Cup, record holding career stats and his number hanging in the rafters of the World's Most Famous Arena will forever have him as one of the greatest American goaltenders in the NHL.
 Rangers Goalies Today
Henrik Lundqvist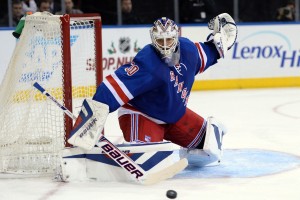 Henrik Lundqvist is without a doubt the face of the New York Rangers organization. Lundqvist is the highest earning goaltender in the NHL, signing a 7-year, $59.5 million dollar contract extension. During his time with the Rangers, Lundqvist has broken records set by Mike Richter, becoming the most winning goalie in Rangers history as well as passing Eddie Giacomin with his 50th regular season shutout to become the all time leader in team shutouts.
Lundqvist's efforts don't end when the regular season does. The King has earned himself an NHL record five straight Game 7 wins in the playoffs as well as surpassing Richter once again with the most post season wins.
The 7 time team MVP has 5 Vezina nominations and was awarded the title back in 2012. Lundqvist is the only goaltender in NHL history to record 30 wins in each of his first seven seasons.
Lundqvist will surely be a key factor in the Rangers quest for the Stanley Cup.
More records and awards:
New York Rangers club record, games played, single season: 73 (2009–10)
All-Star Game – 2009, 2011, 2012
John Halligan Good Guy Award – 2008
Victoria Cup – 2008
NYR MVP – 2007, 2008, 2009, 2010, 2011, 2012, 2013
Steven McDonald Extra Effort Award – 2006
Olympic Record for consecutive minutes played without letting a goal: 172 minutes and 34 seconds
Cam Talbot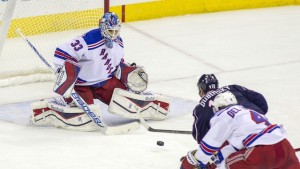 Of course Cam Talbot could not go unmentioned in the long list of Rangers goalies. Does he have the extensive resume of Henrik Lundqvist or Mike Richter? No. But he is posting impressive numbers since his break out season and has exceeded expectations in replacing Henrik Lundqvist throughout his injury. In 17 starts since Feb. 4, Talbot has posted a .923 save percentage and 12-2-1 record. He is 4-0-1 in his first five starts through the month of March.
Talbot has joined Henrik Lundqvist when it comes to breaking records held by former greats. Talbot shutout the Chicago Blackhawks in Chicago for the first time since Eddie Giacomin on January 25th, 1969. Talbot and Lundqvist are also the first two goalies in franchise history to post 5 shutouts in a single season.
Replacing a goaltender such as Henrik Lundqvist under the New York spotlight is not an easy task and Talbot has proven that he is a true diamond in the rough when it comes to being an undrafted college free agent.
Talbot's story will go down in Rangers history. An underdog with so much potential, giving his team the confidence to play without their leading man and carrying them to first place in the Metropolitan Division and the entire League.
"There is no position in sport as noble as goaltending." – Valdislav Tretiak