Great teams are comprised of great players. Elite teams have great players combined with strong depth players. This is true not only for the National Hockey League, but also fantasy hockey. With that in mind, this week's edition of Habs Fantasy Hockey Roundup will focus on Montreal Canadiens players who aren't necessarily the stars of your lineup, but the ones needed to win a fantasy hockey championship.
Andrew Shaw
Andrew Shaw often gets a bad rap in Montreal due to his lengthy six-year, $23.4 million contract that was signed last offseason. While he may never live up to that kind of money and term, he is well worth owning in fantasy hockey for teams needing something more than goals and assists. Shaw is naturally a right-winger, but can also move to centre, making him eligible for both RW and C slots in lineups. Currently 15th in the NHL in penalty minutes with 39, Shaw is a solid addition to teams needing to add nastiness in the form of penalty minutes.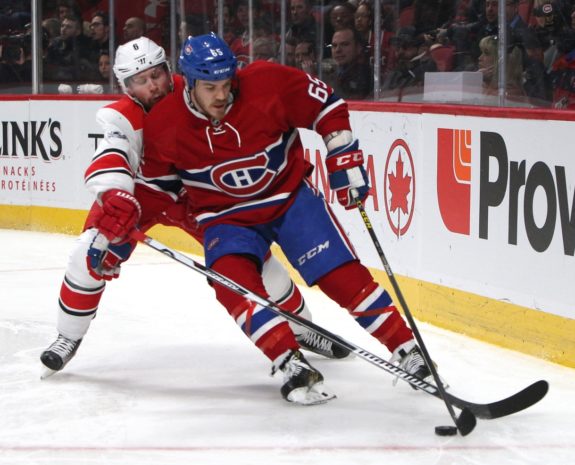 For a player known for his grit, Shaw can also be effective in the offensive zone, averaging 2.03 shots per game, and 3.15 faceoff wins per game. Shaw should never be counted on for points, but if you need penalty minutes, shots on goal, and some bonus faceoff wins from one of your right-wingers, Shaw is your guy.
Related: Montreal Canadiens Year-End Roundtable
Tomas Plekanec
The 20-goal, 50-point seasons for Tomas Plekanec are far behind him, but that doesn't mean he can't still be an effective fantasy player. While you shouldn't be counting on him regaining his old, goal-scoring form, Plekanec should always be someone to keep an eye on in leagues that carry faceoff wins as a stat. This season, the 35-year-old is averaging 9.24 faceoffs win per game, highest on the Canadiens, and his highest in two seasons.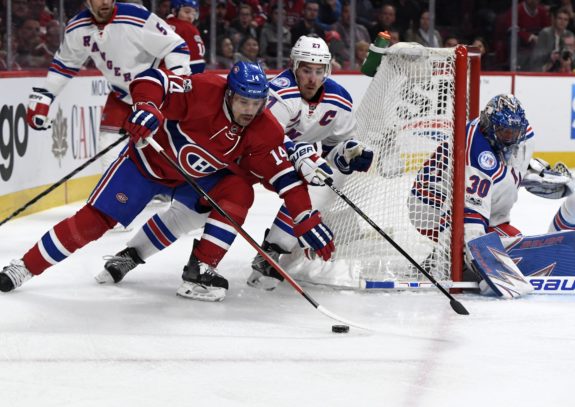 Plekanec also ranks sixth on the team in shots on goal per game, with 2.15. Like Shaw, don't expect more than the odd goal or point from Plekanec, but in 10-to-12 team leagues where faceoff wins count, he is a valuable commodity.
Charles Hudon
While Charles Hudon is still working on his finishing touch at the NHL level, his ability to create scoring chances is undeniable. Currently fourth on the team in shots on goal per game with 2.63, Hudon has found chemistry playing on a line with Brendan Gallagher and Plekanec. A low shooting percentage (4.8%) would explain for Hudon only scoring four goals thus far. Once his shooting percentage begins to go up, his goal and point totals will follow right along. He can also be counted on in leagues that have hits and power play points, as he is currently averaging 1.72 hits per game, and is a fixture on the second power-play unit, with 1:44 on the man advantage per game.
Jeff Petry
With 11 points in 33 games this season, Jeff Petry is on pace for a career high, which is a bonus for an already valuable fantasy player. The eighth-year defenseman currently averages 2.58 hits and 1.45 blocked shots per game, second and fourth-best on the Canadiens for skaters who have played 10 or more games, respectively. Petry also averages 2:09 minutes per game on the man advantage, so there is always an opportunity for power-play points if he is in your lineup. While Petry struggled early in the season with Shea Weber out with an injury, he seems to have finally found his game, and is a worthwhile consideration in deeper fantasy leagues.
Jordie Benn
While his brother Jamie, captain of the Dallas Stars, may have more goal-scoring ability, Jordie Benn has proven his worth not only to the Montreal Canadiens this season, but also to fantasy owners. With four goals in 32 games, Benn has already surpassed his season-high of three, and is four away from equaling his career total.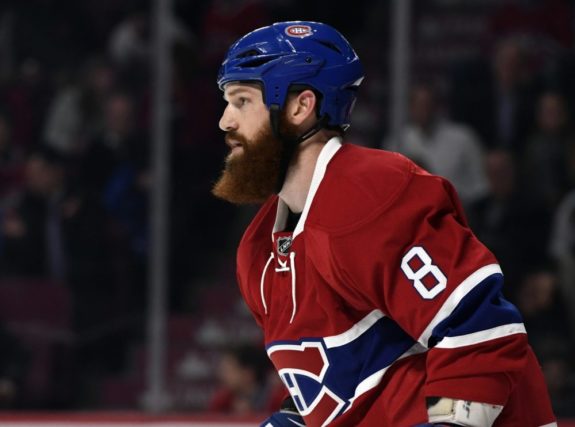 The new-found scoring touch for the elder Benn brother is a welcomed bonus, however, he is most valuable to teams looking to improve in blocked shots. With two blocks per game, Benn is second on the Canadiens, behind only Shea Weber. It wouldn't be recommended to hold Benn throughout the entirety of the season, but he can be quite useful when looking for a potential stream-start.
I cover the Montreal Canadiens and Laval Rocket for The Hockey Writers. I am currently a student at the University of Concordia studying journalism in the hopes of one day becoming a full-time sports reporter. I have previously covered the Indianapolis Colts of the National Football League for Pro Football Spot.