For this segment of weekly thoughts, we address Vancouver Canucks trade rumours, explore the ramifications of Chris Tanev's injury, and highlight the bounce-back performance of the Sedins. We also take a look at how Canucks' prospects Kole Lind, Jonah Gadjovich, and Michael DiPietro fared at Team Canada's world junior camp.
Canucks Searching for a Top-Nine Forward
The Canucks have scored just nine goals in their past six games with the loss of three top-nine forwards in Horvat, Baertschi, and Sutter. What's even more concerning is that Brock Boeser is solely responsible for almost half of these goals. Without him, they've scored less than a goal per game in this timeframe.
TSN's Pierre LeBrun is reporting that GM Jim Benning is already looking for reinforcements to counteract this scoring drought.
These kinds of rumours indicate that the priority of this team may indeed be winning over development, despite progressive rhetoric from management. There's simply no need for a rebuilding team to pursue immediate scoring help. It makes even less sense when you consider the internal options that are already available.
Nikolay Goldobin is as talented as they come offensively, but at 22 years old, he needs an opportunity to show his worth at the NHL level. Healthy scratches and 12:03 minutes a night aren't the way to go. Why not give him top-six minutes and consistent power-play time to see what he can do?
Or how about Reid Boucher, who's lighting up the AHL with 13 goals and 25 points in 25 games?
And then there's also Jake Virtanen, who sits third and sixth respectively among Canucks forwards for Corsi-for percentage and expected goals for per hour. Hasn't his recent play warranted more than the 10:21 TOI he's averaged this season?
The only situation in which I'd support these rumours is if they involve Erik Gudbranson going back the other way. I don't have an issue with Benning moving the 25-year-old pending UFA for a young scoring forward. The key word though is young—any player acquired should fit in long-term with the likes of Horvat, Boeser, and Baertschi.
Revival of the Sedins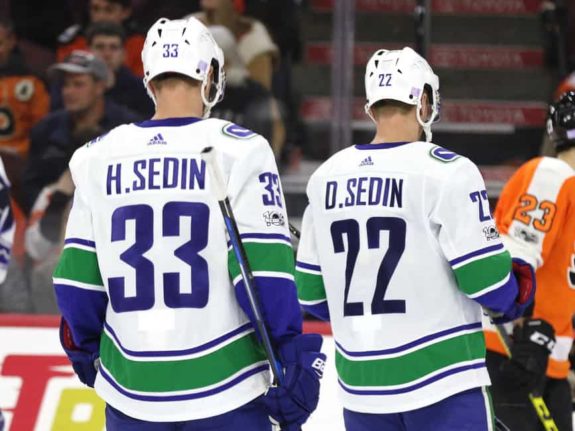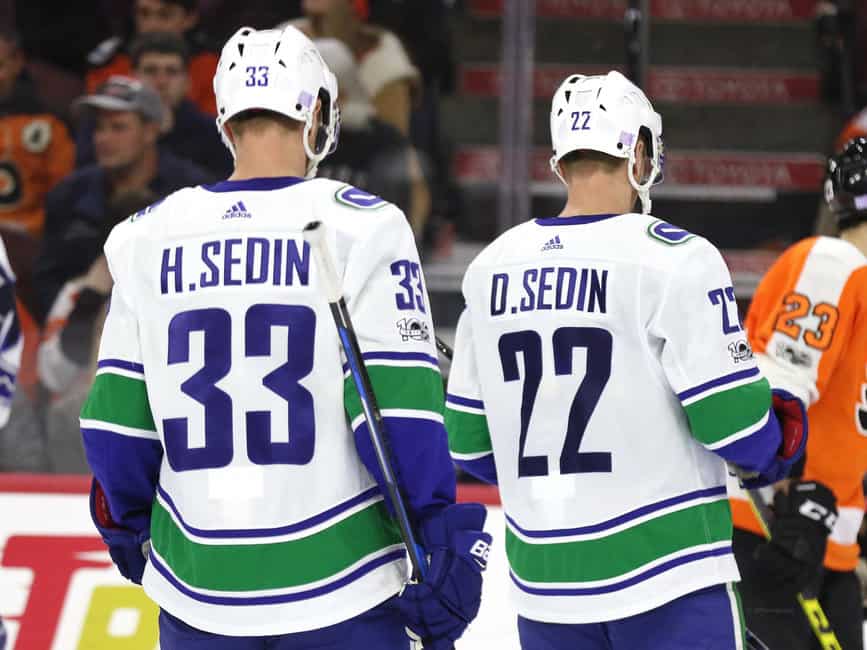 The Sedins have gone against Father time to join Brock Boeser as the most potent offensive players in the absence of Horvat and Baertschi. The Twins have combined to put up 30 points in the past 16 games. More importantly, though, they've been the focal point of a Vancouver power play that has been the best in the entire NHL in this timeframe. It's been good enough to push the team's PP to top five for the entire season as well.
When asked about this resurgence, Henrik told The Province that he and brother Daniel had "Worked hard all summer and felt really good in camp. [We] felt like from Day 1, if we got more ice time, we would produce more."
And increased ice time is certainly what they've gotten. Since playing a season-low 8:52 against the Penguins on November 4th, Henrik has averaged 15:26 TOI per game.
The Twins are back to carrying the Canucks on their back; all but five goals in the past eight games have been assisted or scored by the Sedins or Boeser.
The only question now is how long can they sustain this pace?
Gaunce Struggling Defensively
Much has been made about Brendan Gaunce's inability to score and fairly so. The 23-year-old defensive forward has scored just once in 94 career NHL games. What's interesting though is that Gaunce's inability to score has completely overshadowed his poor defensive performance.
Last year, Gaunce finished the season as the best possession forward on the Canucks; controlling 51.4% of shot attempts. His defensive responsibility was also apparent in his team-best shot attempts per hour figure(CA/60). Opposing teams were simply unable to control the puck and generate scoring chances with Gaunce on the ice.
This year has been a completely different story. Gaunce is dead last on the team in Corsi for %, controlling only 42.2% of shot attempts. He's also third worst in allowing 59.5 shot attempts per hour. His fourth-worst mark in expected goals against indicates that the team should be leaking goals with him on the ice. Fortunately for him though, Markstrom and Nilsson have combined for a .959 save percentage with the former first-round pick deployed.
Given his track record defensively, I'm inclined to believe that Gaunce will eventually turn things around. That being said, it's fair to wonder at this point what exactly Gaunce is contributing to the team; especially with players like Boucher and Goldobin failing to earn a regular spot in the lineup.
Should the Canucks Look to Move Tanev?
The news that Tanev will be out for another 2-3 weeks should definitely raise some questions about his future with the Canucks.
since Tanev became full-timer in #NHL, nothing close to a completely full (and healthy) #Canucks season pic.twitter.com/GhV0hY8VcK

— Jeff Paterson (@patersonjeff) December 14, 2017
With durability a continued issue for Tanev, one has to question what the nearly 28-year-old defenceman will be able to offer the Canucks when they're actually competitive. The organization still needs at least another 3-4 years to right the ship to become contenders. How effective will Tanev be at that point?
Now is the time to start shopping Tanev. There's no rush, but putting his name out on the table will at least give the team an idea of what they can recoup for the shutdown defenceman.
If they can extort near full value on Tanev, he'll be sure to bring home a king's ransom. Just look at the return that the Islanders got for Travis Hamonic. The Flames had to give up a first-round pick and two seconds to close the deal. 
Now imagine that kind of trade with a superior player in Tanev. It would not surprise me at all if the Canucks could recoup a package in between what the Islanders got for Hamonic and what the Devils got for Adam Larsson. 
While such a move would undoubtedly hurt the Canucks in the short term, it would do wonders in expediting the rebuilding process.
Canucks' Prospects at Team Canada World Junior Camp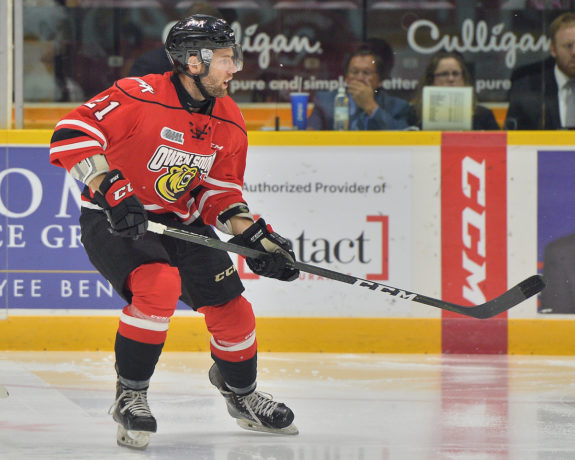 Team Canada announced their squad this week for the 2018 World Junior Championships. Three Canucks' prospects were originally invited- Kole Lind, Jonah Gadjovich, and Michael DiPietro. Unfortunately for Canucks' fans, only Gadjovich was able to crack the final squad.
Kole Lind was perhaps the most surprising cut among the bunch. The dynamic winger has posted 42 points in 25 games in the WHL. The 19-year-old's versatility, two-way play, and offensive vision were thought to be huge assets for a Canadian team that typically emphasizes two-way skill.
Instead, Team Canada opted for specialized players who possessed particular speed or size. Eyebrows were raised when the likes of Alex Formenton, Maxime Comtois, and Drake Batherson were selected instead of Cody Glass, Nick Suzuki, and Kole Lind. Lind is ineligible for next year's WJC, meaning he won't be able to don Canada's colours anytime soon.
Goaltender Michael DiPietro was also among the cuts for the roster. Dallas prospect Colton Point was selected in favour of the Canucks' third-round pick as the backup for incumbent Carter Hart. This decision wasn't as surprising given DiPietro's dip in play after a lights out October and November. Point's experience with tougher competition in the NCAA will definitely be a huge asset for the Canadian team. This should inspire DiPietro to elevate his game, especially when you consider that he'll still be eligible for next year's tournament.
Finally, we congratulate Jonah Gadjovich who will be the sole Canucks' representative for Team Canada. Gadjovich made a good impression with his relentless work ethic, physical play, and nose for the net.
*All stats courtesy of Corsica