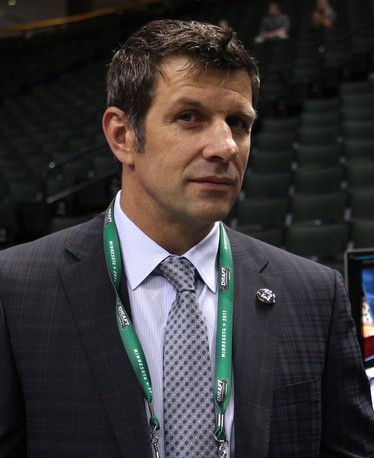 With their disastrous 2011-2012 campaign now behind them, the Canadiens will be hoping for a quick turnaround once a new CBA is negotiated and next season gets underway. For most teams, a last place finish in their division and/or conference would mean a rebuild―and the development that goes with it―is still in progress, or it's just about to get underway. You might think the Canadiens fall into the latter category, but Marc Bergevin, who took over as GM of the Canadiens in May, hasn't made very many changes to the roster this summer. On the other hand, while the Habs have kept much the same lineup as they finished with last season, upper management and hockey operations will have a whole new look.
John Madden Joins the Scouting Team
Three time Stanley Cup champion John Madden is just the latest addition to an off-ice team that has grown significantly since Marc Bergevin took the reins. Madden will be scouting at the U.S. collegiate level. He won one of his three Cups with the Blackhawks in 2010, when Bergevin was Director of Player Personnel.
Madden rounds out a scouting staff that has swelled over the summer. Other new scouts include long-time Oiler Ethan Moreau, ex-Hab Donald Audette, Mark Mowers, and Bobby Kinsella. Kinsella, coming over from the USHL's Dubuque Fighting Saints, was among Bergevin's first hires, taking on scouting duties in the U.S. Midwest. Mowers will be scouting the Eastern Conference while Moreau will be in charge of the Western Conference. Donald Audette has the daunting task of scouting the Quebec amateur ranks, searching for homegrown talent for the Habs.
Changes behind the Bench
Michel Therrien will be back behind the bench for the Habs next season, filling a role he occupied for over two seasons from 2000 to 2003. In his first stint with the Habs Therrien was 77-77-36-14 over 190 games coached. Andrei Markov was just beginning his career when Therrien first took over the head coaching duties in Montreal. Francis Bouillion, signed by the Canadiens as a free agent this summer, was also playing with the Habs at that time. Colby Armstrong, another offseason addition, also spent time playing under Therrien, he played with the Penguins for a part of Therrien's tenure there, which spanned from 2005 to 2009. Donald Audette and Patrice Brisebois both played under Therrien as well, now they'll be working beside him. Brisebois was pegged this summer as Montreal's Player Development Coach.
2011 Memorial Cup winning head coach, Gerard Gallant, is one of three new assistant coaches replacing interim head coach Randy Cunneyworth and assistant coach Randy Ladouceur who were both fired when Therrien was named head coach. Gallant most recently coached the Saint John Sea Dogs, overseeing the development of Habs prospect Nathan Beaulieu as well as Florida Panthers' top prospect Jonathan Huberdeau.
Clement Jodoin makes the jump to the big club this season, he'll also be an assistant coach to Therrien after spending last season coaching Montreal's AHL affiliate Hamilton Bulldogs. Former Habs defenseman JJ Daigneault was also hired as an assistant coach, he was part of the 1993 Canadiens Stanley Cup winning team; so was Patrice Brisebois.
Pierre Groulx will be staying on as goaltending coach, entering his fourth season with the club. Long-time video coach, Mario Leblanc, will also be returning to his position this season, he's been with the Canadiens since 1996, so this will be his second time working alongside Michel Therrien.
Front Office Gets a Makeover
Marc Bergevin wasted no time setting up his management team this summer. Rick Dudley came over from the Leafs to become Montreal's assistant GM within a month of Bergevin's hiring. The two worked together in Chicago, both playing key roles in managing the Hawks to their first Stanley Cup in almost 50 years.
Martin Lapointe was also added to the Canadiens' front office this summer. Not surprisingly, the Montreal native also has a connection to Bergevin and the Cup winning Blackhawks franchise. Lapointe had been working as a scout for the Hawks since December, 2009.
Trevor Timmins and Larry Carriere are both staying with the Canadiens despite the regime change. Timmins becomes the team's director of procurement and player development, but he will still be largely responsible for ensuring the Canadiens are prepared for the NHL Entry Draft each year. Carriere stays on as an assistant GM.
Although the Canadiens made plenty of changes to their coaching and management staff, the team will benefit from the myriad of prior working relationships to make a smooth transition. Habs fans should be optimistic after Bergevin was able to put together a management staff that already has experience building a Championship team.
Just two seasons after the Hawks missed the playoffs in 2008 they raised the Stanley Cup. Here's hoping the Canadiens can do the same.