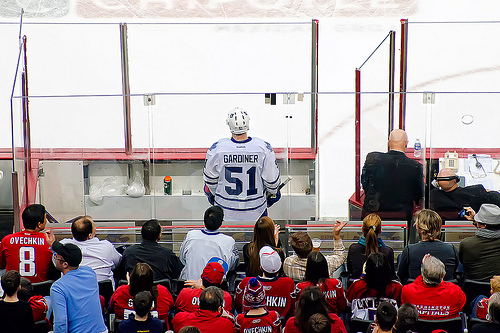 This is part two of a three-part series grading the Toronto Maple Leafs by position. To view other editions and the date they are set to be published, click here.
When the Toronto Maple Leafs acquired Dion Phaneuf from the Calgary Flames in January of 2010, it was thought that the team had finally solved one of its largest problems, defensively stability. Unfortunately for those believers, that was not the case.
Phaneuf, now 27 and the captain of the Maple Leafs, has had an up and down career in Toronto. Now he finds himself part of a mediocre defence corps that is regularly torn a new one by Leaf fans and media. Those critics have their reasons to be hard on the team's defensive play, but that doesn't mean it's all bad.
Phaneuf posted 12 goals and 44 points in 82 games last season after a campaign that saw him score eight goals and tally 30 points in just 66 contests. John-Michael Liles has also proven to be an offensive weapon on the back-end; he notched 27 points in his first season with the Maple Leafs, one that saw him play in 66 of 82 games.
There's also Jake Gardiner who, once the lockout is lifted, will enter his sophomore season. High expectations are being placed on Gardiner's shoulders and rightfully so. The 22-year-old stormed into training camp a year ago, made the Leafs' roster and stuck with the team all season long. He finished with seven goals and 30 points. No one will debate the fact that Gardiner will need to improve upon his success from 2011-2012, which isn't out of the question whatsoever.
Gardiner has plenty of potential remaining and under a new system with head coach Randy Carlyle, it's expected that he will become a more well-rounded defender. That's great news for the Leafs, who, as mentioned above, still lack stability on the blue line.
Mike Komisarek, Cody Franson and Luke Schenn played very shaky hockey last season. Now with Schenn out of the equation and Franson still a restricted free agent as we wait on a new collective bargaining agreement, it's almost a sure-fire lock that Komisarek will suit up for the blue and white when the season begins. That is, of course, unless both Korbinian Holzer and Jesse Blacker play well enough in what will be an abbreviated training camp to make the roster.
Holzer and Blacker are two rather large question marks as we enter the second week of October. They will duke it out for what could be the final spot in the Leafs' lineup barring the re-signing of Franson. If one of Holzer or Blacker does make the Leafs, will they play well enough in their rookie season that their teammates can rely on them to the point where they can take risks in front of the defenders?
The good news is that we were asking the same type of question about Gardiner this time last year. The bad news is the uncertainty that comes along with it.
The NHL and NHLPA need to crank out a new CBA before anything goes on. Once that happens, we'll be able to evaluate the Leafs' current situation with Franson. Assuming he is re-signed in the time for the start of the season, one of Blacker and Holzer will likely wind up in the seventh spot on the Leafs' depth chart of defencemen compared the sixth spot they would otherwise hold.
What just about everyone can agree on is the fact that Carl Gunnarsson was the Maple Leafs' most consistent defender in 2011-2012. He may not have always been stellar, but Gunnarsson's performance beat that of the other Leaf blue liners with the exception of Gardiner, making him more reliable than others in most situations. If the Leafs are to succeed defensively this season, they will need an anchor of Gunnarsson calibre or higher to get them through. That is unless Phaneuf, Liles or Komisarek step up their game.
Current overall defencemen grade: C+
The ability or inability of Phaneuf, Liles and Komisarek to become more consistent is just one of the many concerns currently surrounding Leaf defencemen. With that, it's difficult to place the Leafs in the top half of the NHL when it comes to defensive expectations.
Similar to years prior, the Leafs may have to rely a little too much on goaltending when hockey starts up again.
Twitter: @LukasHardonk | Email: lukas.hardonk@gmail.com | Lukas' archive
For every Leafs article on THW, follow @THW_MapleLeafs on Twitter.
Check out Maple Leafs Central, a THW Network site.
Lukas, a student at the University of Ottawa, covers the Toronto Maple Leafs on a part-time basis for The Hockey Writers. Contact Lukas at lukas.hardonk@gmail.com or follow him on Twitter, @LukasHardonk.