Carl Hagelin, the Pittsburgh Penguins' speedy, havoc inducing left-wing knows exactly what it means to play in the Conference Finals. Unfortunately, he's also very familiar with what it means to come up just short of hockey's ultimate prize.
Throughout his four-year stint with the New York Rangers, Hagelin was part of multiple deep playoff runs. In 2011-12, the Rangers lost the Eastern Conference Final in six games to their rivaled neighbors, the New Jersey Devils. Two seasons later, they'd finally make it over that hump but found themselves defeated in convincing fashion by the Los Angeles Kings in the Stanley Cup Final.
Then, last season, a year Penguins' fans will remember dearly as Hagelin eliminated Pittsburgh with his overtime goal in Game 5 of the first round, the Tampa Bay Lightning pulled off a Game 7 victory to send the Blue Shirts packing just shy of the Cup Final yet again.
An eventful offseason saw Hagelin get traded to the Anaheim Ducks in exchange for Emerson Etem, a move the Rangers surely regret but had little choice due to salary cap implications. The Ducks struggled to start the 2015-16 campaign and Hagelin failed to make an impact with his new club. Thankfully for Pittsburgh, general manager Jim Rutherford saw a chance at redemption for the 27-year old and acquired him in Jan. 2016.
That move, combined with the acquisition of Trevor Daley and an infusion of youth sparked the Penguins and launched them into one of the more impressive runs throughout the NHL in recent memory. Now, Hagelin is back in the Conference Finals with his new team and once again, it's the Lightning that stand in his way.
Will history repeat itself?
Big Game Performer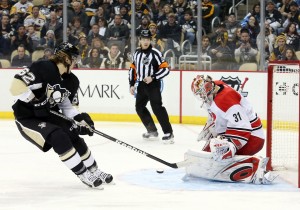 When Hagelin first arrived in Pittsburgh, the move was met with mixed reviews.  A lot of folks saw it as very risky considering his lack of production with the Ducks and the fact that he carries a $4 million cap hit through 2019. The Penguins spend to the cap ceiling every year and when you have names like Sidney Crosby, Evgeni Malkin, Phil Kessel and Kris Letang making top dollar it raises questions about future cap management.
It also didn't help that Hagelin, despite playing well and bringing exactly the type of speed and chaos Pittsburgh had hoped for, scored only one goal through his first 16 games in a Penguins' jersey. He was averaging .5 points-per-game and seemed as if he'd never live up to that $4 million price tag.
Of course, that was before all the chips were on the table down the stretch. It's evident now that Rutherford's high risk gamble has paid off in a big way.
Pittsburgh played 14 games in the month of March, 10 of which were against divisional opponents. The Metropolitan Division was extremely tight as nearly everyone outside of Washington, who was a clear division winner and Columbus, who didn't stand a chance, were battling for a playoff bid. In those 14 games, Hagelin scored four goals and 13 total points or in other words, he averaged nearly a point-per-game in the most important stretch of the regular season.
His individual production hasn't been the only positive from his play, either.
The Engine Behind the HBK Line
While the story of how they were acquired is much different, the Penguins found magic with an unlikely trio just as the Lightning did one season ago with their Triplets line. After there was so much anticipation around how productive Phil Kessel would be alongside either Sidney Crosby or Evgeni Malkin, it turns out the perfect fit was with Hagelin and Nick Bonino.
The speed of Hagelin and Kessel on the wing is quite overwhelming for any opponent. In fact, it was that speed and tenacity that eventually put the Capitals away on Tuesday night.
Hagelin's jump and the ability to get behind Matt Niskanen and Taylor Chorney created that opportunity. The Penguins believe in a simple philosophy based on speed and the HBK line is a force because of it. Smart, directional chipping-and-chasing which allows them to play behind defenders is the key to their success and Hagelin is the engine that drives it.
Through 11 games this postseason, Hagelin has eight points. Three of those points were recorded in Pittsburgh's Game 6 victory that put an end to the series. He continues to produce when it matters most. And, nothing more than a fun fact, but he also has played for the team who eliminated the Capitals from the postseason every year since 2011-12. Four times to be exact.
Ending the Annual Shortcomings
Could this be the year? Is this a Pittsburgh Penguins team destined for a Stanley Cup Championship?
Making the postseason on a consistent basis is an accomplishment in itself in today's cap era. Hagelin has played postseason hockey for five consecutive seasons and as I mentioned earlier, each year was a deep run. However, the Cup has narrowly escaped him all five times.
His new team has reached 10 consecutive postseason appearances, which is the second longest streak in the NHL. But, they only have one Cup during that span.
With a cast that consists of this much star power, the Penguins are poised to win it all if they continue to play as they have since January of this year. A player like Hagelin, who puts everything he has into every single shift, deserves to win. These Penguins, whose core has suffered some of the most disappointing playoff exits anyone could imagine due to injury woes and lack of depth, deserve to win. Unfortunately, as the Capitals have recently shown, nothing is guaranteed in this league but one thing seems certain and it's that Carl Hagelin will continue to battle as he has every year at this time. These Penguins will continue to battle under their new bench boss and it'll be a tall task for anyone to impede them.
Eight more wins is all they need. Will they finally win that elusive second Stanley Cup in the Crosby era with the help of impact forwards like Hagelin?
Pittsburgh Penguins writer for TheHockeyWriters.Com and PittsburghHockeyNow.Com. Youth hockey coach, and student of the game.