The New York Islanders placed goaltender Jaroslav Halak on waivers, the team announced on Friday.
Halak was pulled during the Islanders' 6-4 loss to the Minnesota Wild on Thursday, marking the third time he'd been pulled in his past 11 starts.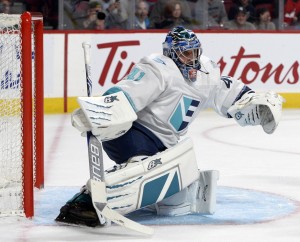 After the game, Islanders head coach Jack Capuano was critical of the 31-year-old goaltender who was once the clear No. 1 goaltender for the franchise.
"We needed a better effort from Jaro, quite honestly," Capuano said according to a report from Newsday. "Four goals on 24 shots isn't going to get it done.
"Jaro wasn't sharp at all. He gave up some soft goals and we had to battle back. We did against a real good team."
The Slovakian netminder has been splitting time with Thomas Greiss most of this season and has played in 21 games, posting an 6-8-5 record with a 3.23 goals-against average and .904 save percentage.
The decision is a major turning point in Halak's tenure with the Islanders organization.
Halak was with the Washington Capitals and pending unrestricted free agency in the 2014 offseason when his rights were traded to the Islanders. He signed a four-year deal with the club and stepped into the starting role during the 2014-15 season.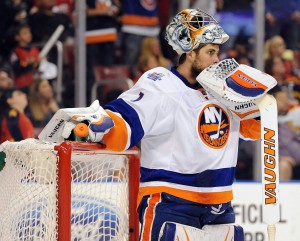 He started 59 games and posted 38 wins as the Islanders reached the playoffs for the second time in eight seasons. During the 2015 playoffs, he registered a 2.30 goals-against average and .926 save percentage as the Isles took the Washington Capitals to seven games before being eliminated in the first round.
During the 2015-16 season, he posted 18 wins in 36 starts before suffering a lower-body injury and missing the remainder of the regular season and playoffs. Greiss stepped in and backstopped the Islanders as they reached the second round of the playoffs for the first time since 1993.
In the offseason, Halak backstopped Team Europe to the final against Team Canada in the 2016 World Cup of Hockey — seen by many as proof that he he still had the ability to be a No. 1 goaltender, despite the uncertainty in Brooklyn.
However, it became clear early this season that there was still controversy relating to Halak's role with the club, as he continued to split time with Greiss and Jean-Francois Berube. Halak's agent, Allan Walsh, took to Twitter to voice his frustrations with the situation in October.
Hard to figure out NY Islanders using 3 goalie system for 2nd year. Biggest issue is goalies don't get enough practice time to stay sharp.

— Allan Walsh (@walsha) October 29, 2016
Starting goalie for NY Islanders last game had only 1 quality practice in last 5 days before Penguins game. Going on 2 years of this now.

— Allan Walsh (@walsha) October 29, 2016
Other teams will have an opportunity to claim Halak on waivers, but economics may be an issue. According to Newsday's Arthur Staple, Halak is owed more than half of $4.75 million this season and is due another $5 million in 2017-18, so it's a concern for clubs in a tight NHL salary cap environment.
If Halak clears waivers, the most likely scenario is that he's assigned to the Bridgeport Sound Tigers, the Islanders' American Hockey League affiliate.
Halak has over half his $4.75m salary left this year plus $5m next year. If he doesn't report to AHL, no $.

— Arthur Staple (@StapeAthletic) December 30, 2016
Oshie on Olympics: '100-percent, we should be there'
Washington Capitals forward T.J. Oshie, a star for the United States at the 2014 Winter Olympics, believes that NHL players should participate in the 2018 Games, according The Washington Post's Barry Svriuga.
"One hundred percent, we should be there," Oshie said, according to Svriuga. "I think it's just important for hockey. I think it's our responsibility in the stage that we're at and the impact that we have on the game. I think it's our responsibility to play in that tournament and represent our country."
Oshie provided one of the most memorable moments of the 2014 Winter Olympics in Sochi, Russia, when he scored four shootout goals against the Russians to secure a 3-2 win.
The NHL has been hesitant to send players to the Olympics, voicing concerns over who would cover the costs of travel, insurance and player guests at the Games. On-ice concerns include the potential for injury of star players while competing outside of the NHL.
A decision on whether or not the league will send players is expected to come soon, as the International Olympic Committee as given the NHL until Jan. 15, 2017, to provide an answer.
Odds and Ends
— Patrick Sharp will make his return to the Dallas Stars' lineup when they faceoff against the Florida Panthers on Saturday, the team announced. He's missed the past 12 games with concussion-like symptoms and missed 14 games earlier in the season related to the issue.
He's good to go tomorrow vs. Florida. pic.twitter.com/ncAtXWqFjz

— Dallas Stars (@DallasStars) December 30, 2016
— St. Louis Blues goaltender Carter Hutton has revealed the mask he will wear against the Chicago Blackhawks during the 2017 Winter Classic at Busch Stadium on Jan. 2. The unique mask resembles the outside stitching of a baseball and pays homage to Major League Baseball's St. Louis Cardinals, who also play at Busch Stadium.
Carter Hutton's St. Louis Blues 2017 Winter Classic mask Cardinals tribute @StLouisBlues @CarterHutton @Progoalie @Cardinals @VaughnHockey pic.twitter.com/C6bB0Gcf6S

— Jesse's Custom Design (@JessesCusDesign) December 29, 2016
— The Tampa Bay Lightning re-assigned forward Erik Condra to the Syracuse Crunch (AHL). He had been recalled by the Lightning on Thursday before their game against the Toronto Maple Leafs after Brayden Point and Vladislav Namestnikov were injured against the Montreal Canadiens the day before.
— New Jersey Devils rookie Miles Wood fulfilled a 10-year long dream of receiving Alex Ovechkin's autograph before the teams faced off against each other on Thursday. Wood's father, Randy, spoke to Devils All-Access before the game and told a story about how his son sent a letter to Ovechkin as a kid, requesting that the Russian star sign his card and adding a note that said, "If you don't sign this and send it back to me, when I make it to the NHL, I'm going to give you a big body check." Wood never got the card, but he did make it to the NHL and met Ovechkin, receiving the elusive autograph he sought as a kid.
Well worth the wait for @MilesWood28! He's leaving D.C with two points and an @ovi8 autographed picture. pic.twitter.com/OQIuHLDqxB

— New Jersey Devils (@NJDevils) December 30, 2016
Steven is a lawyer and writer with a passion for the game of hockey. He's the Lead Writer covering the Tampa Bay Lightning with THW. He's also been press credentialed through the Lightning since 2016. His work has been published at The Fourth Period, LightningInsider.com, Bolt Prospects, The Sports Daily Network, U.S. College Hockey Online and College Hockey News. He's had radio appearances on TSN 690 in Montreal, Lightning Power Play Live and multiple podcasts to give insight and analysis on the team. He can be reached on Twitter @StevenDiOssi and by email at sdiossi@gmail.com.