When news broke that Chris Phillips has a cracked disc in his back after his offseason surgery, it shuffled the depth chart for the Ottawa Senators heading into the season. He will certainly miss training camp, and likely the beginning of the year, and Senators GM Bryan Murray doesn't seem to think that it's a good idea to count on a big contribution from Phillips until closer to the second half of the season. "We hope, we think if he can get healthy certainly the second half of the year, his experience will help," Murray said to CTV News.
Phillips is the elder statesman of the blue line, seven years older than the next closest contender. With that age comes a wealth of experience, and losing a leader and solid defender would be a problem for each of the NHL's teams.
The Senators do have a number of young candidates for a top six defenseman role, chomping at the bit. This alleviates the blow that an extended absence of Phillips would create. Some of the spots are obviously spoken for. Erik Karlsson is written in with permanent, never-come-off Sharpie. Marc Methot has a spot locked up. Patrick Wiercioch played his way into a spot for this season. With that, half of the spots in the top six are gone. Then Cody Ceci looks like he's aiming for the top four, let alone top six after last season, and suddenly we're down to two.
Mark Borowiecki
The rough and rugged Borowiecki saw action in 63 games last year, the first season he did not spend any time in the AHL. His PIM will always be much higher than his point total, but for a third pairing defenseman, you can do much worse, and he brings some grit and toughness to the back end. Paired with a more adventurous player, including some that follow in this article, would make a good match to balance things out.
Jared Cowen
The former top prospect has struggled with consistency in his NHL career, but it seems he will get every opportunity to have a consistent spot in the lineup after being a frequent healthy scratch throughout the regular season and playoffs. While he's still reasonably young at 24, it's getting to be crunch time for Cowen, and he will need to take a step forward and prove to the Senators he is worth keeping around. After being such a highly regarded junior player, if Cowen can flourish and tap into his potential, he could make this defense corps one of the best in the Eastern Conference.
Mikael Wikstrand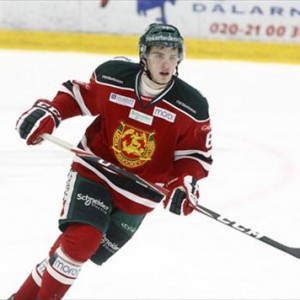 Wikstrand has come across the pond from Sweden to try to crack the Senators roster. There was some speculation that he will return if he doesn't make the team rather than accepting an assignment to the American Hockey League, but if we are taking Wikstrand at his word, that isn't necessarily the case. He told the Ottawa Citizen, "I'm open for everything. I think it's good to play in Binghamton. It's good to play in Sweden, too." Though he wouldn't fill the physical void left by Phillips, he is an offensive minded defenseman with some potential – and a late round steal if he factors into the Senators' future plans at all. Wikstrand was taken 196th overall.
Chris Wideman
Wideman is another offensive defenseman in the mix. He has produced great offensive numbers with the Senators' farm team in Binghamton, but at 25 has never played an NHL game. In 75 AHL games last season, Wideman potted 19 goals and 42 assists for a 61 point season. He's the "papa bear" in his living situation with sophomore NHLers Mark Stone and Curtis Lazar, and he's obviously vying to make sure those arrangements can continue for the regular season. Wideman has shown some grit with the Baby Sens, spending over 100 minutes in the penalty box in back to back seasons.
At the end of the day, the real battle will probably come down to Wikstrand vs. Wideman, as Borowiecki and Cowen have their hands on spots, and would need to play their way off the roster to start the year. The edge would go to Wideman at this point, allowing the Senators to send Wikstrand to the farm for some seasoning, which Wideman has already completed. There will surely be more injuries throughout the year, and Wikstrand would be the first in line to earn a call up.
– Happy to call Canada my home, and proud graduate of Wilfrid Laurier University and Conestoga College
– Ottawa Senators writer for The Hockey Writers
– Fantasy sports addict
– World Juniors Hipster (Liked it before it was cool)