As big-name pending free agents like Steven Stamkos and Anze Kopitar make headlines every other day with updates on the status of their likely eventual contract extensions, some stars are falling through the cracks.
Sure, there's a chance neither of those two will end up re-signing with the Tampa Bay Lightning and Los Angeles Kings. However, there's a much larger one surrounding each of the following five and their respective, current teams.
Here are the top five pending star UFAs likely to switch NHL teams this coming season, either via trade or free agency next summer:
5. Jaromir Jagr
The Jaromir Jagr retirement tour has undeniably taken an unexpected, extended turn into Florida (where else?). But chances are good it won't stop there.
After being traded there to end the 2014-15 season (rather strongly with 18 points in 20 games), the now-43-year-old has played for five different teams since returning from Russia (eight in all).
Really, he only takes the No. 5 spot as the least likely star player on this list to switch NHL teams this coming season, because he could realistically retire instead. But, again, 18 points in 20 games as a Panther? That's almost as much as Dave Bolland had in 53 games.
Granted, not the best example to illustrate he is still capable of playing at a high level, but he obviously is (Jagr, not Bolland). If he chooses to continue his career next season, why not? Or, rather, where not? He's got, like, two dozen teams left.
4. Eric Staal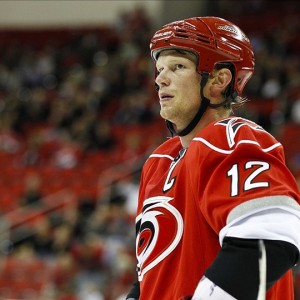 Granted, this entry could just as easily be under Carolina Hurricanes teammate Cam Ward's name instead. However, seeing as Eric Staal is the bigger name (and better player), we'll give it to him, especially with trade rumors involving the latter popping up regularly.
Even though one shouldn't read too much into rumors, where there's smoke there's generally fire. Come July 1st (if not before), there may no longer be a Hurricane by the name of Staal to put it out (brother Jordan notwithstanding).
The younger Staal may very well be the only thing that could keep him there, but it's time to face the sad truth: The experiment of bringing them together has failed miserably. Jordan hasn't taken that step towards superstardom everyone expected following the trade from the Pittsburgh Penguins. Eric has taken one back.
Considering the lack of complementary talent in Carolina currently, it's hardly surprising. A change of scenery may help him resurrect his career.
3. Milan Lucic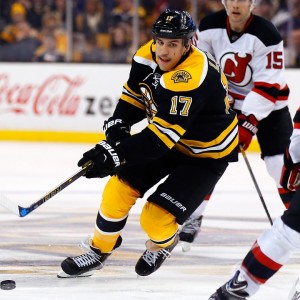 No sooner did Milan Lucic get traded to the Los Angeles Kings did he admit that he saw himself playing for his hometown Vancouver Canucks.
Granted, most reports on the subject conveniently buried how he followed that up with "but right now my main focus is going down to L.A. and trying to make the most of that." The fact remains, Vancouver could be a good fit.
Consider the following: Traditionally, Los Angeles hasn't been a high-scoring team and Lucic is seemingly on an ever-increasing statistical decline.
With Kopitar more likely to re-sign with the Kings by next summer (and take up a great deal of whatever cap space they will have), chances are good they would let Lucic walk, presumably following a second consecutive disappointing season, to be generous.
Add in Vancouver GM Jim Benning making a rash of questionable moves in recent months, and it's not exactly out of the question that he would reach out to Lucic, try to bring the proverbial prodigal son home, and make another.
Is Lucic going to beyond a shadow of a doubt sign with the Canucks next summer? No. But, as likely as it is that Los Angeles won't be willing to re-sign him, it is just as much in his best interest to test the market. One team will likely offer him more than it should. Why not Vancouver?
2. Jonas Hiller
It remains to be seen if Karri Ramo can pick up where he left off in the playoffs as Calgary's No. 1 goalie. Even if he doesn't Jonas Hiller is likely gone.
Both are scheduled to become unrestricted free agents next summer. It stands to reason, with Joni Ortio waiting in the wings, at least one will have to get packing eventually. And Hiller is four years Ramo's senior and makes the higher salary.
The 33-year-old netminder had decent enough stats last season (namely a .918 save percentage and 26-19-4 record), meaning, if he isn't traded away before then, he'll probably have little trouble finding work elsewhere as a No. 1A or B goalie next offseason… ideally outside the Pacific Division, far away from the Anaheim Ducks.
1. Tomas Plekanec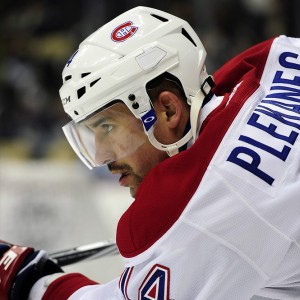 The announcement that Montreal Canadiens forward Alex Galchenyuk would be playing center this season was primarily met with two things:
Cautious optimism on the part of fans that head coach Michel Therrien won't move him back to wing two pointless periods into the season
A not-so-happy look on the face of last spring's No. 1 center Tomas Plekanec
With the Habs set to contend this coming season, chances are good that Plekanec won't be traded, even though the Habs could conceivably fetch a lot for his services. However, if the writing that he won't remain a Hab wasn't on the wall, it certainly is on the Canadiens depth chart.
Lars Eller, David Desharnais, Torrey Mitchell, Jacob De La Rose, and Brian Flynn can all play center as well and are each signed past 2015-16 at least. That's not even taking into account prospects like Charles Hudon and Michael McCarron who can also line up down the middle.
Plekanec is coming off a great 60-point season, but will be 33 this October. He can still contribute. Chances are good it will be with another team at this time next year.
*All free-agent info taken from CapFriendly.com.