Training camp has been underway for almost a week now in Winnipeg and with 55 players invited to camp, some fans can be overwhelmed by what and who to watch. The Jets have many open spots on their roster this season, making their training camp one of the more interesting in the league. There are a few battles in particular that fans should be keeping their eyes on. Almost all these battles mean an NHL season for one player, and an AHL season for the other. These battles will shape this team, so lets take a look at what could make or break the Jets this year.
First Line RW
Bryan Little and Andrew Ladd have played on the Jets top line since the team came to Winnipeg. They have been paired with many players, from Blake Wheeler, to most recently Michael Frolik. With Frolik's departure to Calgary, the Jets once again will be looking for someone to fill in on this line. The first week of camp saw Adam Lowry in the role. Lowry was a bit of a surprise but so far it seems the young man has impressed Head Coach Paul Maurice. Little has slid over to the wing while Lowry plays center, and so far it has worked out. The Jets will give this line some in-game action later this week and will likely try a few other things before the season starts, but for now Lowry has the inside track. Other contenders include the favorite all summer, Nikolaj Ehlers, as well as a possible return for Blake Wheeler. Every player brings their own positives and negatives; while Ehlers has high offensive skill, there are questions about his defensive game. Wheeler brings familiarity to the line, but it also takes away from what has become a strong second line with Scheifele and Stafford. Lowry definitely has the defensive skill to fit in, coaches think he has the offensive skill as well, but whether he can skate with some of the league's top players that this line matches up against remains to be seen.
The 7th Defenseman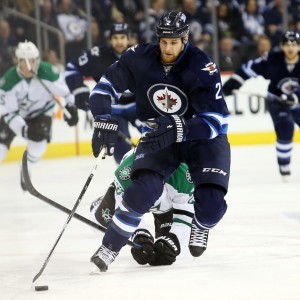 I wrote earlier in the week about the 12 men battling for the Jets blue line (read that here) and while the entire defensive corps is battling, it is the seventh spot that will be the most interesting. Everyone has a pretty good idea who the assured spots belong to. Byfuglien, Chiarot, Enstrom, Myers, Trouba, and Stuart, all pretty much are guaranteed NHL roster positions, but there are three other defenseman with one-way contracts that are fighting to stay on the team. Jay Harrison, Paul Postma, and Adam Pardy will be the guys fighting for that spot, and fighting for their NHL lives. In the past Winnipeg has carried two extra defenseman, going with eight defenseman and 13 forwards, while most teams go 14 and seven. That approach would help these men but they cannot count on it. All three have had their chance, and all three have contributed for this team, but at least one, and possibly two will find themselves either on waivers or on their way down to the American Hockey League.
Goaltending
It seems clear that Ondrej Pavelec and Michael Hutchinson are virtual locks for the number one and two jobs, but the recent emergence of Connor Hellebuyck muddies the waters. Hellebuyck was great in both the AHL last season, as well as the World Championships over the summer and he will push Pavelec and Hutchinson for an NHL roster spot. While Hellebuyck is in the rear-view mirror coming on strong, Hutchinson and Pavelec are neck and neck, fighting for the starting role. Of course at this point, Pavelec is the front-runner. He has the experience, and though there are questions, he has proven at times in his career to be a very capable number one in the net. However, Pavelec has also shown holes, and during those times last season it was Hutchinson that took over the net, putting up numbers that had people talking about a possible All-Star selection. At this point it is Pavelec's  job to lose. Should he falter, and Hutchinson step up, there could be a new face at the top of Winnipeg's goaltending depth chart.
Fourth Line Center
The Jets let Jim Slater, the franchise's longest-serving player, walk away from the team this summer without a contract, leaving his spot to be filled with youth and less expense. This has opened up a huge competition for a young Jet to get his big break. At this point it appears to be a battle between Andrew Copp and Joel Armia, though surprisingly the two have been playing together at training camp. It is not inconceivable to see both players make the team, but it does seem unlikely, unless the team is ready to part with a few veterans expected to be on that bottom line. Chris Thorburn, Anthony Peluso, and Matt Halischuk have all been with this team for multiple seasons, and Matt Fraser was signed this season to add depth. At this point it seems all these players are fighting for spots on the fourth line. There are still a couple of weeks before camps break and the season officially begins, but for many Jets players, they need to be at their best now if they want a chance to succeed this season.