Making Montreal Canadiens predictions for the 2015-16 season is kind of like eating a box of chocolates. The legend will give you an idea of what you're going to get (Forrest Gump conveniently glossed over that tiny detail), but you still have little idea if they're any good or not until the bitter (or hopefully in the Habs' case), happy end.
Here are the top five:
5. Alex Galchenyuk Won't Play the Entire Year at Center
This prediction would be downright logical, were it not for all the hoopla surrounding the announcement that Alex Galchenyuk will be playing center this coming season. The thing is no one said head coach Michel Therrien would keep him there.
The hope is the offense will rebound after ranking 20th last regular season in goals scored, while adding 2.08 average goals in the playoffs. Even if it does, it is safe to assume that there will be, at the very least, one or two road bumps for this team where goals will be harder to find than a strip-club patron who actually cares about the buffet.
Therrien's tendency to rejig the lines on a regular basis notwithstanding, it's only natural for a head coach to do similarly during rough patches. Considering Galchenyuk plays the wing as well (as fans know very well), he would be just one likely candidate to see his position change at least once or twice during the season in an effort to kickstart the team's goal scoring.
4. Alexander Semin Won't Be a Bust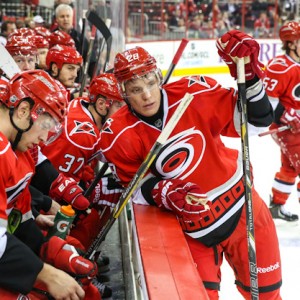 Just to clarify, Alexander Semin not ending up a bust for the Canadiens is not the same as him re-signing for the following season. The two are quite mutually exclusive and it stands to reason, based on his personal history, one good season out of the Russian winger is the most the Habs can realistically hope for at this stage of his career. It's also pretty probable.
The last time Semin signed a one-year deal, it was for the lockout-shortened 2012-13 season, during which he scored 44 points in 44 games for the Carolina Hurricanes. That season he was making $7 million en route to earning a five-year, $35-million deal with the team before being bought out as a result of poor performance.
Semin, now making $1.1 million, will likely bring his best effort on a regular basis this coming season in order to get a chance at earning a similar salary once again. Now 31, he has only so many kicks at the can left.
His wrist surgery last offseason might factor into his offensive performance, but on a Therrien-coached team it's not a lack of offense that necessarily gets you in the doghouse. It's lack of effort. And, despite his reputation, Semin actually does a lot of little things right.
That actually includes killing penalties, to the tune of 56 seconds per game in 2010-11 on the second-ranked Washington Capitals unit (85.6%). In 2008-09, he was on the ice for 1:31 a night. That would put him in Max Pacioretty's range from last season, with Pacioretty ending up leading the league in plus/minus as a result of his improved defensive play.
Now, no one's expecting Semin to become the next Pacioretty, but that's just it. Expectations are so low, it would really take Semin purposely focusing all his energy on trying to fail for him to actually do so. His precarious contract situation and the need to rebound statistically would presumably supersede any desire to slack off, especially when that tendency of his has been proven to be a slight falsehood.
Semin doesn't need to be a superstar for this signing to turn out to be a success. He just needs to show up.
3. Tomas Plekanec Won't Be Traded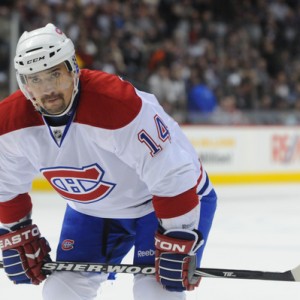 Despite being miscast as a No. 1 center into the playoffs last spring, Plekanec was able to produce 60 points during the regular season. That's an incredibly decent total for a player whose bulk of ice time was spent centering Galchenyuk and Brendan Gallagher on the team's second line.
Whereas Galchenyuk is potentially primed for a promotion up to the top line to center Pacioretty, Plekanec's role this season will ideally stay very much the same on the second, barring a trade.
While his production might take a hit due to him turning 33 by the end of October, the intangibles he brings to the table, including leadership and above-average defensive awareness, should be enough reason for the Habs to keep him in the fold.
He would no doubt fetch a lot on the trade market and the Canadiens do risk losing him for nothing next summer, but there's every reason to believe the Habs will be buyers next trade deadline, not sellers. And when was the last time a contender traded away a center of Plekanec's caliber?
2. Canadiens Will Win Season Series Against Lightning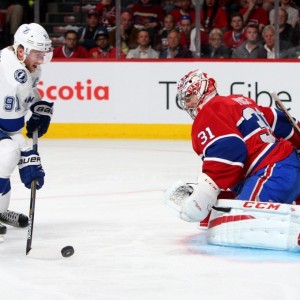 The only reason a single Canadiens season-series win made it onto this list is because of the team it would be against, i.e., the Tampa Bay Lightning, against whom the Habs lost every single game in 2014-15 (one in overtime).
It's rare for a team to win every single game against a division rival in a given season, because there are so many. It's even more rare when the team that wins so many head-to-head match-ups ends up the runner-up in the division to the loser. Yet, that's just what happened when the Habs took the Atlantic last season.
That's why a series victory against Tampa this year will go a long way towards helping them win the division again.
It may seem like a huge step forward to go from zero victories to at least three (in four games in 2015-16), but the facts are the Habs improved this offseason. The Lightning? Not so much.
They really didn't add any pieces of any consequence, aside from Erik Condra, who, all due respect to him, was a difference-maker in Ottawa the same way Steven Seagal was in Executive Decision (minus all of Seagal's face time). Sure, he got into the credits and technically moved the plot along. At the end of the day, though, his part could have been played by just about anybody else.
So, after getting the monkey off their back in their playoff series against Tampa, winning two of the final three games in the series, Montreal is primed to win some measure of revenge against their division rival, and perhaps much more in the process.
1. Canadiens Will Win Presidents' Trophy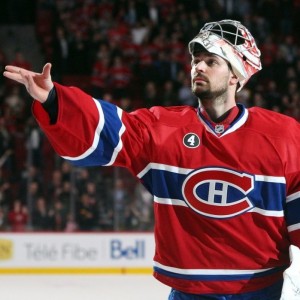 After three consecutive 100-point seasons, the Canadiens are at the very least in a position to take the next step this coming season. While a Stanley Cup victory might seem a tad premature now, a Presidents' Trophy is potentially on the horizon.
The facts are such that they finished second to the New York Rangers last season by just three points, find themselves in a weaker divison, and added to their top six instead of losing a former Art Ross Trophy winner to retirement. They are also coached by Therrien, who, say what you want about the man, knows how to get results during the regular season.
The Canadiens will no doubt face stiff competition from other teams, but one has to believe the stiffest competition will be themselves. Carey Price may not be able to post a second consecutive record-breaking season, but if the Habs can find it within themselves to lighten his load, he won't have to. They've got the underrated talent and depth to do just that and so much more.
So, can they get out of their own way and win the first Presidents' Trophy in franchise history? A successful Canadiens season may hinge on it. Twenty-nine times has it been awarded since its 1985-1986 inception. With 30 teams currently in the league, the Habs are due. They're also pretty good, in case you haven't noticed.