Pekka Rinne is a prime reason why the Nashville Predators continue to surprise the NHL. The League has known for years that Rinne is a top-flight goaltender, but this year there's an added dimension to his game. Call it the desire to prove himself again, take advantage of unprecedented offensive support or cement himself in the mind of his new coach. Whatever the situation, anyone that wants to call Rinne anything less than the current Vezina favorite at the halfway point of the 2014/2015 season is trying to run up the down escalator.

Less Pressure = More Success
The Predators under coach Barry Trotz were always known as a defensively-minded team first, often displaying difficulty scoring goals. A perennial playoff team for many years, this lack of punch was one of many reasons Predator's ownership decided to move to Peter Laviolette, a guy known for promoting an offensive mindset. The results are plain, and Rinne is the prime beneficiary. No longer feeling compelled to give up a goal or less per game, Rinne's confidence appears to be on the upswing. The move to bring in a coach to offer increased offensive support to a goaltender coming off hip surgery makes sense for physical reasons, but this change is appearing to have a positive impact on his mental game as well.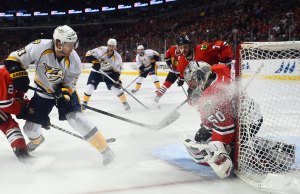 Rinne's Statistics Favor Him At Midpoint
Like it or not, games played impacts the perception of whether a goaltender is worthy of a major award. Keeping this in mind, it only makes sense to only compare goalies who have played in 30 or more games halfway through the 2014/2015 NHL season. The three top contenders at this point are Rinne, Montreal's Carey Price and Pittsburgh's Marc-Andre Fleury. Comparing the key component of a goalie's apparent worth to his team  — save percentage — places Rinne at the top at a solid .929. Price and Fleury are close behind at .927 and .925, respectively. In terms of goals-agaisnt average, Rinne also leads the pack at an even 2.00 at the time of this writing. Price and Fleury are both tied at 2.20. Although other factors such as shots against, where Price has actually faced more rubber than any other top goalie, might affect award voting perception Rinne leads the way at this point in terms of official stats.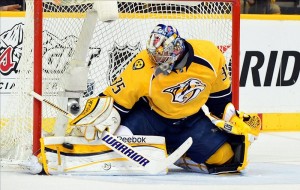 Other Contenders to Derail Rinne's Vezina Campaign
Snakebitten Blues' goalie Brian Elliott, once again leading the NHL in most major goalie statistics, suffered a knee injury that precipitated the signing of Martin Brodeur. Had Elliott continued to play at his torrid pace unimpeded by health issues, he would also be in this conversation. Should Elliott manage to play in at least 50 games by the end of the regular season — unlikely given coach Ken Hitchcock's penchant for rotating goalies and his desire to play Brodeur — he should also be a consideration. Surprising Jets' goalie Michael Hutchinson has only appeared in 14  games this season, but is tied with Elliott at 10 wins. Finally, Roberto Luongo's return tour with the Florida Panthers is surprising many that forgot who Bobby Lou is, and if he can lead the Panthers into the playoffs, might very well nab a few votes. The phenomenon however exists for frequent Vezina nominees to "earn their turn" at the Vezina, much like Henrik Lundqvist did a couple years back despite posting numbers similar to the #2 and #3 vote getters. Rinne might benefit from this as well, even if his numbers begin to fall off slightly. At the current pace based on games played (an indicator of future games played), statistics and consistency over time, Pekka Rinne is your 2014-2015 Vezina favorite.