When forward Mikael Backlund returned to the Calgary Flames line-up on January 7 – after an absence of 29 games – the club dispatched Markus Granlund to the American Hockey League.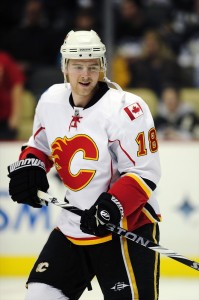 The 21-year-old Granlund had spent the entirety of Backlund's injury with the Flames, in Backlund's familiar spot at center ice. And one thing became fairly evident – Granlund is not very good at face-offs yet. Despite posting pretty solid counting statistics for a player his age – 13 points and a game-winning goal over 29 games – the Flames chose to return him to the AHL for more seasoning. His woeful 35.4% face-off winning percentage was cited as one of the primary reasons for his departure. (Granlund was subsequently brought back the next day when Josh Jooris was placed on the injured reserve.)
Calgary's had pretty bad face-off numbers for the last few seasons, frequently at or near the NHL's bottom in that respect, but this season has been a bit different. The Flames have been tremendously reliant on young players for face-offs – their three most frequently face-off men are Sean Monahan, Granlund and Jooris – but they've been incredibly reliant in particular on Monahan. After the first 41 games of the season, Monahan ranked fourth in the entire National Hockey League in face-offs taken behind Patrice Bergeron, Claude Giroux and Tyler Bozak. He's just 20 years old.
Flames center Matt Stajan, the team's most experienced pivot, notes that a lot of success at the dot comes with time. He came into the NHL as a teenager and faced the challenges of adapting to big-league draws.
"I think the toughest part is getting comfortable in the circle, learning to cheat as much as you can," said Stajan. "I know it sounds bad, but I think as you play more you form relationships with the linesmen, you learn the tendencies of the guys throughout the league and I think just from experience you're learning and you're getting better."
It's probably not a coincidence that Calgary's three most experienced centers – Stajan, Backlund and Joe Colborne are also their strongest at the dot. All three of them have winning percentages north of 50%, and one could argue that a good deal of Calgary's overall face-off struggles have been a result of missing these experienced pivots and having to rely on rookies to keep pace. Stajan, the team's most experienced face-off taker, is also its most successful this season. Through 23 games, Stajan has won 53.8% of his draws. He points to the progression of Monahan in terms of face-off success as a product of hard work and taking a lot of draws.
"I think repetition and experience is gonna help him, and we've already seen he's a little bit stronger this year than he was last year, which helps, and then getting your timing and familiarity with guys throughout the league," shared Stajan. "He's had so much repetition that he's learning really quickly, and he's already a good face-off man."
Hockey is a possession game. While face-offs aren't thought to be hugely important in a large-scale analytical sense, they do determine who gets the puck and can result in scoring chances in the moments after a face-off win for a team. Having strong face-off numbers overall doesn't equate with more wins, but being a strong situational face-off team – on special teams and in specific game situations – can be incredibly valuable and ultimately decide a few key games throughout the season.
Last season, Sean Monahan faced mostly third-liners and won 46% of his draws. This season, he's faced mostly first-liners and has won 49.6% of his draws. That's a big progression, and a result of taking a lot of face-offs and learning. Markus Granlund isn't a great face-off man yet. With a bit of patience and a lot of hard work – and by taking a lot of draws in the NHL and AHL – there's a decent chance his face-off numbers will improve given some time.
In a log-jammed Western Conference, an extra face-off win in a key situation may likely be the difference between making the playoffs or watching from the sidelines.