Washington Capitals net minder Braden Holtby is on pace for the best season in the NHL of his career. A revamped Washington Capitals' defense has aided him, along with a strong all round possession game by Barry Trotz's club in general.
Holtby ranks both tenth in goals against average (2.29) and tenth in save percentage (.921) and has earned the right to be included in the conversation of the top goalies in hockey. He's played in just 139 career NHL games, but has been a force in that time, both during the regular season and his 21 playoff games where he's accrued a .931 save percentage facing 664 shots.
His numbers back up the eye test and the Capitals shouldn't be having any second thoughts on whether he's the franchise goalie. Brian MacLellan signed backup Justin Peters to improve the team's goalie corps, but Peters hasn't been able to see much time between the pipes. The 28-year-old net minder and former 2004 Carolina Hurricanes product has played in just seven games and posted a less than satisfactory .872 save percentage. Holtby has grabbed the reigns of the sleigh and doesn't play on letting go anytime soon.
Braden Holtby has appeared in 21 consecutive games. Another tonight v. TOR and he'll tie the franchise record (Wayne Stephenson, '79-80).

— Adam Vingan (@AdamVingan) January 7, 2015
While the Capitals have a long list of potential NHL goalies in their system, there is no one currently approaching Holtby as the number one net minder in the organization. Philipp Grubauer projects to be more of a backup goalie or fringe starter at the NHL level and their remaining goalie prospects are very early in their development at this stage of their career.
"Yes, I want some security. I love the city, I love the group here," Holtby told ESPN.com. "It's a great place. It's very underrated. Not many people (in hockey) think of Washington as a great place to go when you're from out West. But it's phenomenal. My family loves it. I would never want to leave."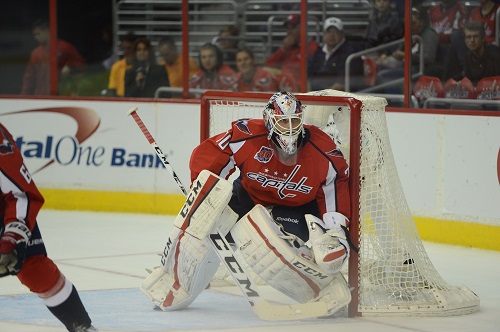 With Washington's big signings this summer of Matt Niskanen and Brooks Orpik, there isn't a ton of room to add dynamic free agents but there should be more than amble room for Holtby, a big part of the Capitals' future.
"I try not to think about it as much," said Holtby. "Obviously it's hard when it's such a big part of our game. But you try to just focus on what we're doing as a team. Just letting it all unfold, because honestly I don't know all that much about it. I trust my agent. I just focus on hockey."
While Holtby is a great puck stopper, he also adds intangibles in the locker room along with an adept ability to generate offense from his position. He's able to move the puck along on potential breakouts after a team dumps the puck into Washington's defensive zone. Holtby even has a few points already credited to him.
The 25-year-old Canadian is set to become a restricted free agent this summer and Washington would be wise to eliminate any chance of getting him there. As a RFA, Holtby could garner a deal similar to what Philadelphia Flyers net minder Steve Mason received, a three-year pact that was worth 4.1 million dollars annually. While Mason only received three years, Holtby has had more success than Mason over a longer period of time and could net a five-year deal or longer.
Holtby has been one of the better goalies during even strength play over the past few seasons and ranks tenth in five-on-five save percentage (.928) this season. Since the 2012-13 season, Holtby ranks seventh in save percentage (.930) of all goalies with at least 3,000 minutes of ice time during five-on-five play, according to Hockey Analysis.
With a defensive core in play along with a youthful offense, retaining Holtby long-term should be a huge priority for MacLellan. A four-year deal worth about 4.5 million dollars annually could potentially get a deal done and would provide stability for the Capitals as they continue to add pieces in hope of forming a Stanley Cup contender, something yet to be achieved in Washington.