It's been two years since the New Jersey Devils were in the Stanley Cup Finals, two games away from winning the Cup. It's also been two years since they were in the playoffs, missing out each of the last two seasons because of injuries, shootouts, lockouts or whatever the reason may be. There have been changes, multiple changes, and as they enter the 2014-15 season there are now only ten (10!) players left on the roster that bowed down to the eventual champion Los Angeles Kings — Marek Zidlicky, Adam Larsson, Andy Greene, Dainius Zubrus, Stephen Gionta, Adam Henrique, Jacob Josefson, Travis Zajac, Bryce Salvador and Patrik Elias. That means more than half (about thirteen) of the players from the 2012 team have left for employment elsewhere or retired.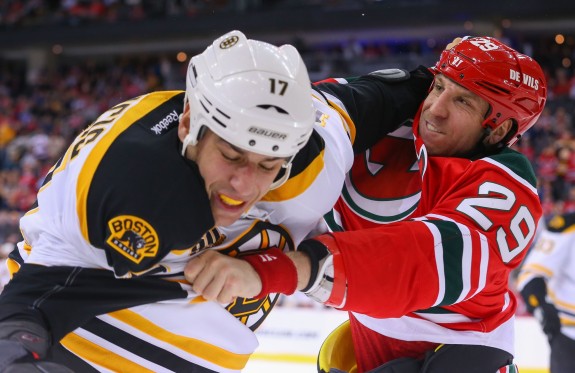 "Every year we try to get better (here in New Jersey); that's why, it was a while back, that I came here. That's why I wanted to be here," Zubrus told THW. "That's what management does, they try to get players to get (the team) better; and I think we are better. I think having the same coaching staff, having that comfort with the system, we have a few new guys, but the guys who have been here for a little bit have to help them out." That's the way of the new NHL now though, you have to change and adapt or get left behind in mediocrity. There are hardly any core groups that stick together with a franchise for a decade, at most (with the salary cap) you may see four or five players stick around but that's it. The Hockey Writers spoke to a few of the Devils players during training camp to get their perspective on how they can get back to the playoffs and why the future may be very bright in New Jersey. "We have to try to get (off) to a good start here," added Zubrus.
REBUILDING THE BLUE LINE
The Devils philosophy, since GM Lou Lamoriello took over the team, has always been build from the goalie out. Well he replaced a legend/the face of the franchise with a pretty solid, 28-year-old goalie in Cory Schneider (only cost him one first round pick) and signed him to a long-term deal this past summer. On the blue line there are four kids (all under 24-years-old) ready to step up and become NHL regulars/defensive pillars. Eric Gelinas has the booming shot, Jon Merrill is cool, calm & cerebral, Larsson is the slick skater and 20-year-old Damon Severson is the stay-at-home, new kid on the blue line. "They bring a lot of energy to the team; they have good legs, young legs, good wheels. For young guys they play the game with a lot of confidence," Ryane Clowe told us, "a little bit of swagger to them, which I like, I think we have a good mix here. I like how we have the real young guys and some older vets as well."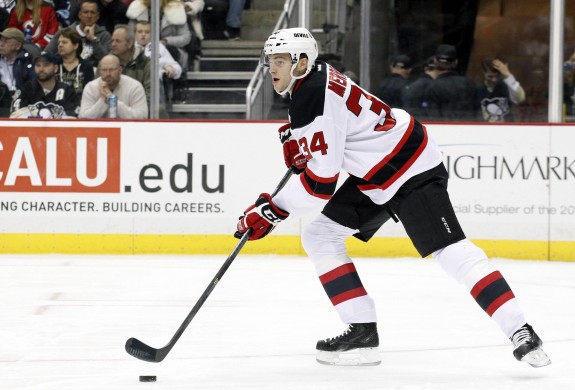 The coaching staff even played five young defensemen (and Peter Harrold) in one preseason game, and was pleasantly surprised in the results that they got. "The fact that we can stick five of them in the lineup and survive is good," said coach Pete DeBoer. "It shows us that they're all NHL players or very close to NHL players." Zajac also echoed the statements Clowe made when THW asked him about the green blueliners, "They are all great players. We also now have Severson back there and even (Seth) Helgeson there (as the next in line). It's so great for this organization to have those guys coming up and they're going to be a big part of this team for a while. You have to build from the back end out; big, skating, puck-moving D…you can't have enough of them."
RELOADING THE OFFENSIVE WEAPONS
Everyone knows the players who've departed New Jersey the last few seasons, but they have retooled the lineup pretty quickly adding Martin Havlat, Mike Cammalleri, Jordin Tootoo (2014) Michael Ryder, Clowe, Damien Brunner, Tuomo Ruutu (2013). Even after this season they will likely have some more slots to fill as Ryder, Brunner, Ruutu, Havlat and Tootoo's deals will all expire. But for now they are all here and even though Elias was joking off the record after a practice one day when he said they could have three power play units, he's kind of right. "It's encouraging for me," said Cammalleri when THW asked about the Devils potential this season. "You look around the room and the units we are able to put together; it's a pretty deep lineup. There's a lot of really, really good players and I'm excited to be part of a group like that. I'm enjoying getting to know the organization; I'm having a lot of fun,"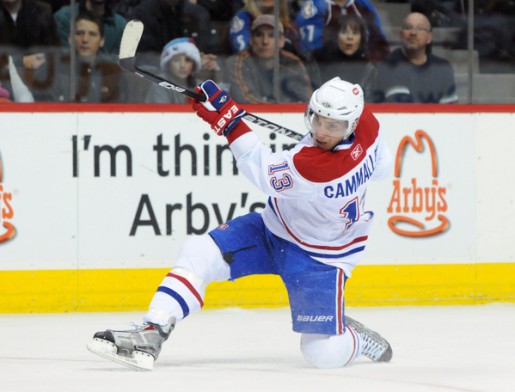 "He plays the right way, he's reliable at both ends of the ice and offensively he's a shooter. He's going to help this team so much — just because of the way he gets open, the way he can release the puck," said Zajac of his and Jaromir Jagr's new linemate Cammalleri. "He's going to get those opportunities, he's going to score some goals and he's definitely going to be a big part of this team." Goal scoring has been hit or miss for the Devils since they led the league in that category in the 2000-01 season, but Zubrus is confident in this group's ability to put up a healthy season in the Goals For category. "I know we have the guys to score goals," he said, "and we have the team to win games; so, I think if everyone is on the same page we'll be alright."
BIGGEST BURNING QUESTIONS
Can Henrique continue to find the back of the net like he did last season and be a strong two-way player?
Can Clowe and Havlat stay healthy for a full season?
Can Jagr continue to produce playing first line minutes at the ripe old age of 42?
Can Ryder avoid another 23-game goalless streak?
Can Schneider succeed as he enters a season as the no. 1 goalie for the first time in his career?
Can the blue line kids survive a whole NHL season as playing a ton of minutes?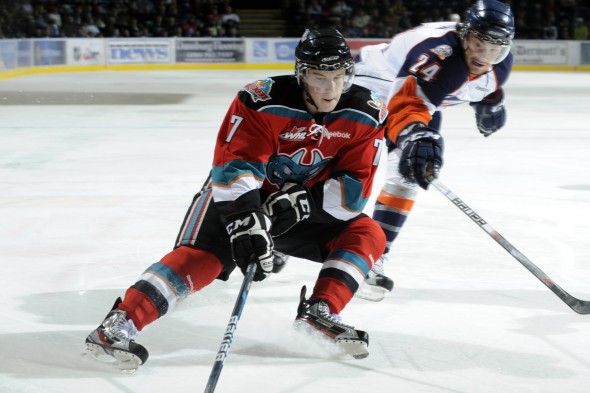 We haven't even mentioned Scott Gomez who will remain with the Devils without a contract until they make another move or two to fit him on the roster. From the looks of things one way or another there will be a lot to talk about in New Jersey during this season.
Dan Rice can be reached via Twitter: @DRdiabloTHW or via Email: drdiablo321@yahoo.com