Rogers Sportsnet who recently bought the broadcasting rights on live NHL games for the next twelve years at a whopping $5.2 billion. That means that there will be more coverage for the NHL seven Canadian teams without any restrictions or blackouts. To take advantage of all that Rogers will cover, you get to purchase the Rogers NHL GameCenter LIVE feature plus apps for a hefty price of almost $200 CAD. While that is great, there is a catch: You must be a Rogers subscriber to get it.
Funny because in my city, there is no Rogers cable or TV service at all. Not that I will have much time to watch every game possible during my busy work and home schedule, but to exclusively offer that service to Rogers users is fine by me. The Rogers Communications network is synonymous with near-monopoly telecommunications/media power alongside smartphone rate rip-offs. I would rather spend my money elsewhere. I promised my fiance that I won't gripe about the good old days when watching hockey on television didn't cost anything.
But I am going to.
When Hockey Night in Canada was King
My family immigrated to Canada in the late 1970s. The only thing we had going for us was a simple roof over our heads, simple appliances, and a heavy Electrohome television. When we first settled in Edmonton, there were only five channels. One of them was the Canadian Broadcasting Corporation, or CBC. They were one of the biggest media players in Canada, having been run by the Federal Government and offering a plethora of Canadian content like Mr. Dressup or Front Page Challenge.
But the biggest Saturday night feature that I grew up watching was Hockey Night in Canada. I was first introduced to the voices of Danny Gallivan, Howie Meeker, Dave Hodge and Dick Irvin. I learned quickly about the game of hockey and grew to not only like it, but love Canada's game. What a great time it must have been to watch teams like the Montreal Canadiens, the Philadelphia Flyers and even the Boston Bruins battle it out in front of my family TV.
What a great time to be a kid in Canada at that time. Every Saturday night, I would be glued to the TV expecting to watch Gretzky and the young Edmonton Oilers light it up. But while the CBC was exclusively enjoying its monopolistic stranglehold on Saturday nights and playoff times. Things were going into turmoil at the CBC Sports department.
Poor Ron MacLean
Here is how Ron MacLean got the job as new host of HNIC…
Ron MacLean held his own, even when he was assigned to work alongside the alway-opinionated and very combative Don Cherry on Coach's Corner. Up until the Rogers acquisition of HNIC, the pair have been working together for over twenty-seven years. While their relationship may have been rocky at times, they do keep the viewership entertained.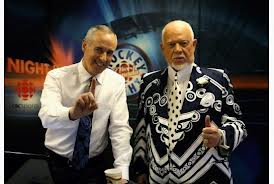 When I found out that Rogers Sportsnet secured the broadcast rights for not only the NHL but also the creative for HNIC, I was somewhat devastated. No longer will I see HNIC the same way again. There was be changes at the helm. George Stroumboulopoulos who was also a CBC host will be the main host for the revamped HNIC under Rogers.
And what of Ron MacLean?
According to a recent article by the Globe & Mail, Ron MacLean has been set aside to cover Sunday hockey broadcasts, clearly a step down from his main helm on Saturday nights. What set off the demotion? Ask NHL Commish Gary Bettman, if you can.
You could smell the smoke between these two gentlemen than you would between Ron & Don. Although there's no proof of this, Rogers Sportsnet denies that Bettman was involved in the decision making of hosting the new HNIC. Rogers clearly wants (well, needs to) attract the young demographics from pre-teen to mid-twenties. Their ultimate goal for this $5.2 billion gamble is to increase new viewership vis-a-vis increase subscriptions while loading up the NHL's coffers.
Hockey Night's Future Under A New "Monopoly"
A win-win, right? With guys like Ron no longer in the picture, Bettman is sitting pretty, without any more questions on his authority and motives. While some fans are glad to see Ron demoted, there are others who are literally turned off by these changes, including those who preferred to watch TSN's superb NHL coverage before the broadcast rights were taken away from them thanks to the Rogers/NHL deal.
Will Roger's monopolistic control (sound familiar?) change the way Canadian hockey fans see it the current (TV) and new (mobile, online, social) media, or will they make it worse? What kind of reception will Rogers get from the fans? Time will tell when the puck drops on October 8 to kick off the 2014-15 NHL season.
We shall see.