According to CSN Chicago,  Blackhawks head coach Joel Quenneville has confirmed that Andrew Shaw will center the second line with Patrick Kane to his right and Brandon Saad to his left.
"It was so good last year in a short amount of time and it was right at the end of the year," said Quenneville. "Do I really want to break them up?"
The trio played well together in the Western Conference finals despite being defeated by the Los Angeles Kings. There was some speculation that the newly acquired center Brad Richards would fit in Shaw's spot on the second line, but it's hard to deny the chemistry the young group has formed.
In the final preseason game against the New York Rangers, they pulled off this pretty goal, perhaps foreshadowing things to come.
Untapped Potentials
Brandon Saad turns 22 later this month and Andrew Shaw will be 23 for the entire season, both just figuring out what type of players they can be in the NHL. Patrick Kane turns 26 in November, but is he done developing? His speed and stickhandling are probably at their full potential and perhaps his shot as well, but Kane has plenty of room for growth. Kane always tends to shine in the playoffs, but many casual fans would probably be surprised that Kane has only scored 30 goals in a season just one time in his seven year career and he hit it right on the button. Even Erik Cole scored 35 a couple of years ago, so when will Kane finally erupt for that 40 goal season? His career shooting percentage of 11.6% would suggest that he needs 345 shots to do so, but he has never taken more than 261 in a season. In the strike shortened season, he shot at a much higher percentage of 16.7% and was on pace for right around 40 goals for a full 82 game season. Saad and Shaw like to score too though, potting 19 and 20 goals respectively in their first full seasons last year, so it might be hard for Kane to pull the trigger at such a high rate. If he can get some good looks though and increase his shooting percentage to around 15%, we may finally see that breakout season for Kane.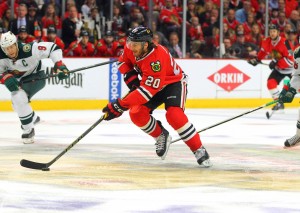 Saad and Shaw will both be looking to increase their stats from their first full 82-game seasons. Saad possesses a bit more skill than Shaw, putting up a line of 19-28-47 compared to Shaw's 20-19-39. Shaw obviously has more to offer in the toughness department, but he needs to focus on getting Kane and Saad the puck if he wants to be a true second line center. In what could be his final year with Chicago, Saad will want to boost those numbers for a possible long term contract on the market. With Kane and Jonathan Toew's salaries due to skyrocket next year, the Hawks will already have around a $65 million cap hit which doesn't leave room for a big pay raise for Saad. If he can put up around 60 points, it wouldn't be surprising if he signed a $20-25 million contract over four or five years on a team looking for young talent.
Best top 9 in the game?
With Toews centering Marian Hossa and Patrick Sharp on the first line and Brad Richards centering Bryan Bickell and Kris Versteeg on the third line, the Blackhawks have some true depth up front. They can all score (Bickell usually saves his scoring touch for the postseason), while still providing toughness and a two-way game. There is also a wide age range, varying from up-and-comers like Saad and Shaw up to grizzled vets like Hossa and Richards.
With Brad Richards now centering Bickell and Versteeg, are #Blackhawks the first team to have a Conn Smythe winner on three different lines?

— Mark Lazerus (@MarkLazerus) October 6, 2014
While the defense may have some trouble adjusting to the loss of Nick Leddy, the offense should thrive. With Teuvo Teravainen waiting in the wings, more skill is on the way in case of injury. Versteeg sustained an injury Tuesday that may keep him out of the lineup for the season opener, but that will unlikely require a roster move.
The Blackhawks roster is set to have eight defensemen and 13 forwards, with Brandon Mashinter placed on injured reserve. Despite some new faces on the team and some missing faces from last year, the Blackhawks are still one of the favorites in the NHL to win the cup. Out of 13 ESPN experts, seven had the Hawks representing the Western Conference in the Stanley Cup Finals while six of them had Chicago winning it all. NHL.com favored the Blackhawks as well, with seven of their 12 experts picking the Hawks to win the cup. Not bad odds, eh?