Happy are those who dare courageously to defend what they love — Ovid
Publius Ovidius Naso (43 BC – AD 17) probably wasn't referring to the Los Angeles Kings with the above quote, but at least he went by a cool single-name moniker. Spock, eat your green-blooded heart out.
Hockey in California is at an all-time high
It's the eve of the Los Angeles Kings' regular season opener against the San Jose Sharks, and the spotlight on California hockey has never been brighter. To wit:
Anaheim: The Ducks are coming off their second consecutive Pacific Division title, just one point away from winning the President's Trophy. After finally waving goodbye to the retired Teemu Selanne, Anaheim also experienced a number of other roster changes, including the additions of second line center Ryan Kesler, center Nate Thompson, and right winger Dany Heatley, the subtractions of longtime goaltender Jonas Hiller and forward Saku Koivu, and a half-dozen other miscellaneous moves as well.
San Jose: With the sting of their history-making playoff loss to the Los Angeles Kings still fresh, the Sharks return to battle with pretty much the same team that posted 111 points in 2013-14. The biggest difference is a Kings-sized chip on their shoulders.
Los Angeles: With two Cups in three years, the Kings are clearly at the epicenter of the hockey world. Can they successfully defend their title? They are ready, willing and able to give it a try.
Ready to defend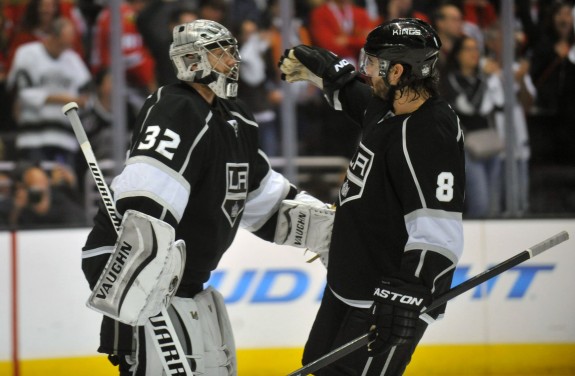 The Kings enter the 2014-15 campaign knowing they have a big, red target on their backs.
That being said, Los Angeles looked ready to go after a 5-0-1 preseason, one which saw youngsters Tyler Toffoli and Tanner Pearson among the preseason leaders in goals scored (4) and assists (7), respectively. Head coach Darryl Sutter summed up the preseason by saying, "I think we had a really good preseason in terms of what we wanted to do as a group. Especially with the injured guys. Our plan was to try and get guys into three or four games and then some of the younger guys playing more."
Willing to defend
Merriam-Webster Dictionary defines the term "willing" (in part) as follows:
Inclined or favorably disposed in mind
To a man, the Kings are excited to start the season and defend their Cup. For one, they get to bask in the glow of last season's accomplishment one more time. Coach Sutter put it well: "Are we looking forward to it? Are we looking forward to seeing our banner being raised? Absolutely. We were looking forward to last night (the presentation of the Stanley Cup championship rings during a dinner downtown), too."
Secondly, Los Angeles has a chance to make history. No team has repeated as champion since Scotty Bowman's Red Wings won it all in 1997 and again in 1998. Once relatively commonplace, the era of the repeat champion has practically gone the way of the Dodo bird. The Kings would love nothing better than to buck that trend.
Lastly, L.A. is a team that, for the most part, has been together for years and is locked and loaded for years to come. If any team is willing to go through the rigors of the upcoming season to defend their title, it's Los Angeles. Perhaps team captain Dustin Brown said it best:
This is pretty special. But my favorite ring…… Is still the next one. @lakings pic.twitter.com/q0lNmwjqud

— dustin brown (@DustinBrown23) October 7, 2014
Able to defend
One of the linchpins of the Kings' success over the past three years has been how they were built: from the net out, with outstanding size, puck control and team chemistry. In fact, I wrote a piece about that very subject last May, calling them a team built to win in the playoffs.
And that they have. For the past three years, the Kings have demonstrated that they play their very best hockey in the playoffs, going 41-23 and winning two Cups. Their postseason rampages were even more remarkable considering the relatively low seed they started at each time: eighth in 2011-12, fifth in 2012-13 and sixth last year. As a result, they played 34 of those 64 games on the road.
Los Angeles may not win the Pacific Division — the Ducks appear to be the smart bet to take that crown — but when it comes to the playoffs, it's a different story altogether. Nobody is better prepared for the rigors of the postseason than the Los Angeles Kings. If anyone can break the streak and successfully defend their title, it's the Kings.
The puck drops Wednesday night shortly after 7:00 local time.
Walter McLaughlin is a Los Angeles Kings correspondent for The Hockey Writers. He is an avid sports fan, having followed the Kings since living in L.A. in the mid-1970's, as well as suffering through Seattle sports teams' general futility. He has a Bachelor's degree in Finance and has worked in community banking for over 25 years, specializing in SBA loans. He is married and has two daughters.