It's finally here.
The puck will drop on the 2014-2015 edition of the NHL season tonight, while the Pens will face off against the Western Conference – and Stanley Cup favorite – Anaheim Ducks tomorrow night in Pittsburgh.
Its been a tumultuous offseason for the Penguins; and I'm sure the boys are ready to start playing and stop answering questions. Lucky for you, I'm here to answer whatever questions you may have heading into what is sure to be a very interesting season of Penguins' hockey.
Without further adieu…
Tannor, you said in one of your articles recently that you don't believe new head coach Mike Johnston will last beyond Christmas. What makes you think this, and who would replace him?
– Sarah, Owings Mills, Md.
Hi Sarah, and thanks for the question. Especially from Caps country.
Yes, I predicted in one of my season-opening "Five Bold Predictions" that Johnston would be fired before Christmas. Call it a hunch. His system is eerily similar to Dan Bylsma's, and we saw how well that worked after '09. There are differences however, and I'm just not sure that a guy with zero NHL head-coaching experience is the one to lead a team with as much star power as the Penguins.
As for Johnston's replacement, the obvious choice there is Rick Tocchet.
One thing to keep in mind: Mike Babcock never did sign an extension with Detroit over the summer, which means that he is likely gone come season's end. The rumors of his desire to come to Pittsburgh and coach Sidney Crosby have kicked up again as of late. Its a match made in heaven as far as I'm concerned. The question would be how badly do Jim Rutherford & co. want to bring Babcock on board.
Paul Martin is the likeliest trade candidate come the deadline next March, mainly because of his expiring contract. Marc-Andre Fleury's contract is also up at the end of the season. Could he be trade bait as well?
– Colin, Pittsburgh, Pa.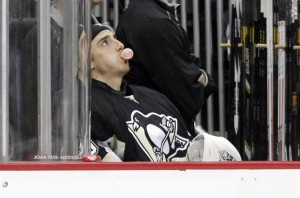 Colin this is great question, and a scenario which I had not given much thought.
Until now.
There are two main factors driving the Paul Martin trade rumor truck, one of which you've already mentioned as his contract status. The other is the deep pool of defensemen the Pens have within the organization. Chances are, the up-and-coming D-men are contributing to that more so than his expiring deal with Pittsburgh.
As for Fleury, there is no pool of talent behind him. Thomas Greiss I suspect will be a nice backup, capable of giving the Penguins some good play between the pipes on one of Flower's days off. But there is no one waiting in the wings for these flightless fowl if Fleury walks away into free agency come July 1 (which I suspect he will).
The only plausible scenario where I can envision a Fleury trade in-season is one in which he is struggling mightily, and Greiss skates in to save the Penguins' collective bacon. But even then I still think its a far-fetched notion.
Not however, totally out of the question.
What trades do you see coming for the Penguins? When, and who do they involve?
– Eli, State College, Pa.
Early to mid-season trades in the NHL are rare. The ones that do happen tend to be referred to by team execs as "hockey trades."
The one trade I'll be lobbying for all season long is the one in which the Pens acquire Evander Kane. The when remains to be seen, but my guess is much closer to the trade deadline in March. That could have been different if the entire defense corps were currently healthy. The who, at least if I were making the trade, would involve Paul Martin of course, one of the young stud defensemen in the organization (probably Pouliot), and potentially even Brandon Sutter. The Penguins have Nick Spaling and Marcel Goc, both of whom are capable of playing center on the third line. Neither is as offensively gifted as Sutter, but you have to give to get; and Sutter only signed a 2-year extension here in Pittsburgh.
It appears as though coach Johnston favors splitting up the Kunitz-Crosby-Dupuis line. Is that a good idea? What do you see as the line combinations for the season?
– Mara, Mt. Lebanon, Pa.
As of what I heard yesterday afternoon, Dupuis will play the left wing on a line centered by the aforementioned Brandon Sutter, with Evgeni Malkin on the right wing. No I did not just screw that line up.
Johnston's system relies heavily on centermen making the right read and the right decision with the puck. Malkin hasn't skated much during training camp, so asking him to jump right into a new system that puts that kind of pressure on its centers is a mistake. Seeing him on the wing with Sutter makes me a little nervous, but at the same time a little excited also. Malkin is a goal-scorer with a cannon of a shot. With no more James Neal to defer to, hopefully this means we'll be seeing more of the shooting Evgeni Malkin in the early goings. Which also hopefully transfers to more shots from him when he finally does take back his second-line center position.
Line combos are a tough thing to predict, especially right now with the injury to Beau Bennett. It would appear as though the top line will be Kunitz-Crosby, Hornqvist, while the second line will be Dupuis-Sutter-Malkin. As for the third and fourth lines, your guess is as good as mine at this point. I know that Nick Spaling will center the third line, and Marcel Goc will center the fourth. Craig Adams will be a winger on the fourth line and Steve Downie figures to play wing on the third. The final two wingers are a crap shoot. Blake Comeau and Jason Megna are the guys who will most likely dress, but who goes where remains to be seen.
What to do with Rob Scuderi? I saw three preseason games on tv, and he looked awful. From what I've read, my assessment is right in line. How on earth does he still have a job here?
– Kevin, Harrisburg, Pa.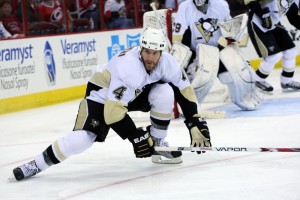 Wow, Kevin. You don't mince words, do you? Scuderi has a job because he still has three years – including this season – remaining on a ridiculous contract. I would have tried trading him over the summer, and I can't promise you that Jim Rutherford didn't try himself.
For the time being, Scuderi has a spot in the lineup come Thursday night's season opener. My guess (and my hope) are that natural selection kind of takes over and he plays himself out of said lineup spot by the end of October. If there is any one thing that Mike Johnston and Jim Rutherford can do to make me like them more is to scratch Scuderi and call up Scott Harrington and Brian Dumoulin. They're both ready for the NHL and both deserve to be here. Each is a massive upgrade over Scuds, and that youthful exuberance can be contagious.
---
That's it for this installment of the Mailbag.  The Penguins only play 10 games in the month of October, so I'm gonna let those play out before posting another edition.
But don't let that stop you from sending in your questions to TDTorraoTHW@Gmail.com and seeing your question published on The Hockey Writers website!
The first of 2,460 professional ice hockey games is tonight.
Happy Hockey Season Everyone!
Pittsburgh, Pa. Class of 2000 graduate from Robert Morris University with a B.A. in Mass Communications. Full-time objective sports fan.