Even though the Washington Capitals have only played 17 games, it already feels like three different seasons have been played. The first season occurred when head coach Barry Trotz had Alex Ovechkin and Evgeny Kuznetsov as linemates on the top forward line. The team got off to a 3-0-1 start as a result. Two losses to the New York Rangers and Edmonton Oilers put an end to that experiment and began the Capitals' second season.
Head coach Barry Trotz then decided to bring back the Alex Ovechkin-Nicklas Backstrom tandem when evidence suggested it was no longer a good idea. He also broke up one of the best forward lines in the National Hockey League. In Washington's first six games, the all-Swedish trio of Backstrom, Andre Burakovsky and Marcus Johansson dominated puck possession to the tune of 63.7%.

Many considered these changes rash at such an early part of the year. Washington was out-attempted by only two of the best teams in the NHL in the Rangers and Oilers to the tune of 85.0-88.1 at even strength. However, they were expected to outscore the opposition 6.1-5.6 in all situations instead of getting demolished 3-8 in those two games. Despite all the signs that Washington just needed to be patient for their puck luck to return, those two games were enough for Trotz to make swift changes for better or for worse.
Getting What You Put In
The second season started against two of the worst teams in the NHL in Vancouver and Calgary on the weekend before Halloween followed by a home-and-home series against Winnipeg. Washington won all four games, but they weren't playing well. In the Winnipeg series, the Jets outplayed them with a 88.4-85.9 score-adjusted shot attempt advantage at even strength and a 7.1-6.8 expected goals advantage in all situations.
What happened next was a 2-2-1 stretch that ended in a miserable loss to the poor Columbus Blue Jackets. Yes, their win-loss record has John Tortorella's team in a playoff position, but their puck possession is among the worst in the league at 48.2%. To have them out-play the Capitals is inexcusable by their standards. Changes had to be made again or they might as well kiss their Stanley Cup hopes goodbye at such an early part of the NHL season.
Thankfully, Ovechkin and Backstrom were separated. This time, Trotz comprised his top six with Ovechkin on the left wing with Evgeny Kuznetsov and Burakovsky on the top line and Backstrom centering Johansson and T.J. Oshie on the second line. The result was a dominating 7-1 win over the rival Pittsburgh Penguins followed by another solid performance against Detroit.
Untimely Injuries
http://gty.im/509126172
However, a fourth season was created after T.J. Oshie and Lars Eller went down with injuries during last Friday's Red Wings game. Oshie's possible shoulder injury will be re-evaluated weekly while Eller is out day-to-day with an upper-body injury.
Paul Carey has been called up to help resolve the current injury crisis and is expected to play on the fourth line with Zach Sanford and Daniel Winnik. Meanwhile, Jay Beagle will center Brett Connolly and Tom Wilson on the third line while Justin Williams gets promoted to the second line.
My *guess* at lines tomorrow:
8-92-65
90-19-14
10-83-43
28-82-26

— Isabelle Khurshudyan (@ikhurshudyan) November 19, 2016
Trotz will deploy two scoring lines followed by two checking lines while Oshie and Eller are out of action. While that situation is not the end of the world, it will deviate from the three scoring forward lines that Trotz has wanted since the start of training camp.
While Beagle and Wilson are together at even strength, their on-ice shot suppression is at an impressive 37.7 shot attempts per hour, but their on-ice shot generation is only 40.4 attempts per hour. Meanwhile, Winnik has seen his on-ice shot generation only hit 44.3 attempts per hour while 47.1 go against them. That will add pressure on the top six to create offense and all eyes will be on Ovechkin again.
More Pressure on Ovechkin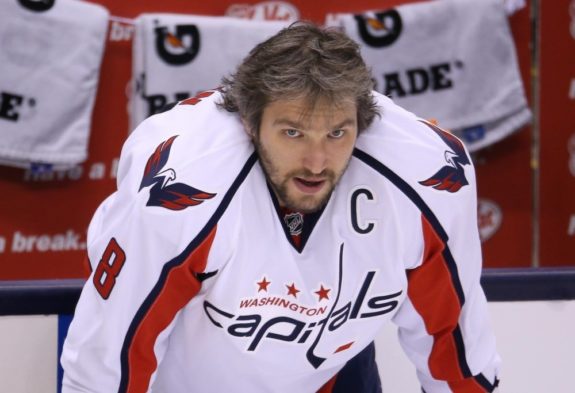 Sure, Ovechkin has plenty of pressure. Fans and the media want him to lead the league in scoring every year, even at 31 years old and has been past his 2008 peak for quite a while. Along with that, the sometimes unjustified reputation of Ovechkin being a poor defensive player has just never gone away. Sadly, this might be the year that he deserves the criticism.
Ovechkin's puck possession so far is among the worst on the team at 48.2% and plenty of that is tied to his team worst 62.7 score-adjusted shot attempts against per hour at even strength. Yes, you can tie those numbers to bad line combinations, but eventually, his talent has to overcome matters like being linemates with Beagle for one game too many.
Since the Penguins game, the Ovechkin-Kuznetsov-Burakovsky top line has generated plenty of shots, but it has also given up more shots as well. That has to change while the team is set up the way it is.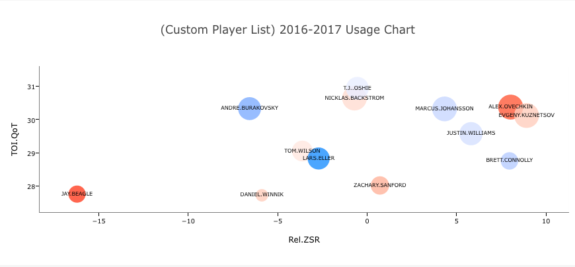 When Backstrom has been apart from Ovechkin, Trotz has deployed Backstrom's line against the best opposing forward lines all year and it has worked to perfection. However, the top line will have to maintain strong puck possession as well, especially because they are freed up to be deployed against weaker competition. Otherwise, pressure dramatically increases on the bottom six forward lines to generate offense while maintaining their clean defensive records. That is a difficult objective for a group full of players that either hasn't had that much NHL experience or hasn't proved that they can score goals at will.
Either way, a new Capitals lineup will be played against the Columbus Blue Jackets, but all signs point to Trotz realizing what needs to be done to achieve the best possible results.
Ben covers the Washington Capitals at the hockey writers. He has been blogging about the NHL since March 2013. Follow him @DCSportsDork