Record-wise, it wasn't a great last couple of games for the Montreal Canadiens. But, when you bench your star player, you can only hope for the best to a certain extent. And, with goalie Carey Price sitting for two of the past four, the Habs went an almost-expected 1-2-1.
Montreal Canadiens Now 14-3-2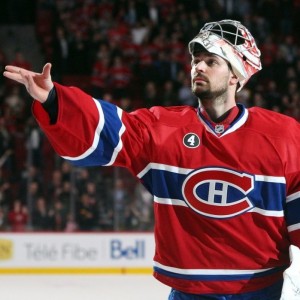 It was a far cry from the now-14-3-2 team's overall performance this season. They still lead the league in terms of points, but other teams are within striking distance.
While Montreal continues to enjoy a comfortable lead in the Atlantic Division (five points over the Tampa Bay Lightning), the Metropolitan's New York Rangers are four points back with one game in hand. Out West, in the Central, the Chicago Blackhawks, who are responsible for one of Montreal's recent regulation losses, are just two points back.
Prior to last Sunday's loss to Chicago, the Habs had been riding a four-game win streak that culminated in a dominant 5-0 win over the division-rival Detroit Red Wings the previous night.
Questions and Answers
Many questioned Montreal's decision to go with Price in that game, against a team that is below .500 and falling in the standings (they had been 8-6-1 prior to the loss to the Habs, though).
The decision was controversial for the simple reason that there was no way the Habs were going to play their star goalie two nights in a row this early in the season, not when there's an ever-present risk of injury that's heightened during back-to-backs… not after last season, when he played only 12 games total. Choosing him to play Detroit instead of Chicago? It's easy to second-guess the move in hindsight.
Granted, Price reportedly got injured stepping on a puck during warm-up, and the Habs aren't going to start taking extra precautions there and cover him in bubble wrap, at least not as far as anyone can tell yet. No one would blame opponents for assuming he was bigger underneath his equipment anyway, with his .950 save percentage and 1.58 goals-against average.
In other words, at 11-0-1 through 12 games this season, he's looking even more unbeatable than he was before he got injured last one. And the Habs are intent on keeping it that way as much as possible, hence the steadfast policy not to overexert him when it's completely unnecessary.
As for the move to play Price against Detroit instead of Chicago? In retrospect, there's no doubt the Habs would have had a better shot at sweeping both games with Montoya playing against the Wings and Price in net versus the Hawks. However, the game against Detroit was much more important simply because it was within their own division.
Comparisons to Patrick Roy?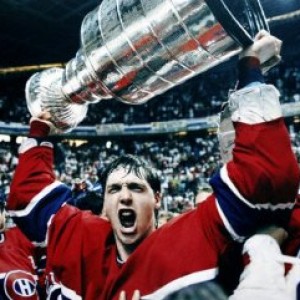 It was a similar situation in the 10-0 loss to the Columbus Blue Jackets. Even if Montoya was playing badly, so was the team in front of him. And the Habs weren't going to put Price in and put him at risk to spare Montoya extra embarrassment, when the Habs had no shot at pulling out a win and they had the Philadelphia Flyers to worry about the next night.
Unlike with Patrick Roy back in 1995, it wasn't a matter of Michel Therrien trying to send a goalie a message. It was about protecting his star instead of throwing him to the wolves. Montoya, perhaps knowingly, took one for the team that night and, as bad as he looked, he can wear it as a badge of honour to a certain degree. Price is Roy in this scenario, not Montoya, and the franchise is handling things infinitely better this time around.
Taking travel into account (the Detroit game was at home, the Chicago one was on the road), the Habs would have been tired no matter what on that Sunday… and less capable of keeping their Stanley Cup-contending opponents out of their own zone (and away from Price). It was the right move, even if they knew a loss was the likely outcome.
It's unfortunate the Habs couldn't pull out a win against the Carolina Hurricanes on Friday night on the road with Montoya in nets, but Price was always going to start the next night against the Toronto Maple Leafs. It was a Saturday-night game at home against the Leafs. Both the Hurricanes and Leafs have been sub-par opponents so far this season, with Carolina being closer to the bottom of the standings.
So, this decision, relative to the Detroit-Chicago one? Far less controversial.
Presidents' Trophy or Bust
Considering the Habs outshot the Hurricanes 33-18 (and the Florida Panthers 37-24 three nights earlier in a 4-3 overtime loss, Price's first of the season), it's hard to look at the recent efforts put forth as anything other than those of legitimate Presidents' Trophy threat.
Sure, they looked horrible against Chicago (outshot 35-23), but that only confirms the fact that they made the right decision keeping Price on the bench. They'll willingly take the loss as long as it means better-insulating Price and keeping him fresh for the long haul. That's what this is all about…the big picture.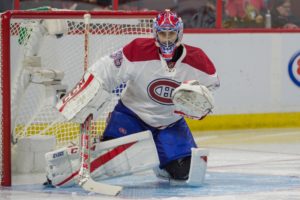 The Habs may be beatable without Price, but that's true of any team. Take a star player out of the equation and the odds of beating them go up drastically. In Montreal's case, the chances of beating them in regulation go up by 50 percent, with Price 11-0 through 60 minutes and Montoya just 3-3.
Those aren't bad odds, especially if the Habs are dead set on preventing Montoya from having to play more than one game every other week. This last one was just an aberration due to a quirk in the schedule.
Of course, they'll play six separate sets of back-to-backs over consecutive weeks spanning December and January, and that inevitably means Montoya will get six more starts. But getting a backup goalie they could rely on in order to rest Price more was always part of the plan.
That part may admittedly not be working out exactly as they drew it up, with Mike Condon playing exceptionally well for the Ottawa Senators right now and Montoya sporting an ugly stats line. But that's mainly due to one game. The Habs justifiably can't worry about single match-ups here and there. They're playing the long game. And winning.