Coming into last weekend, the Washington Capitals were in the middle of a season-wide slump, to the tune of a 3-2-1 record. If that doesn't look like an overreaction, I don't know what is, but such is life for a "Stanley Cup or Bust" team.
That being said, Washington came into the midway point of its Western Canada road trip among the worst teams in the league in goals per game, power play efficiency and penalty killing efficiency, even if the more advanced numbers would suggest that luck has not been on its side. In order to have all their lucky charms work in their favor, head coach Barry Trotz decided to change the line combinations, and they certainly did not look ordinary.
New lines! (And they're a doozy)

8-19-14
90-92-43
77-20-65
82-83-10
Believe Winnik is skating as the extra.

— Isabelle Khurshudyan (@ikhurshudyan) October 28, 2016
For starters, Daniel Winnik, Washington's veteran midseason fourth-line forward acquisition on the last year of a $2 million cap hit, and a well-regarded puck possession forward for his skill set who is more a solution than a problem to the penalty kill unit, was a healthy scratch. Along with that, Tom Wilson, the one player fans and media members alike struggle to pinpoint how good he can be more than anyone else on the team, was moved to the second line.
Sometimes Something Old Is Not Something Familiar
http://gty.im/619195894
Lastly, Nicklas Backstrom returned to the top forward line with his usual running mate, Alex Ovechkin. Conventionally, this would be fantastic news. The two have played over 7,068 even strength minutes together during their NHL careers and have generated 55.2% puck possession along with 65.2 on-ice shot attempts per 60 minutes along the way. The duo also had a three-year peak between the 2007-08 season and the 2009-10 season, where they posted a ridiculous 58.8% shot-attempt-for percentage while having 70.8 of them per 60 minutes go in their favor and 49.6 per 60 minutes go against them in the 2,676 minutes they were on the ice together.
Sadly, six years have passed since those golden days and Ovechkin and Backstrom may no longer be the same ever again. In fact, last season was the first time both Ovechkin and Backstrom had a better shot-attempt-for percentage when they were away from each other than when they were together. While away from Backstrom, Ovechkin's puck possession was at 55.8% while Backstrom's percentage away from Ovechkin was at 53.4%. Together, the two were only able to have 51.8% of the shot attempts go in their favor.
Whether that is due to so many systems changes from multiple head coaches taking away their loose and free wheeling style of hockey from previous seasons or the fact that father time always stays undefeated, the two of them together not only lack the same goal scoring pizzazz, but they also lack the consistent 200-foot game that Barry Trotz demands out of his hockey team.
In 2010, the duo peaked by generating 4.29 on-ice goals per 60 minutes at even strength. This season, despite a small sample size (less than 55 even strength minutes), the two have not scored a single goal while they have been on the ice together until last night's game against Winnipeg.
Also, despite the fact that it has been more than two years since the end of the dark days of the ultraconservative Dale Hunter and Adam Oates systems, the quality of defense has actually continued to worsen under Barry Trotz. If this season were to end, the Ovechkin-Backstrom tandem would be on the ice for the highest shot attempt rate in Trotz's tenure, at 57.7 per 60 minutes. Meanwhile, the entire team is fourth in the NHL in shot suppression.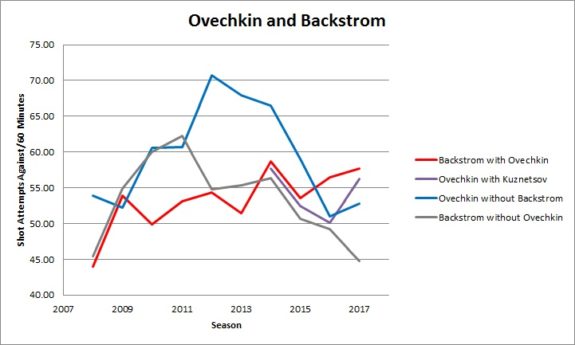 Based on Trotz's ethos and the history of how teams perform with an elite defense, it is critical for Washington to give itself the best opportunity to perform well under this category.
Finding Alternatives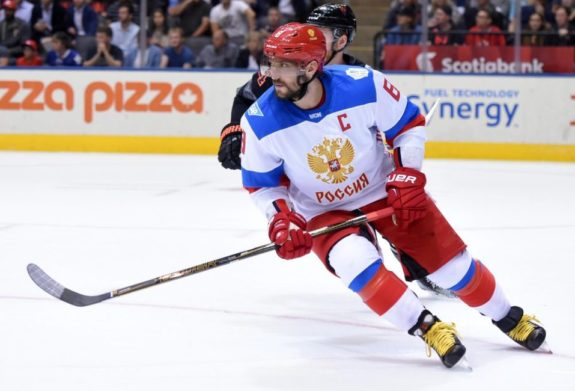 In the meantime, Ovechkin started the season playing with rising star Evgeny Kuznetsov. While the duo isn't a significant upgrade in terms of overall puck possession, it has been proven that, when away from Ovechkin, Backstrom is a much better on-ice defender. Since Trotz has arrived in Washington, Backstrom has had his on-ice shot attempt suppression at less than 51 per 60 minutes when away from Ovechkin every season. This season, that rate is at a career-low 44.8 attempts per 60 minutes. Stats like these are proof as to why Trotz has gone to sing his praises and claim that he should receive more votes for the Selke Trophy.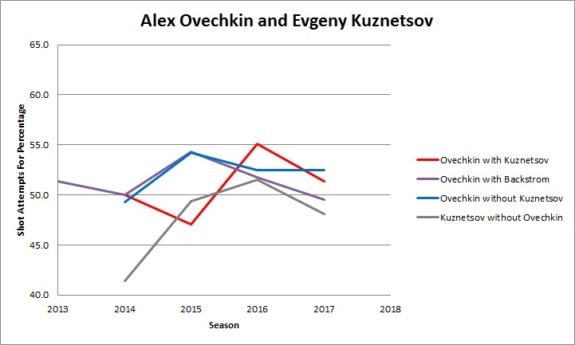 Being on a line with fellow Swedes Andre Burakovsky and Marcus Johansson has certainly helped Backstrom this season. The trio started the year as one of the best lines in the NHL, with an astonishing 63.4% puck possession and limiting opponents to only 35.5 shot attempts per 60 minutes while they were on the ice.
To go along with that, Kuznetsov has continued to improve his game as a driver of puck possession and as a goal-scoring threat. After starting his first two seasons with negative shot attempt differentials, the 24-year old led the team in scoring and generated over 53% in puck possession last season. Add the fact that he brings an added speed dimension when Backstrom may no longer have that at all times and it allows Ovechkin to come with more open space to receive passes.
Nowadays, deciding whether to have Ovechkin with Backstrom or Kuznetsov is all about the preference of style one wants the top forward line to have rather than maximizing talents throughout the entire hockey team. If you want to execute an offensive system via the cycle, Ovechkin and Backstrom is your tandem. If you want to play a more open and quicker style of play, Ovechkin and Kuznetsov is your cup of tea.
Don't be mistaken though that Ovechkin and Backstrom are the perfect pairing for each other, and that within itself is what has been one of the more fascinating discoveries of this year's Capitals.
Ben covers the Washington Capitals at the hockey writers. He has been blogging about the NHL since March 2013. Follow him @DCSportsDork