It's often said that revenge is a dish best served cold, a statement filled with validity, but missing, like all flawed adages, one small enhancement: revenge is a dish best served on ice. Last night, under the seizure-inducing lights of Amalie Arena, the Tampa Bay Lightning served a well-prepared meal of revenge to the Montreal Canadiens, enacting a wrath fierce enough to come away with seven goals scored on net while also handing Montreal the first loss of their season. The Lightning obviously came into this game wanting retribution for last season's playoff debacle – where they were swept by the Habs' in the first round of the Stanley Cup Playoffs – but by the end of the game, a new tone emerged as a new team displayed itself for the world to see.
When scoring gaps in hockey games become unsurpassable, one of the teams usually gives up. The losing side's defense may cave in and make their loss even more embarrassing, or the team in the lead may decide to wait it out, thus skating on the ice with apathetic motions, shooting during obvious opportunities rather than forcing chances to happen. But, last night, a neither Montreal nor Tampa Bay fell ill to the tendencies. Montreal, much to their disappointment, kept trying to force scoring chances, attempting to sneak the puck into their zone. Tampa Bay's defense, however, never let up, so they stole those passes, blocked and intercepted shots before they became important offensive plays. The Lightning's defensemen were omnipresent, appearing almost simultaneously at every point on the ice during the game's entirety, even when the score reached 5-1.
Steven Stamkos and Victor Hedman alone won the game. But, the newly signed veterans also did their part (and, remember, these veterans weren't on the team when the Bolts were swept by the Habs', an important factor to consider when evaluating their dedication and passion for their new team) when it came to offensive chances and defensive successes. Brian Boyle had a beautiful set-up to Ondrej Palat which resulted in Tampa Bay's 6th goal that came just seventeen seconds after the fifth one. Garrison cleared the puck during power-plays and forced turnover after turnover. Stralman pulled pucks from beneath the sticks of Canadiens' players sticks, passing it to wide open skaters, allowing for perfect scoring opportunities. The play of the night, though, came from Stralman, when he made a scrambling kick save in front of the net to prevent a Montreal goal.
The players we're familiar with in blue and white played with undeniable chemistry. Callahan and Filpulla seem to be building a quick one-to-punch, mixing Callahan's greasy play with Filpulla's "filthy hands," a combination potent enough to be labeled lethal, particularly on the power-play. Tyler Johnson's still tearing up the ice with his incredible speed and Kucherov's finesse and beauty at puck-handling resulted in two assists. And Radko Gudas…oh Radko Gudas, Tampa Bay's king of blocked shots and furious checks. Watching take puck after puck into his body, following them with vicious hits into the boards or knocking players twice his height to the ground, it's safe to say that Gudas is a rising star among defensemen (not to mention fantasy gold, if your league counts hits and blocked shots, that is).
Goal Scorer Extraordinaire
By the end of the second period, Steven Stamkos' had netted his third goal, resulting in his eighth career hat-trick. Now, he's tied with Martin St. Louis for the franchise record of most career hat tricks, except he's only 24, more than a decade younger then St. Louis. It's just a matter of time before he surpasses the former Lightning captain – a feat likely to occur sooner than later.
Franchise records and career hat tricks are really just flashy, statistical numbers, saying different things but always coming back to the same idea over and over again: Steven Stamkos is back, and in a big way, perhaps bigger than ever. He didn't score a goal in the first two games this season, but he didn't score until the team's fourth game last year. In 2013, Steven Stamkos began his goal-scoring with a hat trick against the Florida Panther four games into the season, just one game later than he did this year.
Though his offensive skill can only be challenged by Sydney Crosby, Stamkos also displays a gladiator-like resilience when it comes to the defensive aspects of the game. Last night, he had a career-high twelve shots-on-goal, but, like all statistics, the numbers fail to offer context: after nearly every shot, Stamkos moved out of place, skating over to wherever the puck was, attempting to force turnovers or maintain possession. At any point during the game, if Stamkos was on the ice, you saw him. He could be shooting, passing, or checking, but the important part is that he seemed everywhere, displaying a virulent passion in the form of a sort-of new defensive ability honed in upon and perfected by the chisel of head coach Jon Cooper.
Last year, Stamkos was playing the best hockey of his life. What would have been a landmark season for the young forward ended up being a long waiting period, like some form of Injured Reserve Purgatory. But, last night, Stammer made it known that he intended to pick up right where he left off. As the season unfolds, I wouldn't be surprised if he gave lil ole Crosby a run of his money when it came to leading the NHL in points, though that award, right now, goes to a very unlikely, extremely talented Swedish defenseman.
The Ultimate Swede
As of this writing, Victor Hedman currently leads the NHL in points. Yes, you read that right. Hedman, the twenty-four year-old Swedish defensemen current sits at the top of the league with seven points, four of which have come on the power-play. Last night, Hedman finished the game with one goal and three assists – all three helpers being attached to Stammer's tallies – coming to a career-high total in points for a single game. Hedman also has 21 points in his past 17 regular season game.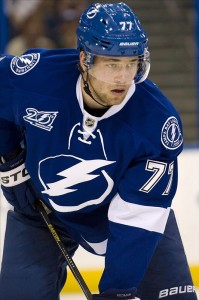 Ladies and gentlemen, this is an offensive production rate nearly unforeseen in the NHL. Somehow, so quickly as well, Hedman has climbed his way up to heights high enough to be on the same level as Shea Weber and Erik Karlsson; but, at the same time, this Swede is nothing like those two, or any other defensemen, for that matter.
It's confidence that allows him to dominant the ice so completely during nearly every second of the game. Hedman alone makes offensive zone rushes excruciatingly frustrating for even the greatest of forwards. He almost seems like a magician. When watching him on television, you notice he goes off screen randomly, allowing you to forget he's there, but he is, oh he's watching the puck and all those surrounding players, lingering at the play line or in front of the net, waiting with that high caliber, strongly built stick, cocked and positioned for a deadly slap shot that, once shot, (often released and then followed with a bang not unlike that of a shotgun's recoil), flies towards a net at a speed so fast you think the puck should bend time and space around itself to its own will and destination.
Against the Canadiens last night, Hedman put to use his arsenal of defensive weapons against Carey Price. The best moment during the game for Hedman perhaps was his second assist of the night on Stamkos' second goal. It all began with a botched scoring attempt by Montreal. Bishop made the save, deflected the shot, and directed the puck to his left. Hedman took possession, swiftly moved to the back of the net, where he always stays for a second, allowing his team to either change lines or regain some energy. Then, he skates left, only taking a few strides before passing it across the length of the ice to Stamkos, who receives the puck just outside Montreal's zone. The puck lands on his stick, he takes it between two defenders, and proceeds to do business-as-usual: a nice little deke move followed by a perfect back-hand shot, placing the puck right beneath Price' five-hole. Just like that, within a few moments notice, the score became 4-1, with no signs of slowing down.
This kind of play, one demanding precision and high-level coordination, was virtually absent in the Lightning's play last year. For the most part, the Bolts have depended upon a dualistic composition when it comes to scoring: St. Louis and Stamkos, Johnson and Palat, and, while these two established duos are still ever-growing, more seem to be popping up every game (Namestinikov and Kucherov, Filpulla and Callahan, Stralman and Hedman). But, if we've learned anything from last night's game, it's that the Lightning no longer have to depend upon the chemistry of individuals. Now, they can turn their sights upon their cohesion as a team and perfect the solidarity that comes with belonging to a single unit.
Glimpsing a Fragment of Larger Pictures
Games exist as chapters, incremental sections standing alone yet among a sequence that eventually forms a story, or, in this case, a season. Like a chapter in a book, each game must build upon the context of the previous matchup. We may be quick to think in terms of improving from previous mistake, fixing holes in the plot and so forth, but doing so would mean missing the most important component of all stories: rising action. Scenes of violence, images of triumph and sorrow, follow one another to form a perfect end-result, often through intricate details of context and narrative that force characters to come to some sort of final state.
Last night, against the Montreal Canadiens, the Lightning closed a chapter of their story. This one happens to be long and quite sad – filled with obstacles unfair and injustices unforeseen – but, in the end, when on chapter ends you must turn the page to the next one. All you can do is pray that what follows is happy as well as not the story's ending. The Lightning began their next chapter, took that step forward, closer to becoming a franchise with a dynasty never to be forgotten in the Halls of Hockey History.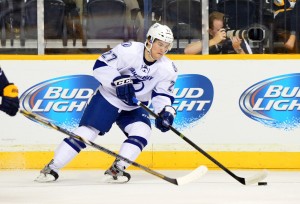 While we may believe individual games to be blurry sections of the same old piece, like dismissive bars of music in baroque classical piece, we must also examine the developing habits and behaviors within each match. A pattern ultimately developments, and, sometimes, when the old ways of playing hockey are too faded to be relevant anymore, leaving only the new style and newer faces amongst us, what was always quickly becomes forgotten and what we will come to know arrives with an unheralded boom, shaking walls. But, instead of the sound of walls falling down, a new age for the Lightning is signaled by the buzzing of the lamp above the net, ringing and singing Stamkos' song of victory.
In Tampa Bay, hockey isn't all too popular, considering the overwhelming heat and pervading scent of saltwater drifting in from the beach. But, somehow, this team has formed itself into a potential dynasty. Heading in the right direction, the Lightning have finally ceased to rebuild (though the construction of an empire is never complete if the emperor is Steve Yzerman). Monday night, the Tampa Bay Lightning made it known that they were a storm untamable, a natural force not to be reckoned with.
Though now riding a wave of high expectations and rapid momentum, the Bolts appear to have no intention of slowing down any time soon. If Stamkos and company keep it up, we'll all bear witness to one of the greatest transformations in hockey history.
I, William Gilbert, am from Bradenton, Florida and currently attend Florida State University. My major is Creative Writing but I spend most my time watching hockey and obsessing over Ben Bishop.