Jordan Eberle's slick backhander was the talk of the night, but it was the play of a wily veteran that sealed the deal for the Edmonton Oilers. Ales Hemsky's powerplay goal in the 3rd period tied the game, and he scored the shoot-out winner to help lead the Oilers to their first win of the season in their first game.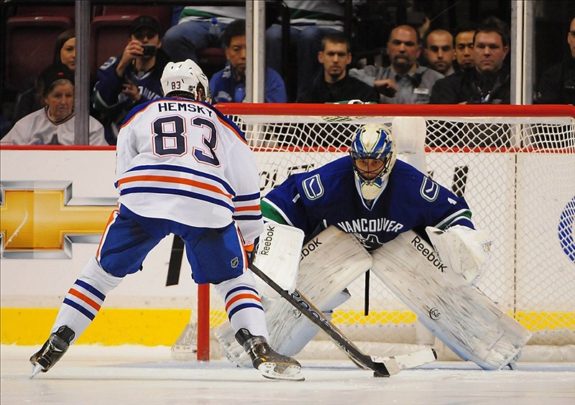 Alex Edler got the Canucks on the board first midway through the first period and Zach Kassian notched his first of the season in the second period to give Vancouver a 2-0 lead. Eberle's highlight reel goal got the Oilers within one late in the second period, and Hemsky's powerplay marker in the third sent the game to overtime.
The Oilers got into some penalty trouble early but didn't allow a powerplay goal in the game. Devan Dubnyk was solid in goal, stopping 27 of 29 shots. He stopped both Canuck skaters in the shootout, while Sam Gagner and Hemsky beat Roberto Luongo on their attempts.
Rookies Justin Schultz and Nail Yakupov were held pointless on the night, but neither of them looked out of place on the NHL stage. In fact, Schultz earned the games third star. The Oilers showed fight coming back from a 2-0 deficit. They played a strong team and had key contributions from a few different players.
"This was huge for us. We wanted to come out flying. We battled back hard for the shootout win." – Ryan Nugent-Hopkins. "We were all over them but took too many penalties early. Got some timely goals and a big character win." – Jordan Eberle. "It's only one game, but we have a lot of great players and lots of depth now." – Ales Hemsky. (Edmonton Oilers)
The Oilers now look ahead to their home opener against the San Jose Sharks on Tuesday night. The Sharks were victorious in their season opener as well, downing the Calgary Flames 4-1 in Calgary. The Sharks are an older, veteran team compared to the high flying young Oilers. Edmonton knows they can't celebrate one win too hard, because there's a lot of hockey still to be played. Coach Kreugar was careful not to get too excited about one game.
"We still have a long way to go before I get any showers." No Gatorade bath for Coach Krueger but he says he did get a puck for 1st win

— Edmonton Oilers (@EdmontonOilers) January 21, 2013
The win was certainly a confidence booster, and for young players getting their first taste of NHL action, beating a contender like the Vancouver Canucks certainly felt nice. Perhaps Nail Yakupov summed it up best with his post-game tweet:
Great feeling after my 1st game in NHL :) myfirst 2 points :)Thanks a lotboys !!!:) Lets keep it going :):):):):)

— Наиль Якупов (@Nail10_1993) January 21, 2013