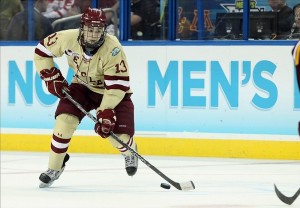 Two years ago, the Calgary Flames selected left winger Johnny Gaudreau at the 2011 NHL Entry Draft. Selected in the middle of the draft's fourth round, the pick raised few eyebrows – Calgary had selected American college-bound players at that spot before and while Gaudreau's stature raised some eyebrows, the organization had a history with developing smaller players. Granted, Theo Fleury became a huge star for the Flames while Martin St. Louis blossomed fully elsewhere.
Two years later, the pick is looking a lot more shrewd.
In his freshman season with the Boston College Eagles, Gaudreau emerged as a dynamic, game-breaking winger. He finished second on his team in scoring (one point behind Rangers prospect Chris Kreider), led all conference freshmen in scoring and was instrumental in leading the Eagles to an NCAA national championship. This season he leads the Eagles in scoring, has six game-winning goals and spent his Christmas break winning a gold medal with the United States' entry at the IIHF World Junior Hockey Championship.
Recently, I had the opportunity to chat with Gaudreau about his World Junior experience and the season so far.
—
YOU'RE COMING OFF A PRETTY BUSY HOLIDAY SEASON. HOW WAS YOUR RECENT TRIP OVER TO EUROPE FOR THE WORLD JUNIORS?
It was exciting. It was a good experience going out there with 15, 20 new guys that I've been playing against for the past five, ten years. It was really [fun] to play with some good players and good guys and get a chance to win a gold medal. It was really exciting.
THERE ARE ALL SORTS OF HORROR STORIES GOING AROUND ABOUT TRAVEL TO AND FROM UFA, RUSSIA. HOW WAS YOUR TRAVEL EXPERIENCE?
It was difficult. Some long days. We had, I think, a seven-hour flight to Finland and then another three-hour flight. And then adjusting to the time differences. We were adjusting to two different time differences. The second time difference between Finland and Ufa wasn't too bad, but it was difficult, the first one in Finland, trying to adjust to the time. I don't think I slept one whole night in Finland.
AT THE WORLD JUNIORS, YOU PLAYED WITH ROCCO GRIMALDI AND J.T. MILLER FOR THE FIRST PART OF THE TOURNAMENT, AND THEN WITH MILLER AND JIMMY VESEY LATER ON. FROM YOUR PERSPECTIVE, WHAT WAS THE DIFFERENCE BETWEEN YOUR TWO SETS OF LINE-MATES IN TERMS OF WHAT WORKED AND WHAT DIDN'T?
Both lines, we had a good connection. That first line played really well together, we just couldn't score – couldn't bury any of our chances. We hit posts, cross-bars, two-on-ones, three-on-ones… We just couldn't hit the back of the net. That first line was a really special line. We had two pretty small guys and then J.T. Miller, a bigger guy that could work pretty hard in the corners.
That first line, I thought, we had a pretty good connection, but that second line was the right connection. I think me and J.T. [Miller] were pretty set on where we were and what we were doing on the ice, and Jimmy Vesey came in and fit in right perfectly. I think that line just got it going right the first game we started playing together, and that's good to see.
YOU HAD A HAT TRICK, MADE THE WORLD JUNIORS ALL-STAR TEAM AND LEAD THE TOURNAMENT IN GOALS. DID YOU EXPECT TO DO AS WELL AS YOU DID IN SUCH A COMPETITIVE TOURNAMENT?
No, not at all. I knew it was going to be a difficult tournament going in. The NHL was locked out and we'd be playing against the players that would've been in the NHL at the time. I think going in, our team knew it was going to be a difficult tournament so it was a different mindset. The US didn't do too well last year, so coming in we were a little nervous at times. But I think that first game against Germany gave us a good idea of how the tournament was going to be like, and to have a chance to play against Russia next game and Canada the game following after that, it was really two good teams and we played well against them. Unfortunately we lost to them by one goal, but after those two games, I think we knew that we could fit well in that tourney and that we were going to have a pretty good tournament. Everything looked up from there.
DID YOU GET A CHANCE TO TALK ABOUT THE TOURNAMENT WITH BOSTON COLLEGE TEAMMATE BILL ARNOLD, WHO PLAYED FOR TEAM USA LAST YEAR (AND IS ANOTHER FLAMES PROSPECT)?
I talked to him about it and he said they weren't clicking on the ice. They had some bad breaks here and there. He said it was a fun tournament. But if you lose one too many games, there's no going back. A couple guys were coming back from last year. He said to play like you're in an elimination game every game so it was good to get some good advice because of how they did last year.
WITH THE WORLD JUNIORS BEHIND YOU, WHAT ARE YOUR GOALS FOR THE REST OF THE YEAR?
I want to get better as a player here at BC. We have good coaches here so I have a good, special bond with them. Just winning another national championship, the Beanpot and winning the tournaments like Hockey East playoffs and stuff like that, definitely some big [things] I want to accomplish for the rest of the season. It's going to be fun to try to repeat in some of those categories.
AFTER YOUR WORLD JUNIOR PERFORMANCE, FLAMES FANS ARE HOPING YOU'LL TURN PRO SOON. AFTER YOUR COLLEGE SUCCESS, WHAT DO YOU WANT TO ACCOMPLISH IN YOUR COLLEGE CAREER AND HOW DO YOU WEIGH THE POSSIBILITY OF TURNING PRO AGAINST STAYING IN SCHOOL?
I'm just playing by year. I really love it here at BC and my parents are really strict about my schoolwork. I hope I get the chance to play for the Flames someday. When the time comes I think it'll be a tough decision whether or not to go or stay. I'll have to talk to my parents about stuff like that. But it'll be just a kind of play it by year [situation]. I'm not sure what goes on.
YOU'VE EMERGED AS A HOBEY BAKER CONTENDER. FLAMES FANS HAVE UNITED WITH BOSTON COLLEGE FANS ONLINE TO PUSH THE FAN BALLOTING. YOU'RE NECK-AND-NECK WITH NORTH DAKOTA'S CORBAN KNIGHT AS THE TWO TOP VOTE-GETTERS. IS IT FLATTERING TO SEE FLAMES FANS BEHIND YOU ALREADY?
It's awesome to see. I'm not even playing for the Flames yet. I'm just a drafted prospect and it's awesome to see how into it they are. Especially college hockey. Canada's more of an OHL or WHL kind of thing, but to see how involved they are with college hockey in the United States, it's awesome to think. I want to thank them alot, I appreciate all the help I'm getting from them. It really excites me that I'm drafted to Calgary from all the fans and how close they are to hockey and how involved they are.
FINALLY, WHAT ARE YOUR PLANS FOR YOUR GOLD MEDAL?
I had it in my dorm for a little. My mom thought it was best to bring it home. She came up last weekend for our games against UNH and she took it home. I think she's going to do something nice with it, frame it with our jersey and stuff. I think she'll surprise me with something when I get home, so I'm excited to see what she does.