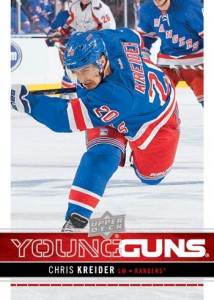 Hockey fans eagerly waiting for the NHL season to begin partly did so because they were anticipating the arrival of a new rookie crop that included Nail Yakupov; and while the season did get underway, card collectors are still on the bench when it comes to young phenoms.
Last week, Beckett Hockey broke the word that the NHLPA had chosen to restrict rookie cards solely to those who appeared in 2011-12. The result? Chris Kreider is in, Justin Schultz is out.
Those rookies appearing on NHL ice for the first time in 2013 will instead be part of the 2013-14 "season" of card releases, creating a double cohort similar to what collectors saw in 2005-06.
The news, understandably, was not well received by fans.
"Although this definitely helps the values of next years products, it sure makes it tough on the hobby and the hobby shops this year," Hobby Insider member G-Force posted shortly after the news broke.
Both Panini America and Upper Deck will, however, continue to release new trading card series throughout the 2013 season.