August is almost here, which means one thing: one more long month until training camps open. Beat the summer heat with some news from around the NHL:
The Bruins and Canadiens unveiled their Winter Classic logos on Wednesday. [Sportslogos.net]
These two teams create a storied rivalry; they should never be broken apart by realignment. [Today's Slapshot]
Former NHLer Sergei Berezin has found himself in legal trouble in Florida. [Palm Beach Post]
Speaking of the law, Slava Voynov has already reportedly began serving his sentence. [The Score]
It seems only CSN-covered teams are making their way onto national broadcasts. [Defending Big D]
The NHL is still not considering a CapGeek-style feature. [Big Bad Blog]
No CapGeek isn't stopping Lighthouse Hockey from cutting up the Islanders' salary numbers. [Lighthouse Hockey]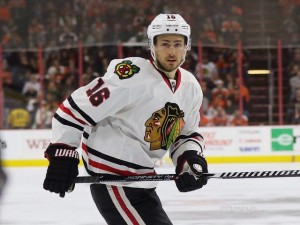 Apparently Marcus Kruger would agree to a short-term deal to help the Hawks' salary situation. [ESPN]
Rating the Sabres' and Bruins' summer so far. [CBS Sports]
Recent Penguins' moves are graded and analyzed. [Pensburgh]
The 2022 Olympics may be a ways away, but here's a look at a Kazakhstan city that's bidding for the Winter Games. [Washington Times]
But if Beijing wins the bid for the Games, it could spell huge success for hockey in China. [SI.com]
I am a former NHL media member and reporter for the St. Louis Blues, working for various media outlets. Currently, I am an NHL News Writer and Editor for The Hockey Writers. I live in St. Louis and work as a freelance copywriter in numerous industries.