In the past decade, the Boston Bruins have seen three top-10 picks don the iconic Black and Gold sweater.
Phil Kessel (5th overall, 2006), Tyler Seguin (2nd, 2010) and Dougie Hamilton (9th, 2012) started their careers on Causeway Street and found their footing in the NHL with an Original Six franchise.
Claude Julien was here to guide the development of all three stars in Boston. The veteran head coach will be entering his ninth season behind the bench for the Bruins. His "defense-first" system expects a two-way type of player that is responsible in his own zone first and can chip in offensively.
Kessel, Seguin and Hamilton have tremendous offensive upside and could have been franchise players for the Bruins. Instead, all three were traded away from Boston. It cannot be a coincidence that Julien was here while this happened.
A few days after the Hamilton deal, I posed the following question:
Serious question: is Julien part of the reason why Kessel, Seguin, and Hamilton didn't want to be here? Is that fair to ask? #Bruins

— Joe (@JoeCherry89) June 30, 2015
So, is he partly responsible for Boston's inability to keep promising young talent?
Numbers Don't Lie
Let's start by examining the numbers of Kessel, Seguin, and Hamilton in their final seasons in Boston. See if you can pick up on a common theme each of these men share.
Kessel's third year (2008-09) with the Bruins was his best to that point recording (at the time) a career-high 36 goals and 60 points with a plus-23 rating. The Wisconsin-native scored six more times during their 11 playoff games that season.
Seguin's third year (2012-13) saw him finish second on the team in goals (16) with 32 points and a plus-23 rating. However, the Ontario-native failed to impress in the playoffs scoring just once in 22 playoff games. The season before, he lit the lamp 29 times, scored 67 points and recorded a plus-34.
The year is 2068… I am 73… I am still not over Dougie Hamilton leaving the Boston Bruins.

— Maya K (@MayaKP_) July 17, 2015
Hamilton's third year (2014-15) was a breakout campaign for the young defenseman. He recorded career-highs in goals (10), assists (32), points (42) and average ice time (21:20) but recorded a minus-two rating. In a down year for the club as a whole, Hamilton shined and proved his worth to the defense corps.
To recap: all three players were in the final year of their entry-level contracts. All of them recorded eye-catching statistics in year three. All were 21-years old at some point during those seasons; and all three were traded away soon after season's end.
Most importantly, all three would have filled positions the Bruins need right now.
System Clash
Kessel, Seguin, and Hamilton are all offensive-minded players. Julien's system preaches a defensive mindset and two-way play. It results in a clash between player and coach.
Kessel and Julien were not the best of friends off the ice while Seguin was chastised by the Bruins brass for not willing to battle for loose pucks and get dirty in the corners. Hamilton had his defensive zone issues around Tuukka Rask's crease.
The theme here is that Julien expects his players to be good in all zones. Kessel and Seguin are snipers. They focus on scoring goals, not preventing them. Whenever offense is hard to come by, Bruins fans enter the annual "we need a goal scorer/sniper" phase. Boston had two young snipers in the past seven years. Now, they don't have any.
https://twitter.com/mikeburke91/status/616270201764642816
Did Hamilton want to play for Julien? We will never know the true answer. However, it is interesting to note that very few teams knew he was available via trade yet things escalated quickly between Hamilton's camp and general manager Don Sweeney soon after the decision was made to keep Julien.
Ask yourself: if the coach was fired, would Hamilton have been more willing to negotiate a new contract? It's a serious question that has yet to be asked.
What Does It Mean For The Future?
It appears the shelf-life of promising young players in the Black and Gold is three years. This may be a serious problem for Boston's future, especially with young David Pastrnak.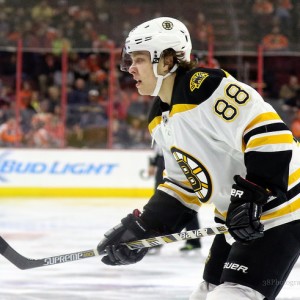 The 19-year old winger burst onto the scene last season as one of Boston's better performers down the stretch. He has two years left on his entry-level contract before the time comes to negotiate in the summer of 2017. There's no doubt Pastrnak will get better with increased playing time, which is exactly the scenario that played out with Kessel, Seguin, and Hamilton.
Hypothetically speaking, if Julien is still here then, will we see the same narrative? Bruins fans see Pastrnak as the next potentially elite offensive talent but the coach won't allow for that if he's poor defensively. The Czech forward can score 30 goals a year but may get chastised for not battling in the corners or for being lax in his D-zone coverage.
It's the modus operandi of Julien and it will never change.
Three franchise players traded away in the span of just six years. Kessel and Seguin are now elite, offensive superstars. Hamilton will probably reach that level in due time with Calgary.
All of them were traded away under Claude Julien's watch. It cannot be a coincidence.
Joe is a writer covering the Boston Bruins. He is a lifelong native of Massachusetts and is currently a content writer/manager for a newsletter at a Human Services Agency. Joe can be found on Twitter: @JoeCherryTHW