The Washington Capitals (1-1) erased a 4-1 deficit Thursday night, picking up their first win of the season in their home opener in a victory over the Calgary Flames. Captain Alex Ovechkin picked up three points in the final 30 minutes with two goals and an assist, along with a goal in the shootout following overtime.
The Capitals went 2-3 on the power play, with Backstrom and Ovechkin scoring. Braden Holtby was pulled in the first period after allowing three goals to put Washington in a 3-0 hole. He played 16:22 and registered eight saves on eleven shots for a .727 save percentage. Neuvirth allowed one goal and collected 27 saves in 48:38 of ice time for his first win of the year.
"Everybody has hiccups. Everybody," Oates said of Holtby. "And he's got to understand that to me that's what it is." Holtby will start for Washington in their next game against the Dallas Stars.
However, there were casualties for Washington. Defenseman Jack Hillen, who was expected to play on Washington's last pairing this season, left the game and did not return due to a lower-body injury. He was transported to the hospital after the game and will be "out for a bit". Hillen played for only 3:12.
Rookie defenseman Connor Carrick recorded his first goal of his career at the NHL level for Washington, scoring just seconds after he left the penalty box following a hooking penalty.
"Momentum's a big part of the NHL," Carrick told NHL.com. "You hear a lot of coaches mention it throughout the League, so anything I can do to swing the momentum our way."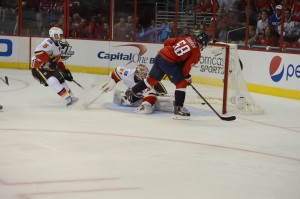 The Capitals power play is already best in the league like last season, converting on five of their first nine chances through two games, good for a 55.6% clip.
"First of all, I think Grabovski did a good job taking the puck in the zone and then he gave it down in the corner to me and then just threw it up to Ovi," Backstrom said of his goal. "I think Ovi wanted to give it back to me, but the D blocked it there. A little scramble in front of the net, and he gave me the puck and I just tried to hit the net and I scored."
Washington forward Martin Erat saw only 6:30 of ice time, with none of it coming on the power play as his role on the team continues to diminish.
You can follow Matthew on twitter @m_speck and email him at mspeck21@yahoo.com with any questions or comments.