After a slow start in the 2012-13 regular season, the Washington Capitals found their groove but faced another defeat in the first round of the Stanley Cup playoffs last year. They were led by new head coach Adam Oates who helped Captain Alex Ovechkin have another grand season, totaling 56 points in the 48 game lockout shortened schedule.
Following an outstanding postseason, goaltender Braden Holtby continued to showcase his talents, filling in as the number one net minder in the nation's capital. They lost a few familiar faces in the offseason, but gained some that will make a difference this season. The Hockey Writers previews the Washington Capitals 2013-14 season preview below.
Last Season by the Numbers
Record: 27-18-3 (8th)
Goals Per Game: 3.04 (5th)
Goals Against Per Game: 2.71 (18th)
PP%: 26.8% (1st)
PK%: 77.9% (27th)
Faceoff Percentage: 50.8% (12th)
Offseason Review
The Washington Capitals had an underwhelming offseason for quite some time. Eventually George McPhee made his move and it was a big one. After unrestricted free agent center Mike Ribeiro left the nation's capital to play in Phoenix for the Coyotes, McPhee signed center Mikhail Grabovski, a compliance buyout casualty from the Toronto Maple Leafs.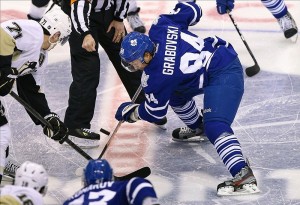 Along with losing Ribeiro, who was acquired for Cody Eakin at the draft a few years ago, Washington lost Capitals' fan favorite Matt Hendricks to the Nashville Predators. Letting Hendricks was a move that the Washington brass needed to make, especially with Jay Beagle filling in on the fourth line and the acquisition of forward prospect Michael Latta in the Martin Erat trade.
Can Strong Power-Play Continue?
Washington boasted a ridiculous 26.8% power play efficiency last season, tops in the NHL. Ovechkin tallied 16 of their power play goals, helped by Ribeiro on the man advantage. Grabovski is taking over for Ribeiro spot on the first power play unit. If the offensively capable Mike Green can stay healthy for the majority of the season, expect the power play to stay lethal.
"I really like where Ovi is right now," General Manager George McPhee told the Washington Post "He had a good camp and a good preseason. He feels good about himself and he's confident. When Ovi is feeling good, we all feel good."
"He said, 'You've got to start scoring goals again, prove yourself again.' He gave me the confidence to do that," Green told the Washington Post of what Washington's head coach told him last year. "Oatesy's really helped me with getting my confidence back after the injuries I've had over the last few years. I have the utmost respect for him."
Relying On Youth
Plymouth Whalers defenseman Connor Carrick and Capitals 2012 first round pick Tom Wilson both made the club out of training camp. They'll both get minimal ice time to start, but their role could grow as they progress.
Carrick, a long shot to make the roster, shocked the D.C. media and Capitals' fans by sticking with the Capitals past final cuts. He beat out defensive prospects Dmitry Orlov and Tomas Kundratek, along with veteran Tyson Strachan, who was also sent to Hershey. He dressed for Washington's first game of the year at Chicago as well. He's a smaller defenseman, but is a strong skater and an offensive threat at the blue line.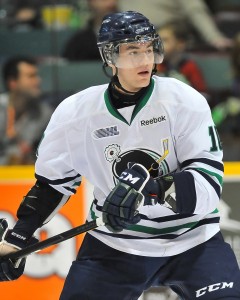 Wilson is a strong, physical forward who has drawn comparisons to elite NHL power forwards like Milan Lucic. He's started the season playing on the third line, led by center and veteran Eric Fehr. Wilson's spot was secured when McPhee traded forward Mathieu Perreault to the Anaheim Ducks for AHL forward John Mitchell and a fourth round pick.
Another young player that could potentially make an impact on the Capitals is forward prospect Evegeny Kuznetsov. Oates met with him prior to training camp and the young prospect stated that he does plan to come to North America to play in the NHL, as Washington now hopes it's just a matter of when.
Season Projection                
The Capitals will face a tough divisional schedule against the likes of the Pittsburgh Penguins and New York Rangers. I expect them to finish fourth in the division, good enough for the postseason, behind the Penguins, Rangers and Philadelphia Flyers in the Metropolitan division. They'll have to avoid a slow start like last season and rely on strong goaltending by Braden Holtby and Michal Neuvirth.
Position Preview and Projections
You can follow Matthew on twitter @m_speck and email him at mspeck21@yahoo.com with any questions or comments.
Matthew Speck covers the Washington Capitals organization for The Hockey Writers. He provides coverage of both Washington at the NHL level and prospect related content. Matthew also covers local sports for the Lebanon Daily News in Central Pennsylvania. You can email him at mspeck21@yahoo.com with any questions or comments.