The Washington Capitals begin their 2013-14 regular season with a tough loss in Chicago against the Blackhawks. They boast a strong group for forwards this year, with two above average forward lines. The first unit is composed of Captain Alex Ovechkin, center Nicklas Backstrom and the young and improving Marcus Johansson. The second line includes newcomer Mikhail Grabovski at center with Brooks Laich and former Blackhawk Troy Brouwer on the wings.
There are many questions on the bottom six including, what can physical young winger Tom Wilson bring to the table and how will trade acquisition Martin Erat perform on a lower line if Oates sticks him there? Below, The Hockey Writers previews and projects every Capitals' forward that made the team for opening night.
Nicklas Backstrom
With the departure of unrestricted free agent Mike Ribeiro to the Phoenix Coyotes over the summer, Backstrom enters the season unquestionably as the best passer on the Capitals. He'll play first line minutes with Alex Ovechkin and Marcus Johansson, including time at the side boards on Washington's top power play unit, which was first in the NHL last season.
Projection: 22 goals, 58 assists, 80 points
Jay Beagle
After sending Michael Latta to Hershey prior to Thursday night's game, Jay Beagle's role was cemented as the fourth line center and penalty kill specialist. He'll mix in a fight every now and then to energize the bench, but don't expect too much offense. He's key in the faceoff circle, winning 56.1% of his draws last year.
Projection: 3 goals, 7 assists, 10 points
Troy Brouwer
Brouwer has brought a physical and veteran presence to the Capitals ever since he was traded from the Chicago Blackhawks. He finished fourth on Washington in points (33) and scored seven goals on the power play, second behind Alex Ovechkin.
Projection: 26 goals, 20 assists, 46 points
Jason Chimera
Chimera had one of his least productive seasons last year in Washington. He finished with only three goals on the year, largely due to his unlucky 3.3 shooting percentage. This year he will start as a fourth line player, but could be capable of a larger role.
Projection: 7 goals, 12 assists, 19 points
Martin Erat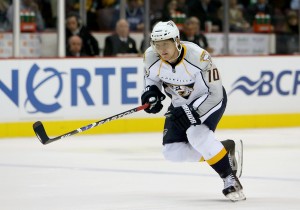 The former Nashville Predators forward entered this season in a very surprising role, on the fourth line. He was traded for once Capitals' top prospect Filip Forsberg, along with former Milwaukee Amdiral Michael Latta. Even if he sticks on the bottom six, Erat should be able to contribute on the Capitals second power play unit.
Projection: 15 goals, 24 assists, 39 points
Eric Fehr
Signing Fehr was a big move by McPhee last year, and keeping him was an even better one. Fehr has returned to being a solid third line player, with grit and penalty killing as a key strength. He'll get the chance to play with hard-hitting rookie Tom Wilson with more chance for production offensively. He led all Capitals forwards with a plus 14 last season.
Projection: 16 goals, 13 assists, 29 points
Mikhail Grabovski
Grabovski was another smart move by McPhee and it paid off opening night with a hat trick. He's moved into Mike Ribeiro's former spot on Washington's top power play unit along with the second line center position. Playing with strong wingers in Brooks Laich and Troy Brouwer will do wonders.
Projection: 29 goals, 34 assists, 63 points
| Player | TOI/G | PPG | Shooting % |
| --- | --- | --- | --- |
| Nicklas Backstrom | 19:54 | 1 | 9.80% |
| Jay Beagle | 12:06 | 0.16 | 3.80% |
| Troy Brouwer | 18:32 | 0.70 | 17.10% |
| Jason Chimera | 12:40 | 0.30 | 3.30% |
| Martin Erat | 13:54 | 0.33 | 11.10% |
| Marcus Johansson | 16:35 | 0.65 | 15.00% |
| Brooks Laich | 16:32 | 0.44 | 10.00% |
| Alex Ovechkin | 20:53 | 1.16 | 14.50% |
| Aaron Volpatti | 9:18 | 0.06 | 0.00% |
| Joel Ward | 15:07 | 0.51 | 15.40% |
Marcus Johansson
Johansson returned to the Capitals this year following a two year contract after his entry level deal expired. He'll get first line minutes with Ovechkin and Backstrom, along with some time on the Capitals secondary power play team. Johansson is a strong passer, but needs to take a few more shots.
Projection: 14 goals, 32 assists, 46 points
Brooks Laich
The Capitals need a healthy Brooks Laich if they want to see playoff hockey in Washington, D.C. He only played in nine games last season, but looks to be set to go at the beginning of the 2013-14 season. He's opening the season on the second line with Grabovski and Brouwer and should reap their benefits.
Projection: 16 goals, 26 assists, 42 points
Alex Ovechkin
After a 56 point season, can Ovechkin do even more? Half of Ovechkin's 32 goals last season came on the power play and taking even more shots could increase his productivity. If Ovechkin can total close to 500 shots he has a shot at 50 goals in Adam Oates' system
Projection: 48 goals, 40 assists, 88 points
Aaron Volpatti
Volpatti is on the Capitals for one reason and one reason only, to fight. He registered zero goals last season on ten shots and recorded one assist in 17 games.
Projection: 1 goal, 2 assists, 3 points
Joel Ward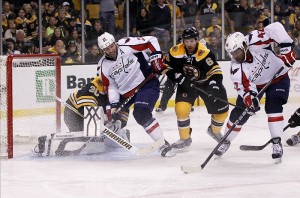 This former Nashville Predators' forward finished sixth on the Capitals with 20 points, but cooled off in the second half of the season following a hot start beginning on opening night in Tampa. His role is diminished this season, but he can still be effective in the bottom six.
Projection: 13 goals, 15 assists, 28 points
Tom Wilson
Wilson is expected to stay with the Capitals the entire season as the team adjusted their roster to fit him on the team. He should play a third line role for the most part, learning from veteran Eric Fehr. Wilson is a big bruiser and has been compared to Bruins physical forward Milan Lucic.
Projection: 11 goals, 16 assists, 27 points
Washington Capitals Roster Previews:
You can follow Matthew on twitter @m_speck and email him at mspeck21@yahoo.com with any questions or comments.
Matthew Speck covers the Washington Capitals organization for The Hockey Writers. He provides coverage of both Washington at the NHL level and prospect related content. Matthew also covers local sports for the Lebanon Daily News in Central Pennsylvania. You can email him at mspeck21@yahoo.com with any questions or comments.