The puck had not even dropped on the Philadelphia Flyers' 2013-2014 campaign, and the rumor mill was already spinning. Bovada, the renowned sports betting company based out of Las Vegas, had fifth-year head coach Peter Laviolette as the odds-on (2/1) favorite to become the first NHL coach receiving a pink slip.
There are countless supporters and as many opponents to Laviolette's coaching style, as well as whether he should still be in the position. With those arguments standing as offsetting, one thing can be proven to be true in Philadelphia: the shelf life of the Flyers' head coach almost never exceeds four years. Laviolette enters his fourth full season as Flyers' head coach this season, having taken over in December of 2009.
The man entrusted with determining Laviolette's fate, general manager Paul Holmgren, knows a thing or two about the short leash on Flyers' coaches. He, himself, was let go in his fourth season as Philadelphia's bench boss in 1991, after starting the season a putrid 8-14-2.
Laviolette: The Latest 4-Year Curse Victim?
No Flyers head coach has lasted a full five seasons at the helm since the late Fred Shero from 1971-78.  Recently, the Flyers track record has been one of impatience with slow starts. The Flyers' valiant, but ultimate 3-1 defeat at the hands of the Maple Leafs on Wednesday night is perhaps the first stepping stone to Laviolette's path out the door.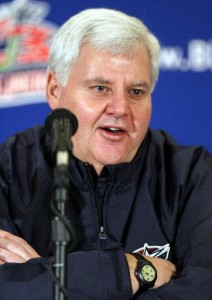 The Flyers' last two head coaches prior to Laviolette certainly were not given a long time to right the seemingly sinking ship. Ken Hitchcock was hung out to dry along with general manager Bobby Clarke in 2006 after the Flyers started 1-6-1, on their way to their worst season in franchise history.
Not even an above .500 win percentage could save the next Flyer coaching victim, John Stevens. In 2009, his team that was predicted by more than one pundit to represent the East in the Stanley Cup Finals, something they ultimately did do, seemed sluggish in the early winter months, starting 13-11-1. Among those mediocre stats and win-loss record was a string of eight straight scoreless periods of hockey to end the Stevens' reign.
However, not even mentioned so far is perhaps the man with the most say of anybody in Philadelphia sports: Flyers founder and chairman Ed Snider, who at age 80 is desperately seeking one more Stanley Cup to cap off a lifetime of achievement in Philadelphia Flyers hockey.
Because of this, the term "rebuilding" does not exist in the Flyers' vocabulary. At the time of Stevens' firing, the Flyers' only owner went on record as saying "I make it a policy never to overrule my general manager, because once I do, it means I've lost confidence in him."
Mr. Snider can say he does not overrule a GM all he wants. The fact remains that the Flyers are his self-proclaimed "baby." He made hockey in Philadelphia a reality for the millions of fans and dozens of storied players that followed him. It would seem hard to believe that his opinion does not influence some, if not many of the decisions made by the Flyers' front office. Clarke's mysterious "resignation" on the day of Hitchcock's firing in 2006 is one such example.
So while there were a lot of positives to take from the Flyers' opening night loss to red-hot Jonathan Bernier and Toronto, moral victories are far from being seen as a win to Philadelphia fans, and perhaps more importantly for Laviolette's job security, Philadelphia management.