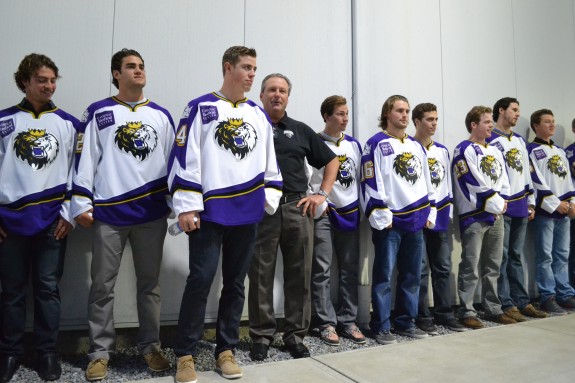 The Manchester Monarchs open their 13th season in the American Hockey League on Saturday on the road against the Springfield Falcons, coincidentally the same team that dropped them out of the playoffs in the first round last year after a respectable 37-32-3 record. With many returning players from last year's roster, Monarchs 7-year head coach Mark Morris is looking forward to the mixture of veteran leadership and rookie enthusiasm in his locker room and he hopes that this year, the pieces will fall into place that will lead the Monarchs to their first Calder Cup. Here are three things you need to know headed into the Monarchs 2013-2014 season:
1) Toffoli, Pearson, and Vey are back with a vengeance
Linemates Tyler Toffoli, Tanner Pearson, and Linden Vey are back with the Monarchs for a third season after being held for an extended training camp with the parent club. For Vey, the experience of training camp, and making it through final cuts, is really something special.
"It was a good experience," Vey said. "Obviously the goal is to play in the NHL, and it's great when you get an opportunity to stay up there for a while and get the feel of it."
It's even more special that he is able to do it all with players like Toffoli and Pearson, who over the past couple of years have become key cogs in the Monarchs offense.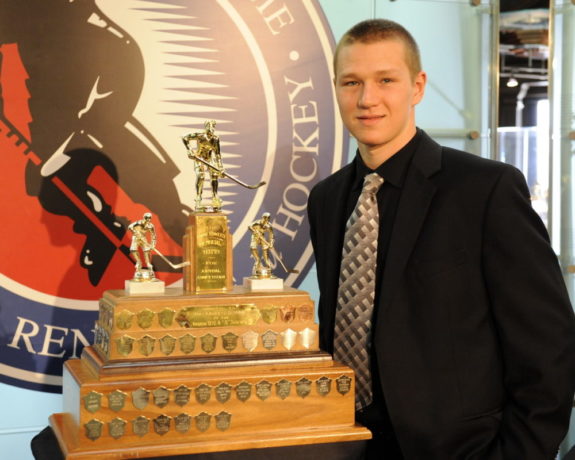 "It makes things a lot easier, especially when you have played with each other for such a long time," Vey said. "You just have that chemistry and being comfortable makes everything a lot easier."
Vey had 22 goals and 45 assists for the Monarchs last season. Pearson added 19 goals and 28 assists, and Toffoli 28 goals and 23 assists. Toffoli was also named AHL Rookie of the Year, and was rewarded with an extended stint with the Los Angeles Kings at the tail-end of last season, scoring two goals in the regular season and two goals in the playoffs.
2) Veteran defenseman lead by example
With six-year veteran Andrew Campbell returning to the blue line for the Monarchs this season, it's hard to argue that he undoubtably holds the title of being the experienced leader in the locker room, something that he knows will be one of his main duties this season.
"I just have to practice with good habits everyday," Campbell said. "I have to be vocal, notice when something is going on when it shouldn't be…it's my sixth year so I kind of know the ins and outs of the city and what to expect travel-wise. I'm a pretty coachable guy, but I'll just help out anyway I can."
The Monarchs have a strong defensive core, with Campbell, Alex Roach, Andrew Bodnarchuk, and long-time Washington Capital defenseman Jeff Schultz, who was placed on waivers and sent down by the Kings on Sunday after signing a one-year deal with the parent club in the offseason.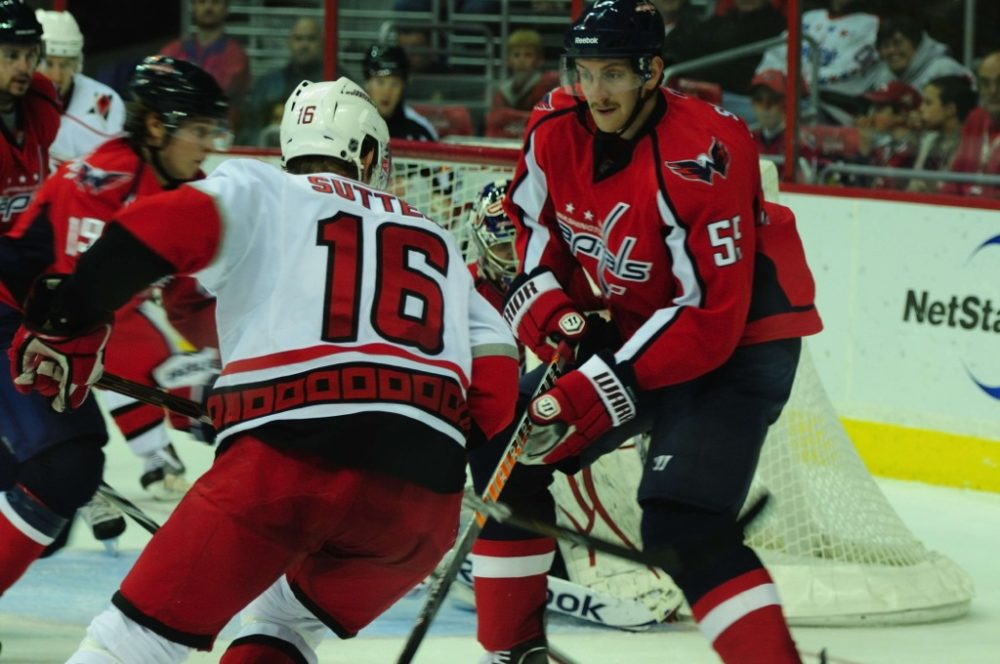 "This is an exciting team we have," Campbell said. "We have a lot of skill, a lot of speed, a lot of players who can put the puck in the net and some size and veteran presence on the back end. There's a lot rookies too, it's a good blend."
For Monarchs head coach Mark Morris, Schultz's leadership and experience will help some of the younger, less experienced guys in a big way.
"He's highly intelligent," Morris said. "He's experienced what it's like to play in the NHL. I'm hoping that he can help mentor our group and lead by example."
With experience, leadership, and undoubtedly size (Schultz is 6 feet, 6 inches, Campbell is 6 feet, 4 inches) it's hard to ignore the Monarchs defense which, as it is shaping up so far, could be one of the strongest in the Eastern Conference this season.
3) Deslauriers move to wing a giant leap forward
Monarchs defenseman Nick Deslauriers is clearly a man of many traits. A blue-liner by trade, Morris gave him the chance to try his hand at right wing during the teams' first preseason game against the Portland Pirates last week.
And the LaSalle, Quebec native didn't disappoint. He scored four goals that night and launched the Monarchs to a 5-2 win.
"That was our biggest surprise," Morris said. "He's a real strong skater and he's got great straight-away speed. Obviously,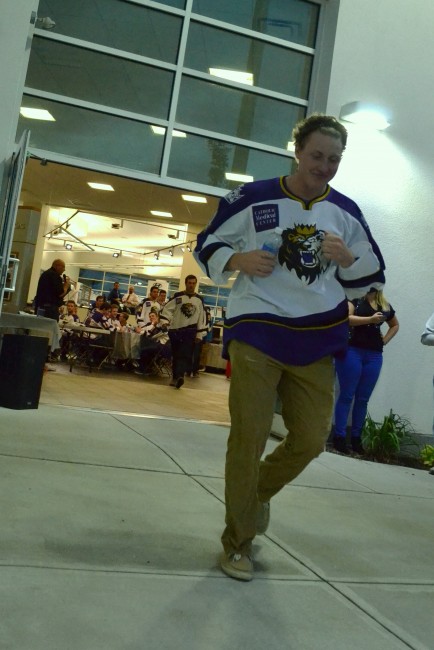 his early success turned quite a few heads. Four goals that game, he was having a blast."
Deslauriers, who also plays the point on the Monarchs powerplay, said he hasn't played forward since novice hockey, but it was nice to get a chance at it.
"I guess I can do it all now," he said. "I can hit, I can fight…and apparently I score goals now."
For Morris, it's just another weapon he can use when the situation arises.
"He's in a situation now that we know he can do both," Morris said. "To have that versatility is a comforting thing to any coach."
But Deslauriers hopes the streak of firsts doesn't stop there.
"I might just dress up as a goalie next week," he said. "We'll see."
——————————————————————————-
The Monarchs open the season on the road against Springfield on Saturday, and will play their home opener on October 19th vs. the Providence Bruins.