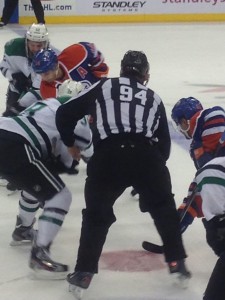 There are a lot of things people will do for the love of a hockey game. I am no exception. I was perusing the schedule about two weeks ago and noticed the Edmonton Oilers are playing in Oklahoma City against Dallas. I called my sister to see if she might want to go. She greatly supports my love of hockey, but was hesitant as six days in advance seemed a little too spur of the moment. I wanted to make sure it wasn't a huge undertaking, so I called my dad, to ask how far of a drive Oklahoma City was from home. He told me it was about two hundred miles. I'm now thinking he was thinking how far it was from his home. I called my sister back and told her it was only a little over three hours away, she wouldn't have to take off work early and hockey games are fun! She said let's go, told me to get the best seats available and asked if there was a bar. Done. I'm excited. For the record, my sister is a very generous person and is always willing to drive. Keep all this in mind as you read the rest of this article.
The Best Laid Plans And All That Garbage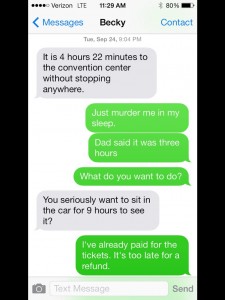 Flash forward to Tuesday and I get the above text. Great. Now she will only respond to me by text, and reminds me I really need to plan things out better. Ouch. So I call around, ask a couple of guy friends if they'll take me instead, offer some trades and all I get is, "I'd have taken you in a heartbeat, if you'd just given me more notice." Ouch again. Becky's still going to go, but I've been warned to be on my best behavior. Which is really hard for me to do. But, again for the love of a hockey game, I'll not make my sister mad during the now nine hour trip. Wow. Am I in trouble.
Skating on Thin Ice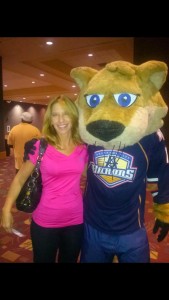 So I tread lightly until Friday, and she texts me that I need to be ready by one p.m. to leave. I'm running around trying to check into work, and I get a phone call from my hair stylist. She's going to be late, something about someone died, and she has to do another appointment, she'll call me when she's ready for me. Uh oh. Well it wasn't too bad as it was only twenty minutes later, but living in a small town; I didn't understand that she was late, because she was doing hair for a lady who had actually died. Ok, not sure if this is a bad omen or what. I'm ready, at my sister's and her neighbor is a guy who I graduated from high school with, tells Becky to have a nice 'long' trip. Making a mental note to remember to punch him later for that. I grab our things wondering if she's going to speak to me at all. We get on the road. Mind you my sister had to take off work early to take me to the game. I'm prepared. I've got magazines, books, a movie on my tablet, etc. I'm also on the lookout for any lakes that she might dump my body in on the way home. We pass three in an hour. Yikes!
Finally she speaks to me about an hour in, "I'm really thinking I'm going to hate you twelve hours from now." Oh man. At least she's talking? Well, she lightens up, we drive forever. Do you know how many toll roads there are in Oklahoma? Did you know that the shopping cart was invented in Oklahoma? Two things I didn't care to know, and $16 I didn't expect to pay just to get to the game. We finally arrive at Cox Convention Center, the home of The Oklahoma City Barons for the game right about six o'clock. The first thing Becky says is, "Where's the bar?" Then the mascot accosts us. Becky's happy to have her picture taken. "Where's the bar?" So we find the bar, forget my diet coke. Then we get lost, take an elevator somewhere and eventually get to our seat-which are amazing. We are right behind the control booth in between the penalty boxes.
Oklahoma Is Oil Country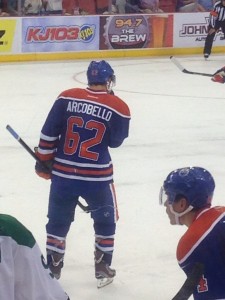 I have to tell you, Oklahoma loves the Oilers. Due to the lockout last year, they saw a lot of the younger guys come back and play like Taylor Hall, Jordan Eberle, Justin Schultz and Ryan Nugent-Hopkins, etc. They are fanatical about the Oilers! The couple we sat next to said it was really exciting to see them play throughout last fall. One of their favorite Edmonton players is Mark Arcobello. They were thrilled when he got called up last year from the Barons and were excited to have him back if only for a preseason game. No one messes with Arcobello in Oklahoma. He's not the biggest guy, but he's made a name for himself there. The couple sitting next to us were die hard Baron fans and are season ticket holders. Becky made fast friends with them, and we're all now Facebook friends. Hi Barb! They gave us the scoop on the Barons and were fun company. It gave my sister someone to talk to other than me, which was a real positive for me.
So Far So Good, No Not Good After All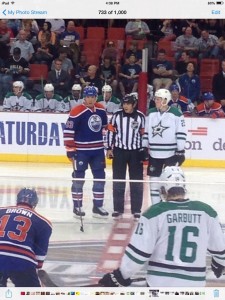 Not so mad anymore, she seemed to really enjoy the game. I did notice something interesting. When the mascot came down to get the crowd going, I saw his name on his back, it's Derrick. Whoever thought of that is pretty clever. I elbowed my sister and asked her if she noticed his name, and she said "Yeah, lots of guys are named Derek." I said, "Think about it, Oilers, Barons, oil? Get it?" "No." "Oil Derrick? How do you not know that?" Oops. I may be walking home at this point.
Luck Of The Lost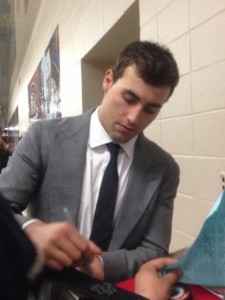 Now after the game due to everyone behaving-including me, we get out at a reasonable time. We do get lost in the building again. Which worked to my advantage in that I got to meet one of the front office guys for the Dallas Stars. They have awesome business cards FYI. We then find the elevator and somehow end up where the Oiler players are coming out to get on the bus. I was intrigued. It's not often you're within two or three feet of professional athletes. I was really interested in seeing how many of them had their teeth in and what their hair looked like. Halfway through the Oiler's players walking through and signing autographs for the kids, four gentlemen came from further down, intersected the barrier and passed us. I turn around and my sister is over there chatting them up. I'm like what is she doing?
A Really Bad Photo Op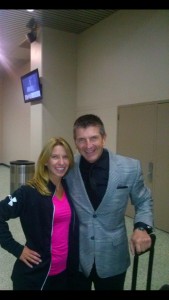 She's having her picture taken with them! I'm like no way. The Oiler's guys are all on the bus, and we finally can get through. I ask her, "What were you doing with those guys?" She says, "That one guy was cute, and I wanted to get my picture taken with him. He seemed really happy to have his picture taken." I said, "That's because no one likes them, Becky! Those guys are the refs and the linesmen. They ruin games. Nobody likes the refs. Didn't you hear the crowd boo them as they came out?" "No, I didn't." "Becky, they skated out before the players each time, they got booed each time." "How many periods were there?" She asks. "Three." I said. "Well, I was getting a vodka and sprite at the bar each time." I said, "You had three drinks?" "Well one for each period, what was I supposed to be doing during the game?" Well not get your picture taken with a ref afterwards!
There's No Place like Home, There's No Place like Home
We then begin the drive home. Her car's GPS, her Garmin, and my phone's navigation system are all vocally telling us to enter a now non existent on ramp. We circle the convention center for an hour. We finally get out of there, none too soon. She drives for an another hour, and we can't find this restaurant that is part of a southern chain Becky thinks sounds good. I'm up for anything we don't have where we live. It's called What-A-Burger. We drive for another hour, and finally we find one. I haven't eaten since before noon and it's one a.m. We get it to go and commence on.
Seriously?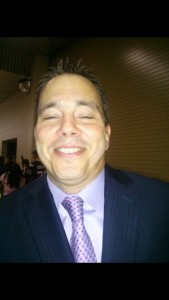 I make the mistake of looking through my camera. I find the picture of the guy who took the picture of Becky and the ref. He had turned the camera on himself. Now I have two pictures of referees/linesmen. Great. Never give your camera to a ref. I'm so tired that I'm at a point where everything's funny. My sister's at a point where nothing's funny. I tell her I have to used the powder room, and she says, "Seriously? How about we go back an hour so I can return the what-a-chicken sandwich that I got that is coming back up on me. Do you want to go to the powder room there?" I said, "I don't think I have to go anymore. But what do you expect when you order from a restaurant that titled, What-A-Something or other? Didn't you wonder what was in your chicken in the first place?" I decide to shut up after she says, "This is stupid." Finally at three-thirty a.m. we arrive home utterly exhausted. I think, I made it, all is well with the world. Until Sunday when she comes home from working at the Chief's game, and gives me a call. Apparently she forgot the sack which had the rest of her what-a-chicken sandwich in it in her car, and so now her new car doesn't have that nice new car smell anymore. This trip isn't going to go away anytime soon in her mind. So, any volunteers to go to the next hockey game with me? I'm pretty sure Becky won't want to be going.
Interests: Reading, writing, art, music, movies, history, and especially hockey! BS.Ed., MS.Ed. I currently write articles about anything and everything for The Hockey Writers.