Oct 31st – Nov 6th
Most people around Chicago hockey would have to categorize Week 5 with these three words "I'll take it".  Collecting 5 of a possible 8 points and vaulting their overall record to (8-3-3) which to onlookers has to be seen as a successful.  These points were a key part in helping the Hawks to the top of the Central Division and as of Sunday night, the top of the Western Conference.
But Hawks fans know that Sunday night's defeat at the United Center at the hands of their bitter rivals, the Vancouver Canucks will not go down easily.  This was their first game at home without securing a point; not the way they wished to end what was otherwise a great week.
Record this week (2-1-1)
Key Stories
Blackhawks force extra time in three of four games.  it might be better to say that the opposition 'actually' forced these games to the extra stanza, but as the motto of the week is 'I'll take it', the Hawks will certainly take these points.  Each one of these games ended differently.  One was a classic single handed rush by an up and comer who sliced and diced his way through the Preds for an OT winner in dramatic fashion.  One was P-Kane dazzling on a shootout in which forced 6'6 Florida goalie Markstrom to give up the 5 hole.  The last which the Bolts superstars took over and potted the winner on a beauty play.  In each of these games, the Hawks were unable to hold onto a lead allowing the other team a chance to steal points.  Fortunately for Hawks fans and for their playoff chances, only one of these teams are in the Western Conference.  In the end the Hawks get 5 of 6 points, their opposition gets 4.  [Insert argument of 3 point games here]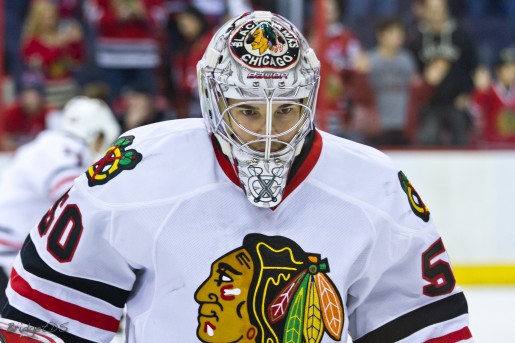 Carcillo keeping it clean?  Well almost.  It is astonishing to think that Daniel Carcillo has only managed one single, 2 minute penalty through the first 11 games of the season, considering that his career average was 3.5 minutes per game in 282 games going into this season.  [Excuse the fact that Carcillo served a 2 game sentence for thrusting a Philly dman into the end boards.  On that play he didn't receive an in game penalty.]   So has he really changed?  I think critics and fans in Chicago really believe he has and the Chicago Blackhawks are a more dangerous team with a conscious, controlled Dan Carcillo.  On that note, I feel the need give Carcillo a pass for Sunday's game with the Canucks as Carcillo blew his season total out of the water with 21 minutes in penalties (2 for High-Sticking, 5 for Fighting, 2 for roughing, 2 for unsportsmanlike and a 10 minute misconduct) 14 of which were in the third period of a game that was out of hand.  I for one will be watching intently to see if Carcillo can keep it clean and give the Hawks a chance to win on most nights.  So far, the test appears to be working.
Bitter Rivals; the Vancouver Canucks put a power play show on West Madison Street.  After taking 5 of 6 possible points in the week, the Blackhawks balloon was quickly deflated at the hands of their acrimonious foe; the Vancouver Canucks.  Chicago and Vancouver who have faced each other in each of the last 3 playoff seasons absolutely hate one another (the Hawks won the cup in 2010 and Canucks came within a game of winning in 2011).  Last year, they split the season series evenly 2-2.  It is a certainty that both teams get up to play one another and their fans are always encouraging them on the sidelines.  This time, unfortunately for the Blackhawks, the Canucks managed 5 Power Play Goals on 6 opportunities en route to a 6-2 win.  A sore point considering that then Western Conference leading Hawks are a league low 8.8 % on the PP compared to Vancouver's 2nd best ranking and a success rate of 26.4%.  This is a disparity that the Hawks will want to nip in the bud in order to compete with the Nucks in their next meeting on Wednesday Nov 16th.  They may also want to stay out of the box.  Be sure to set your PVR.
Play of the Week: Although their matchup against Nashville was full of big stories.  'Carcillo Comes back after suspension', 'Kane Dominates play' & 'Top D-man Duncan Keith goes out with injury', the best play of the game against the Nashville Predators and the play that secured the second point was a brilliant marker by speedster Viktor Stalberg.  The highlight goal is one of the biggest of Stalberg's short career to date.  His speed is tantalizing and his ability to stop on a dime is even more impressive.  Just like that it's 5-4 Hawks.  Hawks win, Hawks win!! click below to have a gander.
http://www.youtube.com/watch?v=KzNciJwnyGk
Line of the Week:  an excerpt from the play we just saw "…Stalberg racing up the right side, Stalberg, they're even, he's leavin', he cut's in, HE SCORES.  OH Viktor Stalberg, utilizing his speed, then he put on the brakes.  HAWKS WIN!"  Pat Foley of Comcast Sportsnet, as Viktor Stalberg gives the Blackhawks the OT victory over the Nashville Predators.
Standings:  1st in Central Division, 1st in Western Conference (8-3-3)
Season Team Leaders:
Goals – Marian Hossa (7), Assists – Patrick Kane (11), Points – Patrick Kane (15), plus/minus – Patrick Kane (+8), PIM – Jamal Mayers(27), Shots –  Marian Hossa (54), GWG – Viktor Stalberg (2) TOI – Duncan Keith (24:56)
for all other statistical categories go to www.nhl.com or click here.
Food For Thought:
Patrick Kane was a huge player for the Hawks this week.  Not to be undersold, he dominated play, weaved his way through the opposition and had 6 points in two games.  Despite being held off the score sheet he did score the only shootout goal and the winner in Florida.
The Hawks players fathers joined them on the Floridian road trip and witnessed two thrillers decided in extra time.  One for and one against.  They might have golfed and enjoyed some cold beverages too.
Diminished play in the later going of periods allowed Nashville, Florida and Tampa Bay to sneak back into the game.  In Nashville, Legwand tied it up with 5 minutes to go.  In Florida, Jovo cop scored at 17:56 of the third to send it into OT.  And in Tampa Bay, Steven Stamkos scored with 15 seconds to go in the first, 33 seconds left in the second period and Vincent Lecavalier scored with 54 second left in OT.
Up this week: at St Louis Blues (6-7-0), at Columbus Blue Jackets (1-11-1), vs. Calgary Flames (6-6-1) & vs. Edmonton Oilers (8-3-2)