Jim Neveau, NHL Correspondent
When the Atlanta Thrashers acquired Dustin Byfuglien from the Chicago Blackhawks back in June, it was widely considered to be a solid trade for a franchise still reeling from losing its primary goal scorer in Ilya Kovalchuk. The move also brought veterans Ben Eager and Brent Sopel into the mix, but the centerpiece was Byfuglien, a playoff hero for the Hawks who endeared himself to fans with his physical play and penchant for scoring dramatic goals late in games.
Before his first season with Atlanta even started, Byfuglien was the subject of intense media scrutiny. Not only were there questions about his effort level during the regular season, but head coach Craig Ramsay made a splash when he announced that Buff would be moved back to the defenseman position, a place he had not regularly played since the 2007-08 season with Chicago.
In the early going of this season, Ramsay has looked like a genius. Through 25 games, Byfuglien is leading the team with 10 goals, second on the team with 17 assists, and he is averaging over 21 minutes of ice time per game. To top that all off, Dustin was also given the alternate's "A" earlier this season.
So what has caused Byfuglien to turn a corner and find success during the regular season for Atlanta, and more importantly, can he continue his solid play? These questions will be answered over time, but just for fun, we'll explore some other questions about the hot start of Dustin Byfuglien.
What Have Been the Keys to Byfuglien's Success?
One of the important factors in Dustin's early season success has been the ice time that the Thrashers have been giving him. Back in his last full season as a defenseman, he played 17:02 per game, and scored 19 goals and picked up 17 assists. During that time, he was expected to be a bit of a free-roamer on the ice, but it didn't seem to translate well during the regular season.
When Buff moved to forward two years ago, he put up similar numbers while playing two minutes per game less than he had as a D-man. His last season in Chicago saw that ice time figure move up to 16:25, but the production didn't really follow suit.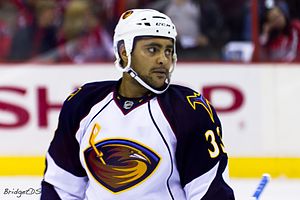 These numbers lead to two conclusions: Byfuglien is getting more ice time in Atlanta and therefore has more of an opportunity to get involved in more plays and hence more goals, and he is also playing in a system that is enabling him to do what he wants to on the ice.
Ramsay paired Byfuglien with Tobias Enstrom in the early going, and the pairing is paying off in a big way. Enstrom's stay at home mentality has allowed Dustin to attack more frequently than he could while in Chicago, and that may be the biggest reason for his offensive success this season.
Timmy Fabiniak, co-author of the Thrashers blog Bird Watcher's Anonymous, calls Enstrom "one of the most underrated defensemen in the NHL. Toby's a small dude, but he's an excellent skater, great passer, and he's got a good shot (which he doesn't use enough)."
Fabiniak also attributes the team's success on the power play to the Byfuglien-Enstrom combo, and the numbers once again back up that assertion. The two are tied for the team lead in power play points with 13 apiece, and their ability to keep the puck in the zone on the man-advantage has been a huge part of Atlanta's success in that area.
Laura Astorian, author of the hockey blog Thrashing the Blues, also gives credit for Byfuglien's success to his pairing with Enstrom. She thinks Byfuglien being "focused on picking up and joining in on the rush" is a good thing, but adds that "thankfully he's paired with Toby. [In those situations] Toby can kind of come up behind him as a failsafe."
Having someone to watch his back has emboldened the potential All-Star, and he seems to be a virtual lock to surpass his career highs in all offensive categories. With all of this talk of his willingness to jump in on the rush, the inevitable question has to be:
Is Byfuglien's Resurgence Coming at the Expense of His Defense?
Certain players in the NHL have gotten reputations over the years as being "offensive defensemen", and have been criticized for sacrificing their defensive duties to try to rack up points. Guys like Brian Campbell and Mike Green are frequent targets of these criticisms, and whether they are fair or not, these reps have stuck with them over the years.
Byfuglien has the size and physical ability to be a good defenseman, but with how often he has attacked the net (and he has a team leading 102 shots to prove it), has he gone crazy trying to score at the expense of his defense?
Fabiniak doesn't seem to think so. "Perhaps the most honest way to look at it – his 5-on-5 goals allowed per 60 minutes ice time – is just 2.39," he said.  "That's 2nd best among Thrashers defensemen (to Ron Hainsey's 1.98) and better than Toby Enstrom's 2.76."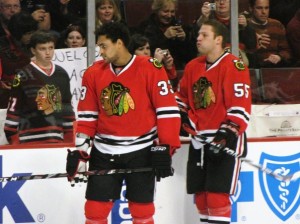 Astorian also cites Byfuglien's ability to create turnovers as evidence that he is a solid blue liner. "Buff's very effective at stripping the puck from the other team and can almost intimidate them into handing it over to them," she said.
Sure, Dustin will still have his off moments, but that is to be expected from a guy who played forward for the last two seasons. He is making a conscious decision to attack a lot on offense, but he isn't a defensive liability by any stretch of the imagination.
Can Byfuglien Possibly Keep This Pace Up?
If Byfuglien were to keep up his current scoring pace, he would end up with 33 goals and 56 assists. This seems like it is out of the realm of possibility, but he will (barring injury) surpass his career highs in both categories this season. The bigger question, then, will be about whether or not he can continue finding this much offensive success.
As the season wears on, teams are going to try to start countering what Byfuglien is doing on the ice. They are going to get more aggressive on defense, and continually try to spring 3-on-2 breaks the other way against the Thrashers' offense. By doing this, they will force Ramsay to rein in Byfuglien, who as stated by Laura Astorian earlier, has a penchant for trying to break out on the rush quite a bit. This will shackle Dustin to an extent, and will probably curtail his production.
Astorian does offer an interesting point on Byfuglien's resurgence in Atlanta, saying that while in Chicago he may have suffered from inconsistency because "he wasn't sure of what his role/importance was on the Blackhawks. He knows what it is here, and maybe it's just a matter of knowing what his value is."
The notion of Byfuglien "knowing his role" ( to steal a quote from The Rock) and feeling more comfortable certainly has merit to it, but it probably will not translate into a 30 goal and 55 assist campaign. Fabiniak sets the bar for Byfuglien at "20-25 goals and 60-70 points," but that would require him to only cool off slightly from the rate he is scoring at now.
Ultimately, Dustin's scoring output will be determined both by his own level of effort (a source of a lot of questions in Chicago) and how teams adjust to his ability to break out on an odd-man rush.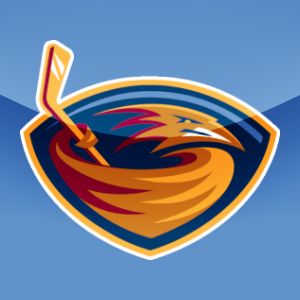 Will the Thrashers Keep Byfuglien After His Contract Expires?
As a team in the southern US, and as the squad with the league's lowest payroll, the Thrashers aren't really known as a team that will shell out cash to keep players in the fold. While they tried to buck this trend with Kovalchuk before last season, they still are known as a team with tight purse strings, and that could pose a problem when Byfuglien becomes a restricted free agent after this season.
As it stands now, the Thrashers will have a  few players they will have to re-sign after this season. Captain Andrew Ladd becomes an RFA this year, and his salary of $2.35 million will probably go up. Zach Bogosian's rookie contract also comes to an end, and Niklas Bergfors also becomes an RFA at season's end.
With those guys needing to be locked up, the team is going to have to think long and hard about how to go about its business. Byfuglien is currently making $3 million this season, and he will be in line for a sizable pay raise if he continues to score like he has been. He could easily end up being a guy who is making around $4.5-5 million, and if Atlanta is unwilling to give that to him, it's a safe bet that another team will give him an offer sheet this off-season.
With the team's reputation, fans probably would not be keen on losing a player like Byfuglien, who has really endeared himself to folks around the city of Atlanta. Laura Astorian summed it up very eloquently, saying "if he continues to produce, and if he becomes the All-Star sensation that he's capable of, and the Thrashers let him walk, you will see a lot more fans ticked off than you ever did over either (Marian) Hossa or Kovalchuk."
Those strong words represent the challenge that Rick Dudley and the Thrashers' front office face with the Byfuglien contract. If they let him walk, they lose a highly marketable player, and one who has the potential to be an All-Star for many years to come. They would be smart to try to lock him up to a three or four year deal, which would save the team cash long term and enable Byfuglien to become an unrestricted free agent during the prime of his career.
Is Byfuglien a Legitimate Candidate for the Norris Trophy?
Last year's Norris Trophy winner Duncan Keith had a career offensive season, scoring 14 goals and dishing out a team leading 55 assists for the Blackhawks, and was lauded also for his stellar defensive play.
With Nicklas Lidstrom having a great year for the Red Wings, and with the usual suspects like Keith and Zdeno Chara still in play, the Norris race seems like it will be a difficult one for Byfuglien to win. After all, he is a converted forward playing against guys who have been on the blue line for quite a while, and his reputation isn't exactly stellar as a defensive player.
If he can continue to produce offensively, maintain his solid numbers defensively, and lead the Thrashers to a playoff berth, there is no reason to think that Byfuglien wouldn't at least be in the discussion for the Norris. The reality of the situation is that he has some pretty insurmountable odds to overcome, but we'll just have to see how everything shakes out.