I posted the following tweet this morning, and the more I think about it, the more the idea makes sense:
https://twitter.com/iancmclaren/status/276697743752314880
Entering into what will hopefully be a 2012-13 NHL season, the Ottawa Senators have $51,952,500 committed in payroll dollars, with $18,247,500 left in pre-CBA salary cap space (via capgeek.com). While those dollar amounts and that wiggle room are subject to change under the guidelines of a new collective bargaining agreement, there's no question that Ottawa will be well positioned when it comes to salary commitments and in regards to adding some pieces moving forward.
The Senators currently have 6 defenseman under contract at the NHL level: Erik Karlsson, Sergei Gonchar, Chris Phillips, Marc Methot, Jared Cowen & Mike Lundin. Apart from Karlsson, who's locked in long-term, Gonchar is under contract for only one more year, and Chris Phillips – who isn't getting any younger – is signed for 2 more years. As good as his twitter game is, there's questions as to whether Marc Methot is a mainstay in the top 4, and with Jared Cowen currently on the shelf with a season-ending injury and Lundin signed to just a one-year deal with the club,  there's certainly room to improve and / or add some depth to the Ottawa blue line.
Prospect-wise, Cody Ceci may or may not be ready to step in to an NHL lineup right away, and there's nothing imminent brewing on the farm in Binghamton in terms of guys ready to jump up to the next level.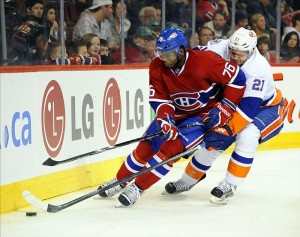 Enter PK Subban.
There's every reason to believe that the Montreal Canadiens will do everything they can to sign their young star defenseman. Subban – a restricted free agent – has expressed in the past that his wish is to have a long career in Montreal, and new GM Marc Bergevin must be hoping to lock up this key piece of the franchise to a long-term deal.
However, with more than $63.8 million committed to a 2012-12 season and approximately $60.1 million invested in 16 players for 2013-14 (via thehockeynews.com), Bergevin could have difficulty finding the necessary cap space for Subban's new contract, especially if the cap goes down under a new CBA. The opportunity to amnesty the likes of Scott Gomez would be a great aid to that end, but there's no guarantees that such a clause will exist when the CBA dust settles.
This situation opens the door for the Senators to make a big splash post-lockout by significantly improving their blue line while at the same time making life difficult for their closest geographically rivals.
It would also give them one of hockey's most dynamic and entertaining defensive tandems in Karlsson and Subban, offering Ottawa fans plenty to be excited about at both ends of the ice (for better or worse).
This may be but a pipe dream or a scenario likely to play out only in the realms of NHL13 or fantasy hockey, but it does make some sense, and adds up cents-wise as well. Whether or not it comes to pass remains to be seen, and this is all contingent on a new CBA. And, as the hilarious and insightful Down Goes Brown points out, a significant potential aspect of a new CBA might nix this right out of the gate:
Random thought: The NHL's proposed 5-year limit on FA deals/7 years for resigning your own guys would basically kill RFA offer sheets, no?

— Down Goes Brown (@DownGoesBrown) December 6, 2012
But Melnyk and Murray would be wise to entertain the idea, giving Senators fans the splashy "welcome back" they truly deserve.
Follow Ian on twitter for more hockey updates & commentary.