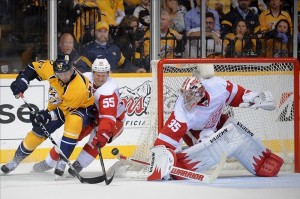 The Western Conference's 4 versus 5 matchup between the Nashville Predators and Detroit Red Wings has lived up to the hype.  The Preds took game one by a 3-2 score on Wednesday night, and the Red Wings answered with a 3-2 victory of their own to even the best of seven series Friday night.  With the series shifting to Detroit for games three and four, what does Nashville need to do to gain the upper hand?
It starts with converting on the power play.  During the regular season the Preds had the best power play in the NHL at 21.6 %, but in the first two games of the playoffs, they are 0-12 on the man advantage.  In game one it did not hurt them as they still held on for the win while going 0-6, but in game two Nashville had several power play opportunities and failed to capitalize as they went 0-6 again and allowed the Red Wings to even the series.
One thing the Preds have had going for them is offense spread throughout their lineup.  20 year old Gabriel Bourque leads the way with a pair of goals including the game winner in game one, while Paul Gaustad, Andrei Kostitsyn, and Shea Weber have also lit the lamp so far in the series.  11 of Nashville's 19 skaters that have dressed so far have at least one point on the teams 5 goals through the opening two games.  That being said, Mike Fisher and Martin Erat, two players the Preds need production from, have been held off the score sheet.
The Preds and Wings have also shown the strong dislike for each other in the series.  At the end of game one, Nashville's Shea Weber and Detroits Henrik Zetterberg had a controversial run in and as a result, Weber was given a roughing minor at 20:00 of the third period and fined $2500.  Weber shoves Zetterberg's face into the glass  Early in game two, Detroit's Todd Bertuzzi showed his displeasure with Weber.  Todd Bertuzzi vs Shea Weber Apr 13, 2012    Nashville needs to keep playing a hard physical game, but avoid letting their emotions get the best of them and firing up the Red Wings.
Another thing Nashville is looking for in this series is the return of veteran defenseman Hal Gill.  Gill missed both games one and two with a lower body injury and will be a big addition for the club when he gets healthy.  Detroit is a tough place to play, which means the Preds will have to come out ready to bring a 60 minute effort on Sunday as they try to regain the advantage in game three.