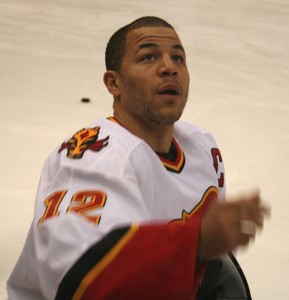 THE STATS LINE
35-27-15 record [20th overall (in points percentage)]
2.44 goals-for per game [25th overall]
2.64 goals-against per game [15th overall]
18.1% power-play success rate [13th overall]
83.7% penalty-kill success rate [9th overall]
45.8% in the face-off circle [30th overall]
2 points out of 8th spot in the Western Conference
5 games left in the regular season
19.4% chance of making the playoffs (as per SportsClubStats.com)
THE WEEK THAT WAS
March 22: Despite getting out to a 2-0 lead, the Flames gave up two unanswered goals – including one with just eight minutes left in regulation. The club lost 3-2 in the shootout. Brent Sutter tried out some new guys on the shootout, with his usual suspects having gone cold, but his new shooters couldn't convert.
March 24: In a rare afternoon affair on the road, the Flames came out flat in Dallas. After getting behind 2-0 in the first 10 minutes, the club woke up and started to dominate the game. Unfortunately, the hole was already too deep and they lost the game 4-1 in regulation.
March 26: In a rather wild game, the Flames and the Dallas Stars combined for 9 goals. Luckily for Calgary's fans, they scored more than Dallas and won the game 5-4 in regulation. The power-play connected three times and Mike Cammalleri had three points.
CALGARY IS BACKED INTO A CORNER

Heading into the last 10 days of the regular season, the Calgary Flames are backed into a corner. While not eliminated from playoff contention just yet, they are in the unenviable position of having to win their remaining games AND get some help from the teams they're chasing in order to return to the playoffs for the first time in three years.
Considering they've got a future Hall of Famer as their captain and they spend to the salary cap, how did the Flames get themselves into this mess?
The Calgary Flames are very streaky.
The team has embarked upon four separate losing streaks of four or more games spread across four months. The two most damaging were likely the one that closed out 2011 and began 2012 – a single point gained over a five game trip that saw losses in Long Island, Ottawa, Nashville, Washington and a 9-0 shellacking in Boston. The other? The most recent stretch with losses to conference rivals Edmonton, Columbus, Colorado, Minnesota and Dallas, only brightened by three of the losses coming in overtime and the shootout.
The Calgary Flames give up way too many shots.
The club has given up 30 or more shots 43 times this season. They've also given up 40 or more shots 10 times. Not surprisingly, their record in games where they give up 40+ shots is 2-4-4 and when they give up 30+ shots is 18-14-11.
The Calgary Flames blow too many leads.
21st in the lead in winning percentage when they score first, with a 24-9-7 record and a 60% success rate when scoring first. By comparison, the 15th-best team in the NHL, Washington, is clicking at 67.6% when they score first. If Calgary were to creep up to 15th (and be, by definition, average at blowing leads), that would translate to three more wins. Only Carolina and the New York Islanders have a worse record than Calgary does when leading after 40 minutes.
The Calgary Flames aren't any good in extra time.
The Flames are 2-6 in overtime and a shockingly-bad 3-9 in the shootout for an extra-time record of 5-15. Only a handful of teams – most of them non-playoff teams – have fewer wins resulting from overtime or the shootout.
The Calgary Flames missed a lot of bodies (and then got them back.)
Jay Feaster and the Flames management and coaching staff aren't going to go out and complain about the nearly 400 man-games lost. And, to be blunt, the injuries haven't been the entire problem. Brent Sutter has done a superb job with a rotating cast of AHL call-ups and rookies. The problems have seemingly occurred when bodies have gotten back from the injured reserve – they take a few games to get back into the swing of things and are replacing bodies that are 100% healthy and game-ready. Between that and the other players perhaps relaxing a bit once veterans return to the line-up, the game-to-game inconsistency that the Flames have endured throughout the year isn't a total mystery.
INJURY AND ROSTER UPDATES

368-man games lost (up to the March 20 game with Colorado): David Moss (48), Mikael Backlund (35), Brett Carson (30), Henrik Karlsson (25), Anton Babchuk (24), Derek Smith (24), Mark Giordano (21), Lee Stempniak (21), Blair Jones (19), Alex Tanguay (16), Matt Stajan (15), Curtis Glencross (15), Brendan Morrison (14), Chris Butler (13), Lance Bouma (9), Mike Cammalleri (9), T.J. Brodie (9), Tim Jackman (6), Raitis Ivanans (5), Scott Hannan (4), Blake Comeau (4), Rene Bourque (1) and Krys Kolanos (1).
Mikael Backlund (shoulder) and T.J. Brodie (upper body) are out. Cory Sarich suffered an upper body injury against Colorado on March 20 and is out day-to-day, but was replaced immediately as Chris Butler came off the IR and returned on March 22 against Minnesota. However, Derek Smith suffered an upper body injury March 22 against Minnesota. To fill the roster hole, the Flames have brought Clay Wilson up on emergency recall from Abbotsford of the AHL.
Meanwhile, the team is getting very healthy up-front: forwards Lance Bouma and Blair Jones returned against Minnesota, while Mike Cammalleri came back to action on March 24 against Dallas. The Flames have returned Greg Nemisz and Guillaume Desbiens to Abbotsford.
DISPATCHES FROM THE FARM
AHL: The Heat split a pair of games with San Antonio and have sit idle while other clubs use up their games in-hand. Luckily, they are still snugly in a playoff spot in the AHL's tightly-packed Western Conference. The club is getting bodies back and getting back into their great early-season form; Krys Kolanos had a five-point night in Abbotsford's 6-5 win over the Rampage.
WHL: Four WHL clubs are carrying Flames prospects into the playoffs. The Wheat Kings currently lead the Hitmen 3-1 – Michael Ferland has 3 points over the 4 games. Edmonton goaltender Laurent Brossoit has won both of his starts and has a shutout through the first two games of the Oil Kings' series with Kootenay. The Ice's Max Reinhart has 2 assists so far, while Joey Leach has a goal. Portland leads Kelowna 3-0 in their series – Sven Baertschi had 7 points and Tyler Wotherspoon has 2 points.
NCAA: The Boston College Eagles have advanced to the NCAA's Frozen Four tournament next weekend in Tampa. The Eagles beat Air Force and Minnesota-Duluth, winning both in shutouts. Flames prospects Johnny Gaudreau and Bill Arnold each scored in the game with Minnesota-Duluth.