Three weeks ago, Causeway Street was covered in an enveloping black cloud of doom and gloom.
The Boston Bruins were winless after a three-game homestand to start the year. They sat in the basement of the Eastern Conference thanks to a defense that leaked goals like a sieve.
My how things change so quickly.
Since a 6-3 loss to the Tampa Bay Lightning on Columbus Day, the Bruins have not lost in regulation since (6-0-1). In fact were it not for a third-period meltdown against the Philadelphia Flyers, I would be saying they haven't lost at all. Nevertheless, it has been a stretch where the Bruins have played some inspired hockey to get to where they are.
So, how have they been able to revive their season?
Road Warriors
The TD Garden has felt nothing like a home for the Bruins this year. They are 1-3-1 in their five home games and have been subject to serious scrutiny by many of their own fans.
Bruins remain undefeated on the road, 5-0-0. They're 6-0-1 in their last seven games.

As I said, THEY WILL NEVER LOSE AGAIN.

— Amalie Benjamin (@AmalieBenjamin) November 1, 2015
However, it has been a much different story on the road. Boston has perfect road record through the first month of the season (5-0-0), joining the Washington Capitals and LA Kings as the only three teams with that honor. The Bruins have scored 22 goals on the road this year while allowing just 10 to slip past them. Compared to the 20 they've allowed in five games at home, the defense has tightened up considerably on their travels so far.
Goaltending has seen a considerable improvement as well. Backup netminder Jonas Gustavsson has won all three of his starts away from home against Colorado, New York and Tampa Bay. His 2.00 goals-against and .914 save percentage have been exactly what the Bruins wanted from their second-hand man. Rask himself has been solid on the road as well with the other two victories allowing just four goals on 55 shots.
Piling Up The Points
Point streaks from Boston's heavy-hitters on offense are playing their part as well.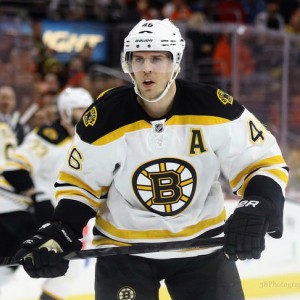 The most notable of which comes from their top playmaker David Krejci. The Czech center is off to a flying start this season with seven goals and 15 points from his first 10 games. Prior to Saturday night against the Lightning, he had been on a nine-game point streak to start the season, including nine in his previous five games.
Perhaps it's not a surprise that the Bruins offense has been a juggernaut early on this year with a healthy Krejci leading the charge.
Patrice Bergeron also saw his five-game point streak come to an end on Saturday but has been another major catalyst in Boston's revival. The lifelong Bruin had three goals (all on the power play) and five assists in his last five contests.
His linemate, Brad Marchand, is in the midst of a six-game point streak after recording a goal and an assist in Tampa. The pesky winger has recorded all nine of his points this season in the past six contests.
It's not just the big guns who are getting it done for Boston though. Offseason acquisition Jimmy Hayes has fought his way back from a very poor start to the campaign. After failing to record a point in his first three games with a minus-5 rating, the Boston native has nine points over the Bruins' last seven games.
Brett Connolly is also chipping in offensively with four goals in his last five games. However, none were more satisfying than his game-winning power play tally against the Lightning Saturday night.
Third Period Improvements
The third period was Boston's worst last season with a goal differential of minus-9. It appeared that trend would continue early on this year.
The Bruins were a minus-4 in the final frame through the first three games scoring just twice while allowing six goals to their opponents. Since then, the club has been remarkably better at finishing games. Boston has either led or been tied after two periods for the last seven games and have allowed just five goals in the final 20 minutes. The offense has generated 11 markers of their own in that same time period.
http://gty.im/492830184
Zdeno Chara's impact on the stabilization of the Bruins' defense corps cannot be ignored here. The Boston captain missed the first couple of games this season due to injury when the club was leaking goals left and right. After making his season debut on Columbus Day, he's led a defense that has allowed just 15 goals in their last seven games. More importantly when they get the lead, Chara and the defense have been able to protect it.
Finishing strong was a major problem in Boston last season. Lately, it's been anything but.
Even though the last handful of games have been impressive by the Bruins, there's still work to be done. The early season parity in the Eastern Conference shows no signs of letting up so Boston will have to continue improving and putting points in the bank if they want to mount a run at the playoffs in April.