Through the first month of the 2015-16 NHL regular season, and 11 games for the Pittsburgh Penguins, there have been a fair share of ups and downs for the squad.
They compiled a 7-4-0 record, with 24 goals for and 20 goals against. As a team, there have been multiple areas for improvement, as well as promising parts.
The Penguins season started out rough, going 3-4-0 in their first seven games, scoring only 11 goals. But, they went on a four game winning streak to finish the month, and had a relatively strong October in the end.
Individually, there have been lots of surprises, both positive and negatively. As told by their goals for and against, the beginning of the year has been quite the opposite as what was expected before the year began. There were predictions for the Penguins to boast the strongest offence in the NHL, led by several superstars, as well as tremendous depth through all four lines. Their defence however, was expected to be the Achilles heel of the team, with a weak bottom-four that could result in a detrimental amount of scoring chances against.
That hasn't been the case thus far though, with the offence remaining relatively quiet, especially through the first several games, and their supposed superstars being drowned out by the opposition regularly. On the other hand, their defence has been a pleasant surprise, as well as Marc-Andre Fleury continuing to prove his critics wrong.
Because of the drastic differences in positives and negatives among individuals of the Penguins, we will take a look at three surprising and disappointing Penguins through the first month of play.
Three Surprising Penguins
1: Marc-Andre Fleury
Marc-Andre Fleury has been the runaway MVP for the Penguins through the first month of action. Playing in all10 of 11 games so far, Fleury has been absolutely stellar, allowing just 1.71 goals per game, while stopping 94.2% of the shots he has faced. Playing behind a team that currently ranks 28th in the NHL in Corsi For percentage, creating just 47.1% of all shot attempts, Fleury has been Vezina worthy. Despite ranking 1st in the league in goals against average, the Penguins are still allowing 31.4 shots against Fleury each game.
Fleury has been the backbone of the team each night so far, and will need to continue that role if the Pens want any chance of tasting the postseason in 2015-16. Although he will likely always have his skeptics due to some timely falters in past playoff performances, Fleury's play over the past few years slots him in as one of the top goaltenders in the NHL right now.
2: Kris Letang
Although his terrific play hasn't been miles ahead of what we are used to, it has been his health that places Letang as one of the positively surprising Penguins through October. Missing 102 games over the past four NHL campaigns, Penguins fans have become accustomed to flinching each time Letang engages in a puck battle. But, he's looked strong and healthy thus far, while also maintaining his elite status in the process.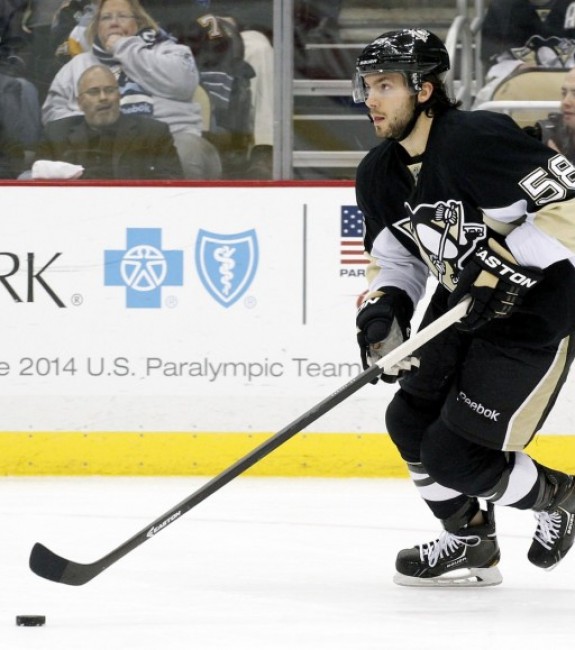 Letang has scored a goal and four points in 11 games so far, while averaging a team-leading 26:18 minutes of ice time per game. He also ranks first among Penguins defencemen in Corsi For percentage, with a 50.5% clip. But again, the most positive note has been Letang's health through the first month.
3: Phil Kessel
Phil Kessel may have had some unrealistic expectations placed on him upon his arrival of Steeltown, but with respect to the team around him, he has had a very solid start. It is never easy to find instant chemistry when joining a new team, but Kessel has remained one of the bright spots through October. He leads the team, along with Evgeni Malkin, in goals scored with four, and is second in points, with six.
However, the most surprising stat for Phil "The Thrill" Kessel thus far has been his possession stats. Through October, he leads the Penguins in Corsi For percentage, with a 56.6% rate, a mark that is an incredible 13.9% higher than his teammates. Kessel's highest CF% over the past three seasons was just 46.1%. Not only is Kessel an offensive threat for Pittsburgh, but he may no  longer be a defensive liability.
Three Disappointing Penguins
1: Sidney Crosby
Sidney Crosby has been around the league long enough to understand what is expected of him, not only from fans and critics, but from his teammates and the Penguins. So far, 2015-16 has been an extremely uncharacteristic year for Sid. He began the year by tying his career-high for consecutive games without a point, at five games. Overall, he has just one goal and five points in 11 games. Through October, he's had points in just two games.
For an icon that averaged 1.36 points per game over his career, this start has been absolutely unheard of and totally unexpected. He still leads Penguins forwards in time on ice with 20:40 minutes per game, but his 3.3 shooting percentage is unnaturally low. As always, you can expect Crosby to come around in November and beyond.
2: Patric Hornqvist
Patric Hornqvist had a great first year in Pittsburgh last season, hooking up with Malkin to score 25 goals and 51 points in 64 games. This season has been much different however. Through October, Hornqvist has scored just two goals and four points, three of which came in the last two games. Expected to be a top-six forward for the Penguins, Hornqvist desperately needs to step up his game soon.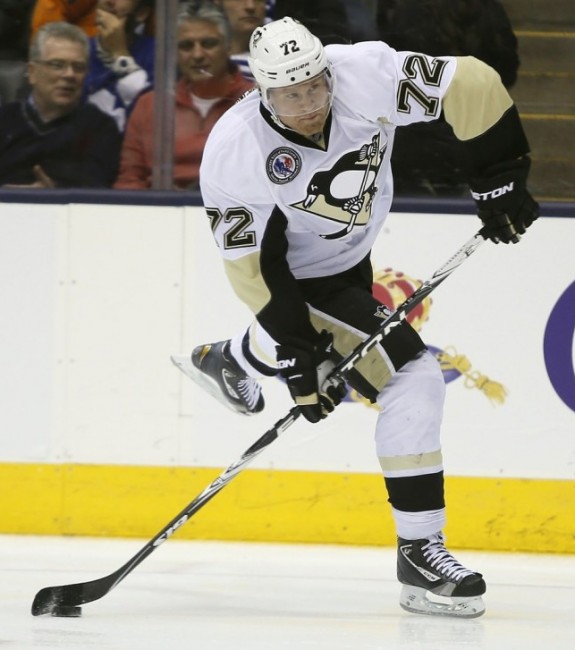 Despite his minuscule offensive numbers, his Corsi For percentage is second on the team only to Kessel, creating 56.3% of shot attempts when he is on the ice. However, shots do not exactly equal production, and that's what Hornqvist is paid to do, produce. For a 28-year-old who is a consistent 50-point player, it will take a huge turn around to duplicate those totals in 2015-16.
3: David Perron
David Perron is perhaps the most disappointing Penguins player through one month of action. Following a career-year with the Oilers, Pittsburgh traded for Perron expecting to get a 30-30, top-six winger. Instead, they have a fourth-line forward who failed to score a point in the first eight games of October. Perron has two assists through 11 games.
He now averages just 15:10 minutes a night, while creating only 49.2% of the shot attempts when he's on the ice. It's still very early in the year, and this 28-year-old can absolutely turn the year around, but it will need to start soon, or he could find himself on the trading block in the very near future.
Who have you been most surprised, or disappointed with trough October of the Penguins?
Let us know in the comments below! 
Contributor for the Toronto Maple Leafs and Prospects. Scout with the Oakville Blades of the OJHL. For questions, concerns, or comments, contact me at devinslawson123@hotmail.com or on twitter @SlawsonTHW.