During the 2014-15 campaign Calgary Flames defenseman Kris Russell set an NHL single-season record with 283 blocked shots. But as Kent Wilson of Flames Nation tweeted back in March, you should block a shot if it's coming, but if you're blocking lots of shots, your team has some issues.
Blocking shots is like killing rats. Doing it is preferable to not, but if you're doing it all the time it suggests you have bigger problems

— Kent Wilson (@Kent_Wilson) March 18, 2015
While the Flames surprised much of the hockey world by not only making the playoffs, but proceeding to the second round, there are red flags in their regular season statistics. PDO is a measure of what some call "puck luck" – it is the combination of shot and save percentage. The idea is that a high PDO will eventually regress. Cam Lewis of NHLNumbers.com looked at 15 "breakout" teams over the last six seasons and the only "breakout" team that had a PDO higher than Calgary's last season (101.2) that returned to the playoffs the following year was the 2012-13 Anaheim Ducks (with a 101.7 PDO).
Some things aren't quantifiable, like the amount of heart the Flames played with down the stretch, but Calgary's PDO and their team Corsi-for percentage of 44.5 ranked third worst in the league. But the Flames aren't necessarily doomed to fall like the Colorado Avalanche did this past season (and in the prior postseason). There are a few avenues that could improve their possession numbers and yield continued success from the team that made the second round of postseason play during what could be considered a rebuilding year.
Organically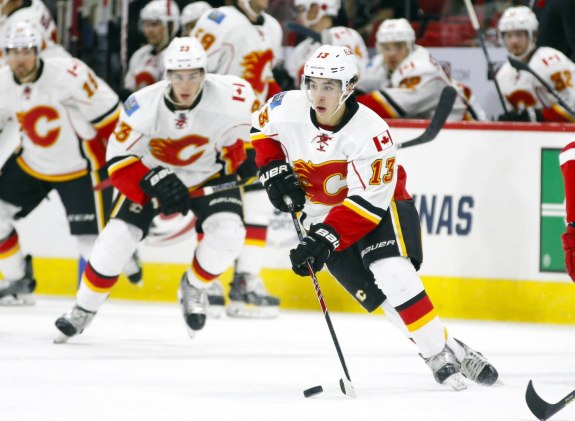 Calgary should be able to control play more next year because of the natural development of some of their young players. Adding Sam Bennett to the lineup could make the top six a lot more dangerous. A full season of Mark Giordano will also help the possession numbers. While he only posted a 48.3 CF%, his CF% relative to the Flames was a team-high (of players that played regularly) 5.8%. If Calder Trophy finalist Johnny Gaudreau can avoid a sophomore slump, he and linemate Sean Monahan should be able to take further steps forward in their overall game.
But Calgary can't sit back and wait for another year's development to solve all their problems. Jiri Hudler had a sensational year, scoring a career high 31 goals and 76 points, but did so with a 19.6 shooting percentage. Hudler is regularly an accurate shooter, but 19.6% is high for him and bound to fall a few ticks in 2015-16. The Flames can supplement their young players' development by signing some free agents, which means not giving up assets or mortgaging the future by rushing their rebuild.
Free Agent Forwards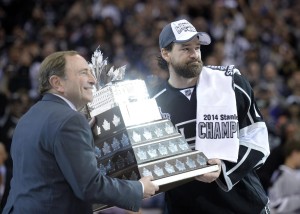 There are some notable forwards whose contracts expire this summer that could help drive possession for the Calgary Flames.
Mike Ribeiro put his career back on the right path this past season after signing a one-year, $1.05-million contract with the Nashville Predators. He racked up 15 goals and 47 points, while posting a 57.0 CF%, and a 4.7 CF% relative to his team (who were the seventh-best Corsi team in the league). Ribeiro's 35 years old and will surely be seeing his salary increase, but he could slot into the second line nicely, allowing Sam Bennett to play on the wing as he learns the defensive side of the NHL game with less responsibility in his rookie year.
Michael Frolik has showcased his two-way ability with the Winnipeg Jets over the last couple seasons. The right winger's back to posting point totals in the mid-fourties like he did when he first came up with the Florida Panthers. He's playing some power play minutes, shorthanded minutes, and driving play at even strength. Frolik carried a 55.1 CF% and a 3.8 CF% relative to his team in 2014-15. The 27-year-old has plenty of good years ahead of him, and could be a great piece in the Flames' middle-six for a while – Gary Lawless of the Winnipeg Free Press wrote that a four or five-year deal is likely what Frolik will be looking at during this point in his career.
Matt Beleskey's strong regular season and playoff performances for the Anaheim Ducks in 2014-15 – he scored 22 goals and 32 points in 65 regular season games, and eight goals and nine points over 16 playoff games – will boost his value for July 1. He turns 27 on June 7, plays a physical game, and has the strong possession numbers that the Flames should be looking at when crafting their 2015-16 roster. The left winger posted a 53.6 CF% and a 3.9 CF% relative to the Ducks squad as he broke out as a power forward this past season.
Justin Williams has a track record of showing up when it matters most, winning three Stanley Cups and one Conn Smythe Trophy as playoff MVP. The 33-year-old right winger also excels at even strength, with a CF% of 57.1 and a CF% relative to his team of 3.1; and that's on a Los Angeles Kings team that was the tops in the league for Corsi.
Free Agent Defensemen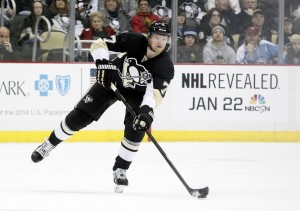 Paul Martin is a proven defensive defenseman capable of contributing offensively. (He's racked up 21 points over 33 playoff games for the Pittsburgh Penguins in the last three years.) Calgary isn't starved for another left-shot blueliner, as Mark Giordano, Russell, and T.J. Brodie are good down that side of the ice. But if a trade occurred, and Aaron Vickers of CalgaryFlames.com reported that assistant GM Craig Conroy said the team is open to moving up in the draft from 15th overall, it could open up room for a solid depth defenseman such as Martin, who had a 52.9 CF%.
Andrej Sekera is another left-shot option on the blueline that could really help solidify the team's defensive structure while maintaining good puck movement. Sekera suffered a lower-body injury after the analytics-driven Kings acquired him from the Carolina Hurricanes at the trade deadline, and LA never made the playoffs, but his 54.5 CF% would be welcome on a Flames group looking to return to postseason action.
Some More Strong Goaltending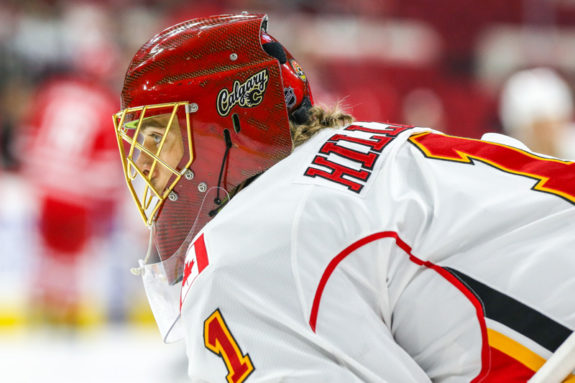 Obviously any team wants the best goaltending that it can get, and equal or better goaltending in Calgary's crease next season would help alleviate worries of regression. But 2013-14 Vezina Trophy finalist (for top goalie) Semyon Varlamov had another good year in net for Colorado this past season and the Avalanche didn't come close to making the playoffs. You can look at the Anaheim Ducks, though, who have been an outlier in that they are consistently one of the better teams while they usually post high PDOs. Goaltending is part of that, and Jonas Hiller has been part of that Ducks team before and is under contract with the Flames for one more year.
Hiller has a .918 career save percentage and could excel as part of a tandem in 2015-16 with the Flames. He lost the starting job in the playoffs to Karri Ramo, but with Ramo set to become a free agent July 1, Calgary will be hoping for a good mix of Hiller and Joni Ortio, whose contract is set to turn into a one-way deal.
Great goaltending won't solve Calgary's puck-possession issues. But if Calgary makes moves to improve their possession numbers and gets great goaltending at the same time, they could make their way back into the playoffs in 2016.