The long summer is just getting under way for everyone but the Tampa Bay Lightning and Chicago Blackhawks. Here's a check-in on some storylines Minnesota Wild fans should watch for in the offseason's first full month.
1. Devan Dubnyk Day
As the Star Tribune's Michael Russo pointed out, contract talks between Wild GM Chuck Fletcher and Devan Dubnyk's agent Mike Liut are expected to begin in earnest this week when the two meet at the NHL Combine in Buffalo.
Dubnyk has said repeatedly — during the season and after — that he'd love to stay in Minnesota. Minnesota would love to have him, with no legitimate starting goaltender inside the organization at the moment. Even immediately after the Game 4 exit in the second round, Dubnyk talked about how much he'd like to return if they can make it work.
The conditional is key there. If they can make it work. It seems like they should be able to, but the Wild don't have a ton of cap space and Dubnyk had an incredible year that resulted in him being a Vezina Trophy finalist. It should work, but this is the Fletcher's big first step of the summer. A lot depends on this contract extension happening. If they can't make it work and Dubnyk decides to test free agency, the Wild will need to start taking a serious look at what their options are in free agency or if they need to make a trade.
RELATED: What If Devan Dubnyk Doesn't Sign With Minnesota?
2. The Draft
It's a storyline for every NHL team this month, particularly with the excitement surrounding the 2015 draft class. The Wild have a first round pick this year — only notable because they haven't always had their first or second round pick recently after sacrificing many draft picks in favor of trade deadline acquisitions. They'll draft at #20 and then have picks in the second, fourth, and sixth round, as well as two picks in the seventh.
The Wild aren't flush with centers or with potential elite scorers, so they maybe take a gamble on a player with that kind of high-end skill. Or as much of a gamble on a player like that as you can take at pick number 20.
The other thing to look for at the draft is a trade. The Wild's cap situation has lots of people talking about potential trades, including speculation about moving defenseman Jared Spurgeon. A trade for a young forward with a nose for the net isn't out of the question and the draft may be the time we see it happen.
RELATED: Who Should the Wild Draft at 20th Overall?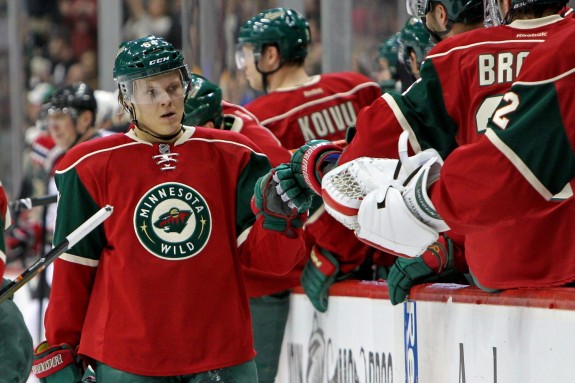 3. The RFAs
Particularly if the Dubynk situation gets worked out, we may start to see the Wild sign some of their restricted free agents. In reality, there's no rush on these guys, but some of these contracts should be relatively straightforward, unlike the negotiations with Mikael Granlund's agent, which could be complicated after another
Other RFAs at the NHL level include Erik Haula and Christian Folin. More broadly, the Wild also has RFAs in Brett Bulmer, Jonathon Blum, Jared Knight, Curt Gogol, and Colton Jobke. Gogol spent about half the season playing with the Alaska Aces of the ECHL, Jobke did as well, but moved to the Augsberger Panthers in Germany's DEL by the end of the season. He appears set to stay in Europe this coming season after signing with the Straubing Tigers. Goaltender Johan Gustafsson is also a RFA, but will be returning to Sweden to play for Frölunda in the SHL.
These moves aren't guaranteed to come before the end of the month, but the Wild may want a clear picture of what they're able to do in free agency, which may mean that these, or some of these, get tied up before July 1. However, as we saw last season with Darcy Kuemper's protracted negotiations, there's no guarantee that these negotiations, particularly with Granlund, will be done before the fall.
4. The Shape of Iowa
As Fletcher said in his postseason press conference, the Iowa Wild were "a disaster," finishing at the bottom of the AHL for the second season in a row.
We may start to get a better sense of how the Wild's AHL team will shape up for next season in June. Coach John Torchetti, hired mid-season, is returning. Any changes that start to take place with the coaching staff around Torchetti, who were all the staff of coach Kurt Kleinendorst before he got fired, may give us some idea of what Fletcher's plans for Iowa are.
The Iowa RFAs above may also give an indication of what the plan is in Iowa. Not all of those RFAs are guarantees to come back. Jared Knight was acquired in a trade deadline move that sent 2011 first round pick Zack Phillips to the Providence Bruins. Knight was in a similar situation to Phillips. He was a 2010 2nd round pick that didn't develop the way the team wanted and was basically given a chance to start fresh somewhere else.
Brett Bulmer had previously looked like a no-brainer to climb the ranks of the organization, but injuries and a rough 2014-15 season will have vastly different scouting reports on him for the start of the 2015-16 season.
Jonathon Blum is another first round pick who hasn't hit the heights many expected. He had a great season in Iowa, finishing tied for second in points on the team, but he hasn't yet been able to make any trip to the NHL stick with Minnesota. The team did re-sign free agent Michael Keranen, which wasn't a guarantee either, with the prospect of him returning to Finland a possibility.
We won't see any season-altering moves, but we'll get a sense of the shape of the team and what kind of holes the team will be looking to fill through trade or free agency in July and August.
RELATED: Signing Michael Keranen Nice First Step for Wild System
5. The Stanley Cup
We're talking about free agency, trades, the draft… but the season isn't over. The Stanley Cup Final starts Wednesday in Tampa. Don't think too hard about next season yet.
Dustin Nelson writes about news and the Minnesota Wild for The Hockey Writers.