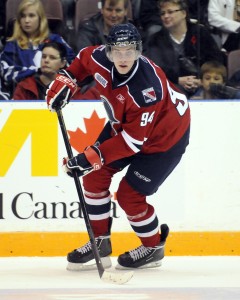 The Carolina Hurricanes have spent their last two first round picks on Kitchener Rangers prospects, taking Jeff Skinner (7th overall, 2010) and Ryan Murphy (12th overall, 2011) in consecutive drafts. With the highly-touted Radek Faksa likely available when Jim Rutherford makes the No. 8 selection on Friday, that streak may continue for another year.
Faksa, a native of the Czech Republic, was one of the fastest risers in this year's draft rankings after a successful rookie campaign with the Rangers. With an underwhelming collection of offensive talent in their system, the Hurricanes will be targeting a forward in the first round this year, and there's no doubt that the Kitchener standout is on their radar.
Making the transition from his home country to Canada last fall to familiarize himself with the North American game, a short adjustment period hindered Faksa from truly living up to his ability in 2011-12. But it wasn't long before he hit his stride, finishing the regular season with 67 points (29 G, 38 A) in 62 games.
For those unfamiliar with Faksa, here's a scouting report from our own Christopher Ralph:
In every game Radek Faksa suits up in and on every shift Faksa skates the Czech pivot leaves a positive impression and it has reflected in his climb up the monthly draft rankings. Radek Faksa has propelled himself up to fourth among North American skaters on NHL Central Scouting's mid-term ranking. Driven by a strong work ethic, Faksa is a player that competes with passion and a win-at-all cost approach. The offensive upside of Radek Faska is still relatively unknown but he does possess the skills to put up points at the next level. Faksa owns a hard accurate shot with good velocity and with soft playmaking hands and above-average puck protection skills he's a difficult player to compete against. Radek's best asset remains his overall balanced game and while he does not excel in one particular skill or area he offers a well-rounded package. The average spectator will notice that Faksa lacks a "wow" factor but his hockey sense is extremely underrated and it's an area that has many people thinking he is capable of reaching another offensive level.
A center by nature, Faksa will likely require some more seasoning in juniors before making the leap to the pros, if for no reason other than to put on some weight. But when he fully matures, he could very well become one of the most complete players in the NHL.
On the surface, Faksa makes sense for Carolina given his position and statistics. But when we peel back the onion a few layers and really think about how he would fit into the Canes system, selecting the 18-year-old becomes an even more attractive option.
Size matters
With a 6'3'' frame, Faksa has the kind of size the 'Canes desperately need up front. Known for being able to use his big body to his advantage in the corners, along the boards and driving to the net, Faksa's physicality would be a breath of fresh air for Carolina, which currently has seven forwards under contract at 6-feet tall or shorter. Rutherford will almost surely be looking to beef up his roster in the coming years, and drafting Faksa would be a good first step in that process.
Strong two-way play
It's no secret that the Hurricanes need help keeping the puck out of their own net, and Faksa's presence would go a long ways towards improving that area of the game. While Carolina's blueline gets a lot of grief for poor team statistics (including their 2.89 GAA figure in 2011-12), much of the Canes' defensive issues stem from their wings and centers, who are often inefficient in their own end of the rink. Faksa, on the other hand, is valuable in all three zones, exemplified by his plus-19 rating last year. The Canes' top-six could definitely use a healthy injection of defensive aptitude after last season, and Faksa would surely be able to provide that down the road.
Scoring touch
Faksa isn't among the most offensively gifted players in this year's draft class, but he certainly has the natural goal-scoring and play-making abilities to make him a legitimate top-six forward, which he displayed by leading OHL rookies in scoring last year. Also, keep in mind that he's only played one season in juniors (many top prospects have played in two). Expect him to see a spike in production in 2012-13 with the Rangers, which will further validate the notion that he has the offensive skills necessary to succeed in the NHL.
No glaring weakness
One of the most attractive qualities in Faksa—at least in my mind—is that there aren't any significant holes in his game. Some have cited the kid's lack of flashiness as a blemish on his scouting report, but the Hurricanes shouldn't let that deter them in the decision-making process. What Faksa lacks in excitement he makes up for in consistency and a workman-like style of play, which are qualities that tend to pay off on a more regular basis than having that "wow factor."
Andrew Hirsh is a credentialed NHL columnist based in North Carolina
Follow him on Twitter: @andrewhirsh | Email: ahirsh3@gmail.com