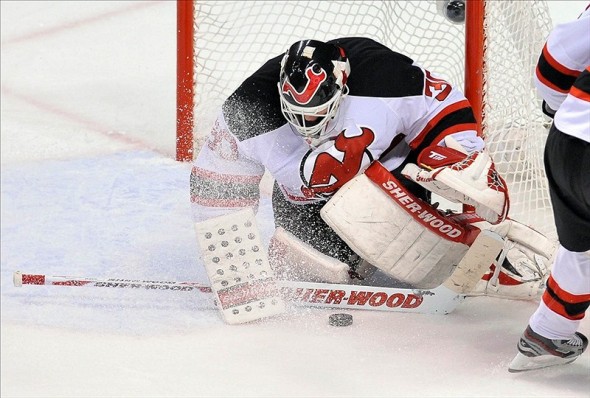 As we approach the 2012 NHL Entry Draft, it seemed time to delve into the history books a bit. Why do something like this? Honestly this may give some idea into who the New Jersey Devils draft this weekend. When looking back at New Jersey's drafts since Lou Lamoriello took over, it is important to note that David Conte has been there since the 1984-85 season. So in a bit of revisionist history, we are only going back from the 1987 draft and working upward to the present. Now keep in mind that 25-35% of first rounders make the NHL and then that numbers kind of drops some in later rounds.
Consider that as we went exploring into the minds of Conte and Lamoriello. First, we give the notable hits and then the misses. Thanks to Carlos Figueiredo for the complete list.
The HITS:
Brendan Shanahan (1987 — 1st round — 2nd pick)
Bill Guerin (1989 — 1st round — 5th pick)
Martin Brodeur (1990 — 1st round — 20th pick)
Scott Niedermayer (1991 — 1st round — 3rd pick)
Brian Rolston (1991 — 1st round — 11th pick)
Patrik Elias (1994 — 2nd round — 51st pick)
Petr Sykora (1995 — 1st round — 18th pick)
Scott Gomez (1998 — 2nd round — 27th pick)
Brian Gionta (1998 — 3rd round — 82nd pick)
Zach Parise (2003 — 1st round — 17th pick)
Travis Zajac (2004 — 1st round — 20th pick)
Adam Henrique (2008 — 3rd round — 82nd pick)
The MISSES:
Corey Foster (1988 — 1st round — 12th pick)
Denis Pederson (1993 — 1st round — 13th pick)
Vadim Sharifijanov (1994 — 1st round — 25th pick)
Lance Ward (1996 — 1st round — 1oth pick)
J.F. Damphousse (1997 — 1st round — 24th pick)
Mike Van Ryn (1998 — 1st round — 26th pick)
Ari Ahonen (1999 — 1st round — 27th pick)
David Hale (2000 — 1st round — 22nd pick)
Adrian Foster (2001 — 1st round — 28th pick)
Niclas Bergfors (2005 — 1st round — 23rd pick)
Jeff Frazee (2005 — 2nd round — 38th pick)
The Gems:
Jim Dowd (1987 — 8th round — 149th pick)
Alexander Semak (1988 — 10th round — 207th pick)
Valeri Zelepukin (1990 — 11th round — 221st pick)
Stephane Yelle (1992 — 8th round — 186th pick)
Steve Sullian (1994 — 9th round — 233rd pick)
Willie Mitchell (1996 — 8th round —  199th pick)
Scott Clemmensen (1997 — 8th round — 215th pick)
Mark Fayne (2005 — 5th round — 155th pick)
Matthew Halischuk (2007 — 4th round — 117th pick)
The Jury Waits:
Mattias Tedenby (2008 — 1st round — 24th pick)
Jacob Josefson (2009 — 1st round — 20th pick)
Eric Gelinas (2009 — 2nd round — 54th pick)
Alex Urbom (2009 — 3rd round — 73rd pick)
Jon Merrill (2010 — 2nd round — 38th pick)
Scott Wedgewood (2010 — 3rd round — 84th pick)
Maxime Clermont (2010 — 6th round — 174th pick)
Adam Larsson (2011 — 1st round — 4th pick)
Reid Boucher (2011 — 4th round — 99th pick
Now the scouting department has taken some hits from time to time and rightfully so. However in the last 25 years, New Jersey has produced some awfully good talent for the most part. Their numbers in the early part of the Lamoriello/Conte partnership were quite good and then from 1999-2005, those numbers plummeted despite one of the biggest staffs out there.
It generally does help when you draft guys like Travis Zajac and Zach Parise. Granted, some of these players on our lists bloomed or busted in other places but the bottom line is they did something noteworthy. David Hale was an interesting name that came up. Some consider him a middle of the road guy and some a bust. We leaned a little more to the latter because he was expected to do a little more in the NHL than he really did. Let's just say the talent shown in Juniors was not quite what we saw at the top level.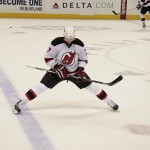 Paul Martin and Mike Commodore were the only two New Jersey players to make significant contributions from the second round in that "dark stretch". The problem is that when you consider all of what this team has accomplished, their rate of turning out homegrown talent dipped too low for what is considered an elite team in the National Hockey League. Yet New Jersey just seems to get the most out of their hits and gems despite their misses (or at least other teams do). It also does help that the Devils are a team that has been aided by trades and free agents (though there have been some blunders there also).
It leads to the question. Does Lou Lamoriello get a lifetime pass despite some very bad drafts? That answer is obviously yes. Despite some unlucky streaks and questionable decision making, New Jersey seems to keep finding ways that other teams do not. Do they always work out? No, of course not! However, one never knows what quite to expect from the New Jersey think tank.
Another oddity that has helped New Jersey is the uncanny rate at how some of their prospects just do not produce in other locales at a consistent enough rate. This could apply to players who have been traded but that is not the focus here anyway. Is there really quantifiable data for this? That answer is not necessarily but some of the names include Paul Martin and Mike Commodore. There are others but some have produced nicely too like Steve Sullivan, for example. Look at how New Jersey traded for Marek Zidlicky this last season.
The biggest key for New Jersey was being able to clear some organization dead wood last year and yes it cost them a few picks, it is part of the reason why they kept the 29th pick in the first round this season. People often forget the several picks that they did lose going forward. Reloading in this business is the toughest thing to do for teams that have been at the top for so long. Ask the Detroit Red Wings how much of a challenge it is sometimes.
It is what makes tracking the track record such a challenge. This is also why we have a video that explains the Adam Larsson pick from the 2011 draft.
So that is why a "track record" can be really hard to measure in a simplistic manner. It is just not possible given all the variables that go into making a draft pick no matter what. Yes hindsight is 20/20 but the overall body of work speaks for itself in New Jersey. No one is going to confuse their drafts for being perfect. Their draft record has been around average since the late 1990's as some would argue.
Sometimes all it takes is a few of those hits and some departures of guys that find it hard to succeed outside of New Jersey. The bizarre nature of some of these coincidences is quite fascinating and fans of the team as well as writers do and will scratch their heads sometimes but overall the grade has to be considered higher than average as far as legacy.
What will be the biggest question may just be how does the Lamoriello/Conte team prepare for the eventual end of the Lamoriello reign? Some say that is a process already well underway which is true to a point. Did they really replace Martin Brodeur via the draft or will something else have to happen? Can they keep reloading with a new General Manager in place? Will the scouting department be able to adapt a little better after its before and after lockout phases? These are all excellent questions.
The time comes at hand to truly assess the Lou Lamoriello draft history and overall it does get a B+ despite some very valid flaws. For as bad as some of the picks have been, it seemed New Jersey saved themselves too many times when all looked lost.
There will be a curiosity in the air come Friday Night because New Jersey has a chance to replenish some of what they have lost. Can they do it? History seems to dictate this as somewhat of a mixed bag. One thing is clear, they will pick based on who they feel is the right fit for their team and not necessarily what others may think. That is the New Jersey Way and it has worked for the most part in the last quarter century.
Expect the unexpected from New Jersey as that is what they do best. The gut keeps saying a forward with a defenseman a distant second and goaltending an even more distant third. What do you think? We would like to know.
Simply a hockey writer who is a jack of all trades. No question is too big or too small and in fantasy hockey there is no such thing as a stupid question. Now a proud, accredited member of the FSWA. I am also a New Jersey Devils lead writer, prospects writer, humorist, and so much more. You can find me on Twitter at @ChrisWasselDFS