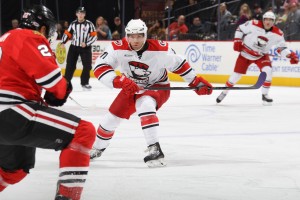 Zach Boychuk is arguably one of the most talented forwards in the American Hockey League. The 24-year-old's AHL resume proves it. He has over 247 regular season games in the AHL to his credit that span over six seasons all with the Hurricanes AHL affiliates, the Albany River Rats and the Charlotte Checkers. In 247 games, he mustered 87 goals and 119 assists totaling 206 points.
Last years' shortened NHL season was a whirlwind for the Canes' 2008 first-round draft pick. The cyclonic season started with him in Raleigh and after stops in Pittsburgh and Nashville, he ended the 2012-2013 season in Charlotte.
NHL waivers have proven to be Boychuk's biggest hurdle to date. After surviving the final camp cuts in Carolina, he dressed in only one game and was placed on waivers. That's when the season started getting hectic. "It was a crazy season for everybody. For me to make Carolina out of training camp felt really good. I felt really confident," said Boychuk before the move to Pittsburgh.
When Boychuk arrived in Pittsburgh, he found a helping hand in former teammate Brandon Sutter. The versatile forward commented on how Sutter extended the olive branch in Pittsburgh, "He took me into the house that he was renting. I stayed with him. We went out to dinner almost every other night."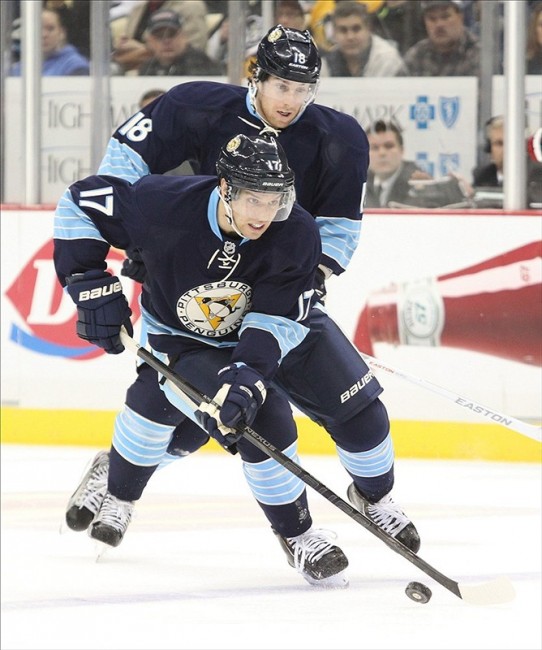 Knowing Sidney Crosby has its perks. 'Chuckie' mentioned during the dinner outings, "Crosby often picked up the bill."  Zach went on to say that, "He (Crosby) was really good to all of us."
Playing in a hockey-crazed city like Pittsburgh is one thing, but sharing the same dressing room with Pittsburgh's elite will elevate any players' game. Zach talked about the opportunity to play alongside some of the top players in the NHL, "It was unbelievable to play with those guys. You see them on TV and see them growing up. It's kind of a childhood dream to be on the ice with them. You really get an appreciation for how good they are."
Going from North Carolina to Pennsylvania to Tennessee back to North Carolina can make living arrangements a hassle; however; Boychuk didn't look at it like that. He took it in stride as you can tell from his comments, "It wasn't too bad. I ended up driving my Audi S5 with all my stuff packed in it and I was able to drive seven hours up to Pittsburgh and stayed with Brandon."
After his scoreless time in Pittsburgh, he was claimed by Nashville. So again Boychuk packed all his belongings and drove another eight hours to "Music City" that is Nashville where he registered a goal and assist in five games while living in a hotel.
Once again the left-handed shot was claimed. This claim brought him back to his roots, the team that drafted him, the Carolina Hurricanes.  Boychuk talked about how comfortable he felt coming back to the organization, "It felt good to come back to the team that originally drafted you and the team that put all their faith in you. For them to want me back and to keep developing me, it's definitely a good sign."
Last year was such a hectic season for Zach after being claimed by the Canes' the Lethbridge Hurricanes alumnus noted that he still had his apartment waiting in Charlotte upon his return.
With the 176-pound forward competing in the AHL at the moment, he chatted about his development and the things he needs to work on to add to the 85 games played in the National League, "The biggest thing is consistency, I feel like I have the tools. I feel like I can skate and I feel like I can play at the NHL level. It's just doing that all the time and being dominant in this league which will eventually get me to the next league."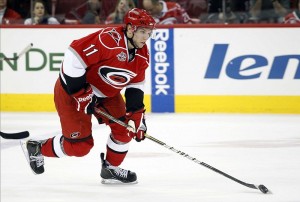 Even though Boychuk was a Restricted Free Agent when his whirlwind season came to a close last year, the southern hospitality that the Hurricanes showed him made it easy for him to re-sign.
In addition to his re-signing, he has also become a go to guy for the younger players like Jared Staal, the younger brother of NHL stars Eric, Jordan and Marc. 'Staalsy' shared his thoughts on Zach, "He's a great team guy. He's got a lot of energy. He brings that energy every day. He's a joy to play with and he's a very talented player that can score a lot of goals."
With all this experience in mind Zach has an uphill battle as the Hurricanes depth chart is slammed full of younger forwards who have earned a spot on Carolina's roster; however; measuring the experience that he posses may thrust him to the top of the pecking order.
Keep a stern eye on Boychuk this season as he looks to slide his way into a full time position in the NHL.
Follow Ted on Twitter @bauerhockeydude