As one of the youngest up-and-coming teams, the Carolina Hurricanes own the luxury of having few bad contracts on their payroll. In fact, with each young player they sign, they've found ways to get good value and decent term on players in their prime.
Many of the league's worst contracts were birthed through free agency. But as the Hurricanes have historically struggled to attract high-profile free agents to North Carolina, that also means they've dodged some major bullets over the years.
With Sebastian Aho, Teuvo Teravainen, Jaccob Slavin and Brett Pesce all signed through at least the next four years, only Dougie Hamilton and Andrei Svechnikov need new deals before the Hurricanes have their core safely locked up. But with these three contracts on the books, it may be more difficult than anticipated.
3. Jake Gardiner
Gardiner was somewhat of a surprise pickup for the Hurricanes during the 2019 offseason when he was signed as a free agent to a four-year, $16.2-million contract. The 'Canes already had a beefy defense corps, but the addition of Gardiner gave them even more back-end depth.
That signing turned out to be pretty crucial for the Hurricanes, who had several of their big defensemen succumb to injuries throughout the course of the season. But as things reset and a new season awaits, Gardiner's $4.05-million cap hit is difficult to stomach.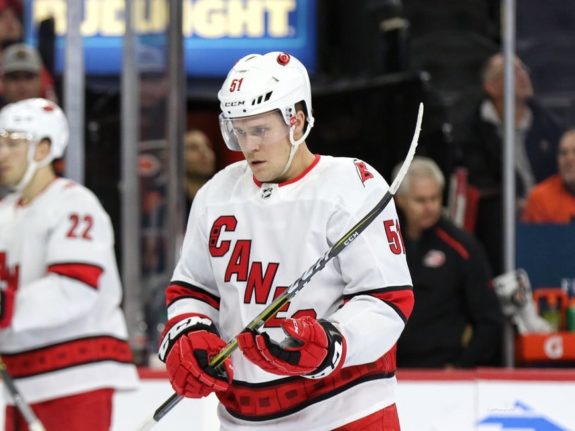 The 30-year-old averaged 16:40 time-on-ice (TOI) in his first year with the Hurricanes, which was sixth among defensemen. With Haydn Fleury poised to bear a heavier load and Jake Bean pushing for a roster spot, it could be difficult for Gardiner to earn more ice time.
There were several stretches of last season where Gardiner's confidence and composure were shaky. Although he was never a healthy scratch, had the Hurricanes stayed healthy, he could have possibly been rotated out.
Gardiner was brought on board for his stretch pass ability and power play skills. His 24 points last season tied a career-low, but his average TOI was also the lowest of his career by far. If he wants more opportunity to make an impact offensively, he needs to clean up his defensive gaffes to earn more trust from his coaches.
2. Nino Niederreiter
It's hard to criticize Niederreiter without acknowledging his past achievements – three straight 20-goal seasons with the Minnesota Wild and a career-high 57 points in 2016-17. He even had an explosive start when he joined the Hurricanes via trade during the 2018-19 season when he scored 30 points in the final 36 games.
But after a weak 2019-20 in which he scored just 11 goals in 67 games, and was largely invisible despite often playing alongside Aho and Teravainen, there's growing doubt about whether the 28-year-old can regain his former touch.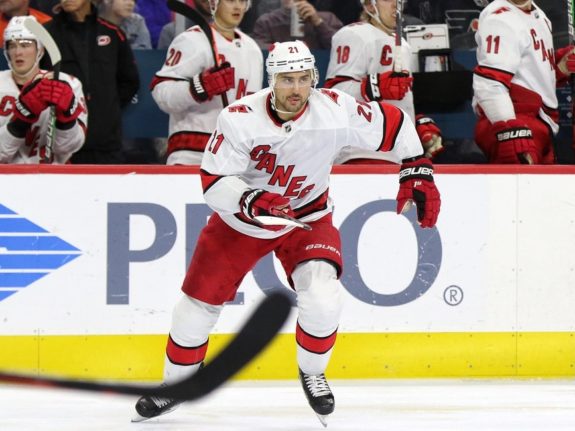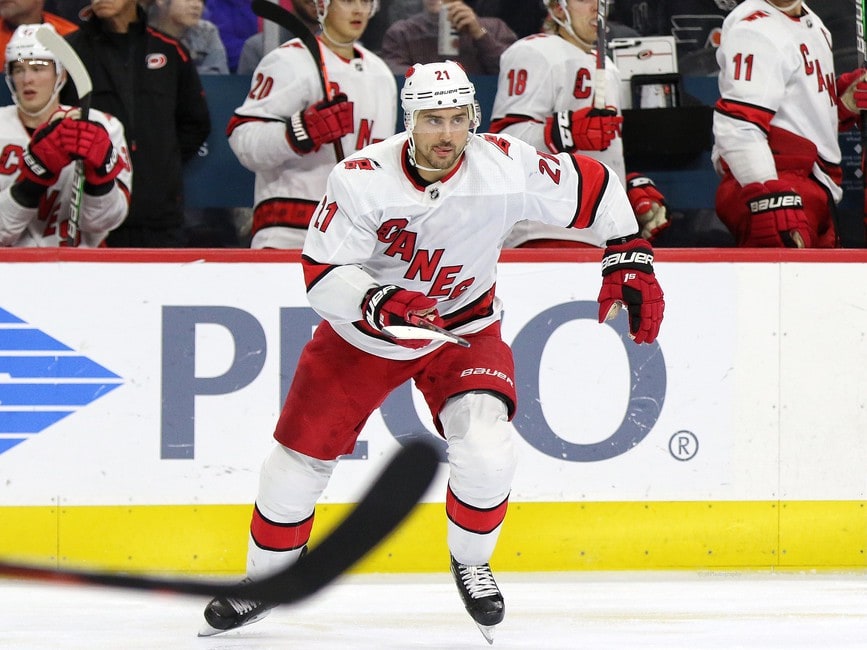 Signed at $5.25-million for each of the next two seasons, Niederreiter remains one of the highest earners among Hurricanes forwards. The Swiss winger suffered from a clear lack of confidence and blatantly bad luck at times, but also had issues with his skating and shot, which both looked weaker than in seasons past.
Niederreiter has just two years remaining on his contract, and he's still more than capable of bouncing back. If fully motivated, he can still be an offensive threat at the Hurricanes' disposal. But if he continues his downward trend, finding a spot and role for him in the lineup could be tricky.
1. Jordan Staal
"Staal" is a sacred name in Raleigh, and although Hurricanes fans have love for their captain, big center Jordan Staal takes the cake for the worst contract on the roster.
Bearing a cap hit of $6 million for each of the next three seasons, Staal is the highest earner on the Hurricanes save for Aho. While Staal is a defensive stalwart and invaluable leader for his team, he provides very little offensively. That's fine for a third- or fourth-line center, but those typically come in the ballpark of $2-million. Staal makes three times that.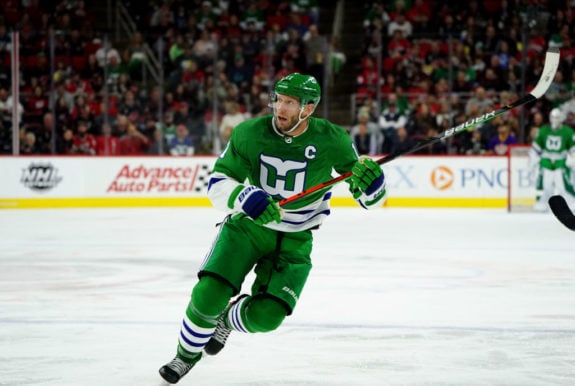 Staal's contract, which he negotiated back in 2012, came at a time where 10-year contracts weren't completely out of the norm. It's a different kind of league today of course, but remnants of that era still afflict the Hurricanes today, and will for the next three seasons.
Staal recorded 27 points in 68 games last season and went pointless in eight playoff games. He has only ever hit 50 points once in his 14-year career, but now at 32, his production has begun to drop off to the point where he's a liability to his line's capacity to generate offense.
The good news for the Hurricanes is that Staal is still tremendously effective in the faceoff dot (54.4 percent last season), and excels at wearing his opponents down along the boards. Despite his mammoth cap hit, he remains a vital component to the team's success.
The Heavy Contracts Aren't a Concern
As Hamilton and Svechnikov enter the final year of their contracts, general manager Don Waddell will need to find creative ways to fit their new deals under the cap. It's unlikely he'll be able to move any of the players on this list, but if he's able to move one, Gardiner could draw some interest.
The Hurricanes have a slew of youthful talent itching to get a shot at the NHL, and those will be cheap replacements for some of the guys they are able to move. For now, the priority will be to extend Hamilton and Svechnikov and make decisions to shed salary in the following offseason.
---
---