Jarome Iginla has played in 1554 NHL games, scoring 625 goals and tallying 676 assists for a grand total of 1300 points. And in spite of not having a Stanley Cup to his name, most NHL players would be content with a career like that. He's scored highlight reel goals and touched the hearts of many as the captain of the Calgary Flames. But for the one they call Iggy, that's just not enough. Iginla has made it clear, he's not finished yet.
Iginla Looking for One Last Run
So where does Iginla wind up? Back to Calgary for one last hurrah with his old team? To a struggling group like the Arizona Coyotes for veteran leadership? It's hard to say. He may not even end up in the NHL again at all, at which point he will probably try to play for Team Canada at the 2018 Winter Olympics.
But perhaps there is a team out there for him. Maybe a team that, if TSN analyst Nick Kypreos is to be believed, is searching for a veteran to help bring a calming influence to the locker room. That team would be the Pittsburgh Penguins.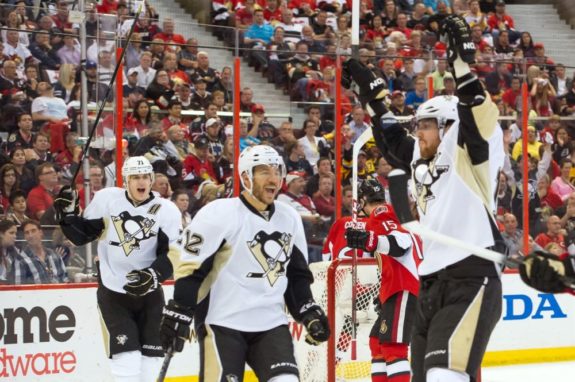 It wouldn't be the first time that Iginla has skated for the City of Champions. In the evening hours of March 27th, 2013, Iginla was held out of the Flames line-up. Rumors swirled that he was on his way to the Boston Bruins. Instead, Iginla was sent to the Penguins in exchange for a first-round draft pick and two prospects.
He put up 11 points in 13 regular season games with the Penguins and 12 points in 15 playoff games. Boston was reportedly very interested in Iginla's services, but it wasn't to be as he became a Penguin. He had one of his best shots at a Stanley Cup that year but was swept out of the Eastern Conference Finals by those same Bruins. The irony was not lost on either organization.
Penguins Looking for Leadership
What would be the benefit of the Penguins signing Iginla? Well, for starters, he would bring a lot of the veteran leadership that general manager Jim Rutherford is searching for. He is also familiar with Sidney Crosby and Evgeni Malkin, having played with both of them in 2013. Iginla also played with Crosby during the 2010 Winter Olympics, netting an assist on the Penguin forward's gold medal-winner.
Iginla is someone you could use throughout the line-up. You could play him on the first line with Crosby and Jake Guentzel or throw him onto the third line to have a shift with Riley Sheahan and Bryan Rust. And while the 40-year old hasn't been putting up the same staggering point totals, it's hard to deny that the Penguins are having scoring troubles. They've been miserable at even-strength hockey, which is where someone with a scoring touch would come in handy.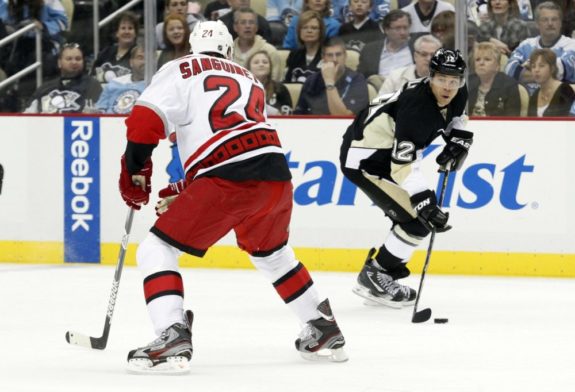 But maybe Iginla isn't someone you bring in just to score big goals. In addition to that, maybe he could bring some maturity to a locker room that lost beloved veterans like Matt Cullen and Chris Kunitz in the off-season. This is a team looking for a third straight Stanley Cup, so adding another scoring winger wouldn't hurt in the long run.
Making Room For Iginla
If Rutherford could land Iginla on a team-friendly deal for one year, with a cap hit of around $1 million, he would put his team in a great position to make another deep playoff push. This would mean sending some salary out the door, however. Moving fourth-line forward Tom Kuhnhackl would give the team a little over $1 million for Iginla. Kuhnhackl is a replaceable piece on the fourth line playing a PK and energy role. A player like Josh Archibald could fill his spot on the fourth line, which would allow Iginla to slot into the line-up.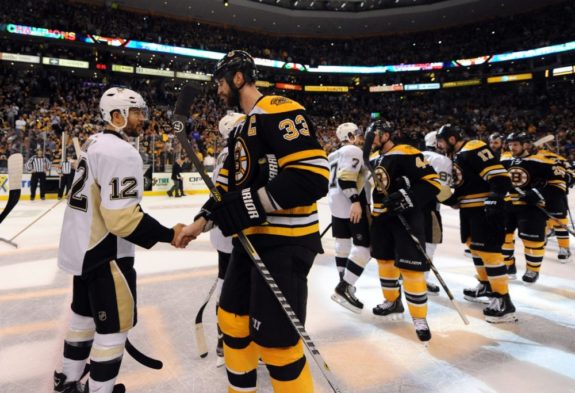 For a team that is hungry to make history again, Iginla could be the player that Rutherford needs to get his team in shape. You have Crosby and Malkin playing better than ever, along with considerably better depth at center with Riley Sheahan and Greg McKegg as their bottom two centers; a far cry from the days of Joe Vitale and Brandon Sutter. Iginla would be in a better position to succeed this time around.
It's certainly tempting to keep Iginla in mind as we approach the latter part of November. This is typically evaluation time for NHL GM's who are looking for the last piece of the puzzle. And for Rutherford, a free agent like Iginla would be hard to pass up. If this is his last go-around, it'd be nice to see Iggy get a ring as he rides off into the sunset.