On a rather interesting two-game road trip against the Nashville Predators and the Colorado Avalanche, the Washington Capitals were playing with "too many passengers," as they got little production and allowed six goals in each of the two match-ups. They looked to change that Saturday against the Minnesota Wild and succeeded in doing so.
"It was addressed that we weren't playing with enough grit, enough intensity," winger T.J. Oshie said. "We weren't playing for each other enough, and y'know, that kind of hits home when you feel like a guy that brings energy every night. After Colorado, after that was said, there was extra determination to get the boys going… everyone was rolling on their own."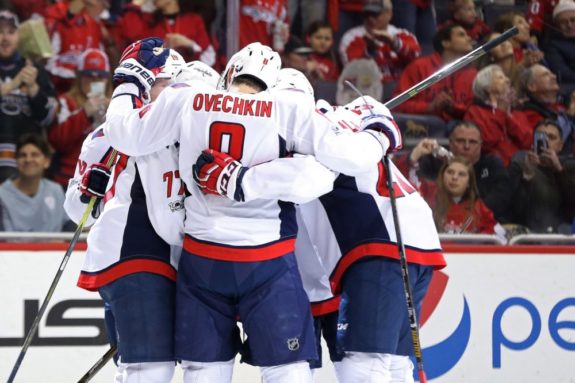 Oshie led the charge with a goal and two points and the Capitals showed more energy, confidence, and poise with the puck. Their attention to detail, their dominance in battles for the puck, a bloodied Alex Ovechkin, and a 30-save performance from Braden Holtby, led them to a 3-1 win over the Wild.
A Quick Start Sets the Standard
Washington got off to a quick start about halfway into the opening frame. On a power-play opportunity halfway through the opening frame, Oshie scored on a quick one-time feed from Evgeny Kuznetsov to give Washington a 1-0 lead. Three minutes later, Nino Niederreiter would score on a Wild power play that came soon after.
Still, the Capitals were motivated to respond quickly, and, within 44 seconds, Dmitry Orlov fired a rocket of a shot that beat Alex Stalock to give Washington a 2-1 lead. And, according to head coach Barry Trotz, that quick response helped shift the tempo of the game and helped Washington remain dominant with the puck.
"The leadership, I think, you look at the guys that set the tone on that, they said, 'Hey, we need a big shift,'" head coach Barry Trotz said. "The bench was really good they were real positive and they followed that up, and that was really good on their part. I think we're learning little lessons as we go along, and that was one of them."
The Capitals would maintain their lead and add another goal from Kuznetsov on a late third-period power play to make it 3-1. Washington outshot Minnesota 43-31 and also lead 29-16 in hits.
Russian Machine Leaks
Washington did suffer a scary moment in the second period when a puck deflected up and hit Ovechkin in the face. The Capitals' captain went down and was bleeding onto the ice. He was slow to get up and went straight to the dressing room and did not return for the entirety of the frame.
"I just try to feel my tooth and, y'know, it's fine. Just try to move it a little bit, it's fine. It's hockey," Ovechkin said. "Again, can be much worser. It kills my teeth."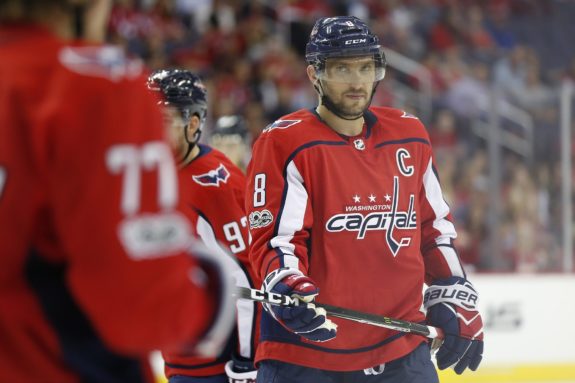 Many feared the worst, and Trotz did say it was worrisome, as it is for any player when someone gets hit in the head. However, he returned for the final frame, managing a couple of scoring chances and notching an assist, all while sporting a few stitches on his upper lip.
Ovechkin, when called "The Russian Machine" by members of the media, said that he was "changing oil" when he went off for repairs. Teammate Nicklas Backstrom jokingly asked if he had any teeth left.
Success on Special Teams
After surrendering a power-play goal early in the first period, Washington hunkered down on the penalty kill, successfully killing off three of four calls. Though they weren't disciplined, Matt Niskanen did say that he was impressed with Washington and their ability to shut down the Wild's power play, led by a dangerous Eric Staal.
"We'd like our overall penalty killing percentage to be higher, but you can kind of build that trait into your team where when you really need one in a game then you bear down and can be aggressive and kill those penalties," Niskanen said. "That's a good characteristic to have."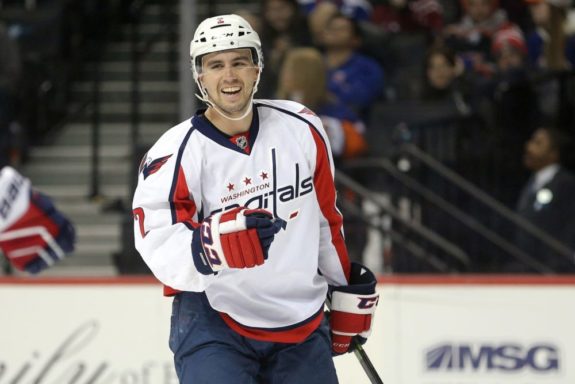 Not only did Washington clean up on the penalty kill, their power play also had a solid showing. The Capitals went 2-for-5 on the man advantage, getting goals from Oshie and Kuznetsov. While Trotz mentioned he was impressed with the entire power play, he did emphasize just how imperative Oshie is to Washington's success on the man advantage.
"You gotta give some credit to [Ovechkin], who gets everybody's attention, you gotta give some credit to [Backstrom], who has great perception and [Kuznetsov] who's working the goal line now. They make those plays and make that power play real dangerous, but [Oshie] has a feel for the soft areas and coverage and when he does get in that sort of area, he knows where to put it," Trotz said. "What makes him so special in that area is that he understands it, but he competes so hard in those areas to win pucks, and I don't know how many goals we've scored where we've had a chance, maybe two, where we've been pressure and he's found a way to keep the puck alive."
Home Ice Advantage
Saturday's game marks the Capitals' fifth consecutive home ice win. In the victory, Kuznetsov extended his point streak to three games and now has points in four of his last five, and Oshie recorded his fourth multi-point game of the season. And ultimately, Oshie said Saturday's win is a set in the right direction, but now, the team needs to be consistent.
"No question we can build on this," Oshie said. "This was a big game for us, a big turning point. Now we gotta look forward to the next challenge of maintaining this and trying to get this really ingrained in our game. I think when we play like this, we're going to get a lot of success."
Backstrom was quick to agree, saying the team displayed a positive attitude and that it helped them bounce back and get back on track.
"We need to play this way every night… when we are playing on top of our game and playing like tonight, we're hard to play against," Backstrom said.
Holtby, who was the third star of the night thanks to his heroics between the pipes, said that following the road trip, the team knew it could – and had to – improve.
"We knew we could be better. We knew it's not near good enough. It's on everyone here" Holtby said. "I think it was a complete effort and expecting more of ourselves today, and that's what we need every night. I think that mindset is coming… and it's going to be a test moving forward."